Featured Trainer: Caitlin Mobley, LCSW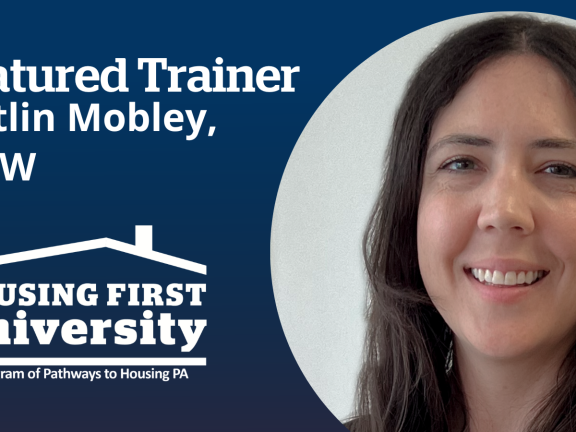 Caitlin Mobley, MSW, LCSW (she/her), joined Pathways to Housing PA as an Assistant Team Leader in 2019, transitioned to Team Leader in 2020, and in 2021 became the agency's Outreach Manager. In this role, Caitlin coordinates with Philadelphia's Department of Behavioral Health and Intellectual disAbility Services and various city agencies to connect individuals experiencing homelessness with Pathways to Housing PA. Prior to this, Caitlin worked in Permanent Supportive Housing and at a domestic violence shelter in New York City. Caitlin has witnessed the success of Housing First practice in action and is a firm believer that the model strongly contributes to the greater mission of ending homelessness. She received her Master of Social Work from Fordham University and is a Licensed Clinical Social Worker in New York.
Read on to learn more about Caitlin and her work!
Q. Tell us about your educational and professional background.
A. I graduated from Georgia College in 2010 with my Bachelors in English Literature. While getting my undergraduate degree I spent a large portion of my free time being very involved in a service group on campus, as well as volunteering at a summer camp for children with Type I diabetes. I soon realized that I felt more drawn to social services then my actual major and began planning to pursue my Masters in Social Work, which I then obtained with a clinical concentration from Fordham University in 2014.

My first job upon graduation was at a domestic violence shelter in Queens where I quickly realized that my passion was (and remains) within the housing sector of social work. I then transitioned to working as an on-site social worker for a residential building in Park Slope, Brooklyn, which permanently housed a combination of adults who formerly experienced homelessness while living with chronic mental illness, adults who qualify as having low-income, and adults who formerly experienced homelessness while living with HIV. In 2019, after moving from Brooklyn to Philadelphia, I quickly heard about Pathways to Housing PA's positive reputation in the Housing First community and applied for and began work as an Assistant Team Leader position on a team that serves individuals with mental health as a primary diagnosis. I eventually transitioned to become the Team Leader on the same team. In 2021, I took a brief 5 month hiatus away from Philadelphia and upon return was rehired by Pathways as the Outreach Manager, in which I now coordinate with Philadelphia's Department of Behavioral Health and Intellectual disAbilities to connect unhoused adults to permanent housing and case management at Pathways. Additionally, I work part-time as a mental health therapist at a small private practice in Philadelphia.
Q. What has been interesting about your work at Pathways compared to previous work you've done?
A. In shelters or other housing programs that I have worked in there have been so many more barriers to participants accessing services. Pathways follows a pure Housing First model, meaning that unhoused individuals can receive housing without income, documentation, or sobriety requirements. Pathways also destigmatizes subsidized housing by having scattered site apartments throughout the community, in which participants in the program feel fully immersed and included in neighborhood daily life, versus everyone involved in the agency living in the same building, which oftentimes unfortunately comes with labels and judgement from the surrounding environment.
Q. What do you enjoy about training? What topics are you most passionate talking about?
A. As a trainer, I very much enjoy meeting people who are doing Housing First work in totally different settings and situations than what I encounter in Philadelphia. I like sharing the knowledge that I have gained from working in housing for the entirety of my career and seeing how it can be applied to fit different cities and agencies, while learning from their expertise and experiences as well. I am most passionate in speaking about creative outreach approaches for individuals who are either hesitant towards housing or are challenging to consistently keep up with, as well as teaching about the importance of utilizing a home visit to most understand and connect with a participant's needs.
Q. What is one thing you wish more people understood about Housing First?
A. I wish that more people understood the positive outcome rates of Housing First and how it gives individuals who have very limited resources the support to become independent and succeed in living a full life that they can be proud of. Also, that housing is a basic human right.