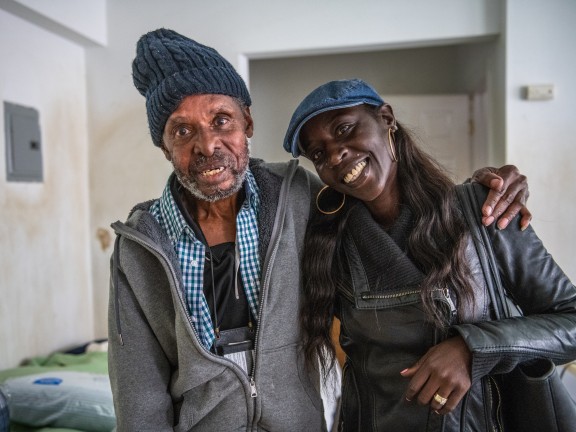 Our Mission: Empowering people with disabilities to improve their housing stability, achieve better health, and reclaim their lives.

We Believe
Housing is a basic human right.
Everyone deserves a place to call home – it's that simple.
Every person should be treated with dignity and respect, regardless of their current situation.
Everyone should have choices in life, and we empower people to make informed choices that reduce harm to themselves and others.
Creating a culture where it is easy to practice kindness, and everyone is welcomed with grace and hospitality, is essential.
Complex issues like homelessness require creativity, innovation, and constant evolution to meet the needs of those affected.
Our Core Services
Provide homes and comprehensive wrap-around services for people who have experienced chronic homelessness and suffer from serious mental illness, substance use disorder, and/or multiple other disabilities.
Restore health by removing barriers to primary care services, behavioral and mental health treatment, medication management, and the coordination of psychiatric and substance use services to our program participants, while respecting harm reduction as a method for achieving goals.
Reclaim lives by promoting community inclusion and helping participants to be a part of the community and be valued for their own uniqueness and abilities, just like everyone else.
Operating the Philadelphia Furniture Bank to redistribute donated, gently used furniture to individuals and families exiting homelessness.
Disseminate the Housing First model through HFU's training and technical assistance to other communities and organizations nationwide.
Our History
In 2008, the City of Philadelphia engaged Pathways to bring its evidence-based Housing First model to Philadelphia to help end chronic homelessness. We currently house 550 people in regular apartments across the community, with an unprecedented 85% housing retention rate for participants. These same participants would be considered not housing ready in other programs.
As an alternative to emergency shelter and transitional housing, Pathways' Housing First model is simple: provide housing without preconditions, and then address underlying issues around mental health, substance use, medical care, and education to welcome people back into the community. We believe that housing is a basic human right, and everyone deserves a place to call home.
Many Pathways participants have serious, chronic, and untreated medical issues that have been neglected for years and require significant healthcare coordination. Pathways' Integrated Care Clinic was launched in 2016 to ensure our participants have access to a person-centered approach that emphasizes recovery, wellness, trauma-informed care, and the integration of physical and behavioral health care.
In late 2014, Pathways opened the Philadelphia Furniture Bank as a centralized resource for furniture for human service organizations from across Philadelphia. Member agencies schedule appointments for clients who then choose their furniture to start fresh as they move out of homelessness. Each individual or family receives a full home's worth of furniture, including brand new bedding. The Furniture Bank has furnished more than 7,300 homes since 2014.
In 2022, we launched our first social enterprise, Good Haul. This junk hauling service works in tandem with the Philadelphia Furniture Bank, ensuring that useable furniture items are delivered to PFB. Other useable household items are sent to our partner nonprofits like Circle Thrift and Habitat for Humanity's ReStore, technology and other recyclable items are recycled, metal is scrapped, and the number of items that end up in a landfill are minimized to the best of our ability. Revenue from Good Haul is reinvested in the Philadelphia Furniture Bank.
One key aspect of recovery is finding purpose. We launched a Work First supportive employment program at the Philadelphia Furniture Bank to support those who are re-entering the work force by providing work first, and supports to ensure they are able to find stability. We currently employ up to 15 Work First staff supporting both PFB and Good Haul.
In fall 2019, we launched Housing First University to disseminate our comprehensive and inclusive solution to ending homelessness beyond our community in Philadelphia, in hopes of reaching other cities and countries struggling with the same issues. Housing First University builds on the expertise gathered by professionals who use this model every day in their roles at Pathways to Housing PA. We work with our clients to tailor solutions that are responsive to their unique needs across three service offerings: training, technical assistance, and consulting.
The Alumni Association was launched in 2021 to support participants who are capable of and interested in living more independently, who have outgrown the level of care provided by Pathways to Housing PA. Housing First does not always translate into housing forever, and we want participants to achieve their independent living goals - whatever those goals may be.
Philadelphia is a city of abandoned lots, houses that are shells of their former selves, and people experiencing homelessness. We launched Pathways Housing Wellness Corporation (PHWC) in 2021 to rebuild those lost homes into moderate sized multi-family units that fit into the landscape of the neighborhood.