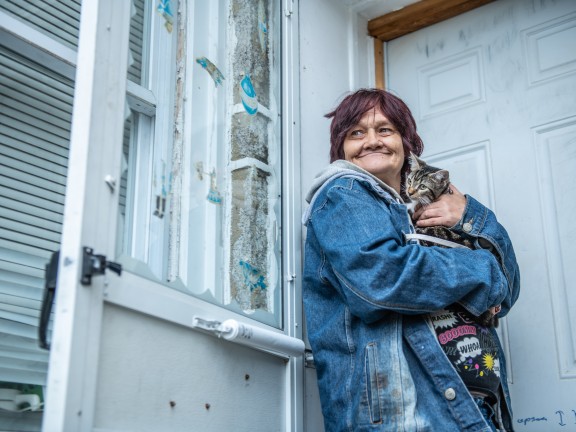 Pathways to Housing PA currently houses more than 550 individuals through the Housing First program, providing comprehensive wrap-around services to support participants on their journey to stability.
Housing is provided in apartments scattered throughout the city of Philadelphia. This scattered site model fosters a sense of home and self-determination, and it helps speed the reintegration of our clients into their community. Our goal is for participants to become part of the community, and not just live in the community.
The Housing First Model is based on the belief that housing is a basic human right rather than something people with mental illness have to earn or prove they deserve by being in treatment. A fundamental principle is that consumers should have a choice in the housing and services they receive and that services should be geared toward supporting their recovery.
Pathways to Housing PA maintains an 85% housing retention rate even amongst those individuals not considered housing ready by other programs. Despite what you may think, it costs us less to house a person than it does to let them continue to be homeless. If you add up all of the costs involved with a person living unsheltered (prison, ambulance services, police interventions, emergency department visits, medical and psychiatric hospitalizations, soup kitchens, shelter nights) it averages out to be much more than the cost of subsidizing rent and providing appropriate services. Couple that with the fact that we rent vacant market rate apartments across Philadelphia, helping to retain our City's tax base, and we've got a win/win! Our services are good for the person who is now housed, and good for our community as a whole.
We want participants to do well, to meet their goals, and to live happily and healthfully in their new homes. To that end, our staff is dedicated to doing whatever it takes to help each participant make it. Our services are delivered with grace and compassion as we help our participants learn the skills they need to succeed. There isn't magic at Pathways. We have no secret recipe. We have kindness, and smiles, and the offer of a cup of tea on a cold day. We have an ear to listen and a hand to hold. Isn't that about all any of us really need or want?