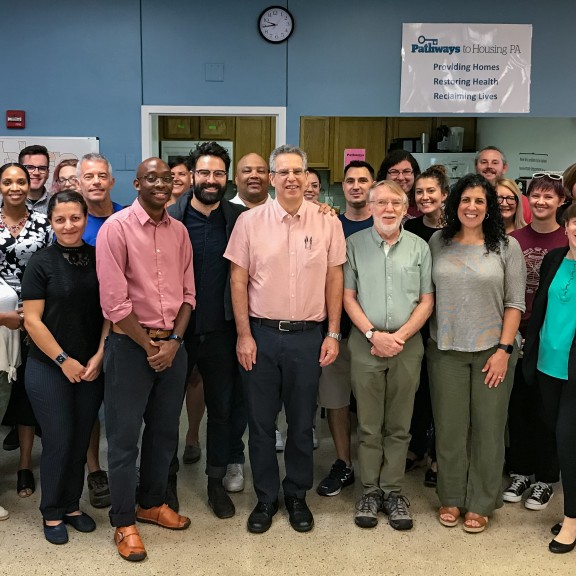 Are you looking to work for a nonprofit organization that makes a direct impact on ending homelessness? Look no further than Pathways to Housing PA! We are located in the Logan section of Philadelphia, and we work every day to empower people with disabilities to improve their housing stability, increase wellness, and to reclaim their lives through our innovative and effective Housing First model. We believe everyone deserves a safe place to call home – it's that simple.

Creating a culture where it is easy to practice kindness, and everyone is welcomed with grace and hospitality, is essential. That culture begins with our staff and extends to our work with our participants and partners. Given that homelessness disproportionately affects people of color, we aim to provide culturally competent services and hire staff that represents the diversity of our participants. Our team never ceases to amaze us and constantly gives us hope, especially as we continue to expand our work to provide homes and comprehensive wrap-around services to more individuals in our community who have experienced chronic homelessness.
This expansion has created many new and exciting opportunities!
We offer generous paid time off, medical and dental insurance, a 3% non-matching employer contribution to 401(k), and many other benefits to all staff members. Check out our quick guide to our benefits package here.
To apply, please forward a cover letter (including salary requirements) and resume to our HR Department. Please indicate the position in your email's subject line.
We are currently offering a sign-on bonus for all open positions:
Registered Nurse Service Coordinators will receive a $5,000 sign on bonus.
All other open positions will receive a $3,000 sign on bonus.
Spanish-speaking candidates will receive an additional $1,000 sign on bonus.
Only vaccinated applicants will be considered for hire
The City of Philadelphia has issued an Emergency Regulation Governing the Control and Prevention of COVID-19 Mandating Vaccines for Healthcare Workers and In Higher Education, Healthcare, and Related Settings ("Vaccine Mandate Regulation"). This mandate became Effective on August 16, 2021, and requires Healthcare Workers and workers at Healthcare Institutions to be fully vaccinated by October 15, 2021.
We are a healthcare facility and, per the mandate from the City of Philadelphia, COVID-19 vaccinations are required for all staff members.