Removing Barriers to Voting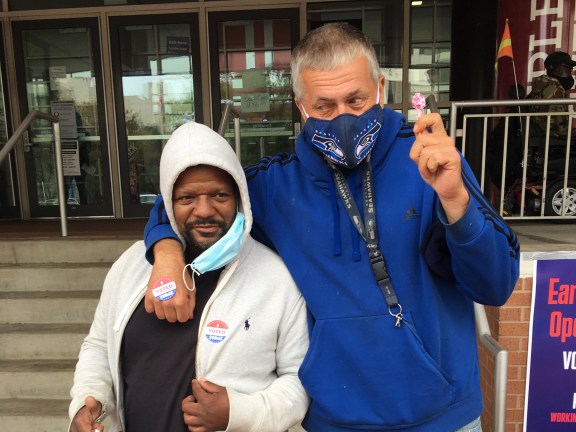 This election season is monumental in several ways. In addition to there being a highly competitive presidential race set in a country still battling a pandemic, voters in Philadelphia will have greater access than ever before to early voting in these final weeks before November 3rd. The City is launching a total of seventeen "satellite election offices," where people can register to vote, apply to get a mail ballot, and submit their ballot all in one trip. This increased access is huge in battling voter disenfranchisement, especially for our Pathways' participants who may struggle with logistical barriers to participation.
There is a list below of these sites, which are scheduled to be open Mondays through Thursdays from 11:30 am to 6:30 pm, and Fridays through Sundays from 9:30 am through 4:30 pm. Voters have until October 19th to register, at one of these sites or otherwise, and can obtain mail-in ballots up through the 27th. Voters who receive their ballot by mail can also drop off their completed and sealed ballots (make sure to use both envelopes!) at one of these sites through Election Day November 3rd to ensure that their vote is counted.
I went twice recently, once for myself and once to support one of our program participants. The first time, I went to the site at Temple's Liacouras Center alone with my mail ballot already completed. I was greeted by workers and was able to drop off the ballot within seconds of arriving. I even got the I Voted sticker! A week later, a participant and I arrived at the Liacouras Center to a slightly longer line of people planning to register and vote. We filled out her application for a mail ballot while waiting, and spoke with other community members about getting involved to work the polls on Election Day. Once we made it inside, she was easily able to get her ballot, complete it, and submit it then and there.
Pathways' participants are representative of a population of Philadelphians historically underrepresented in electoral politics. Some of our participants don't consistently get their mail. Some had gone years without an ID or a voter registration. Some have never voted. These satellite election sites greatly increase access for people all over the city, providing one-stop locations scattered around the city where people can vote with a more flexible schedule. Practical barriers to voting such as restrictive voter ID laws, long lines on election day due to consolidated polling places, and delays in the mail or the registration process can limit access, especially to marginalized populations.
This year, we have been able to ensure that over 250 participants are registered and able to vote. This was due in large part to online registration and the possibility of early voting. Having locations where participants were able to register and submit their ballot in one trip, open daily for the month leading up to Election Day, allowed people to participate in a civic process they may not have been able to access in years past.

*Please note that this information was accurate and based on the 2020 Presidential Election.