Meet Our Artists Part Five 2022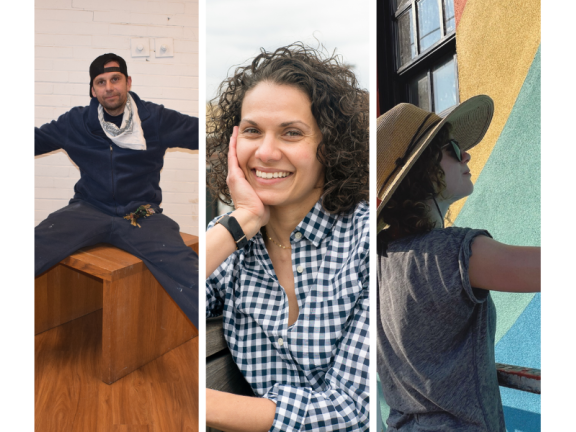 As we approach Furnished for Good, we will be featuring our artists who have created pieces for the upcoming event and auction. This year we are working with 20 local artists selected by our Guest Curators, Damon Reaves and Lawren Alice. All of our artists work with different mediums, have diverse styles, and bring new perspectives through their artwork. This week we are featuring Anthony Torcasio, Nina Valdera, and Emily White.
 

 

 

Anthony Torcasio

Anthony Torcasio was born and raised in South Philadelphia, where he currently lives. A 32 year veteran of the local graffiti culture, his passion for leaving "tags" and "pieces" on buildings and walls in this city hasn't always garnered favorable public attention. After the birth of his daughter, Anthony refocused his creative energy to protect his relationship with his family, moving from marking property to constructing canvasses prepped with help from his 5 year old daughter, Adrianna. Anthony's passion for visual texture and mastery of his medium are abundant, each piece including familiar and unfamiliar palettes of color and compositional elements that abstractly engage and reference graffiti culture. Layers of contrasting lines challenge the most flat and linear aspects of traditional graffiti. Follow Anthony on Instagram.

 

 

 

 

 

Nina Valdera

Born and raised in Philadelphia, Pennsylvania, Nina Valdera creates light sculptures using geometric forms constructed from wood which are illuminated using acrylic sheets and LED lights. Her inspiration is connected to spirituality and the calming effects of nature. She creates meditative spaces for her viewers by using transitioning colored lights, giving the perception that time is slowing down. She was awarded a micro-grant from Mural Arts of Philadelphia for Site Sound: Revealing the Rail Park, where she created a striking LED sculpture of a Railroad track that appeared to illuminate into the horizon. Her work has been exhibited in group shows at the Da Vinci Art Alliance, and The Clay Studio, Philadelphia, Pennsylvania. Nina is an MFA Candidate for Visual Arts at Vermont College of Fine Arts, Montpelier, VT. She received her BFA in Art Education from Moore College of Art and Design, Philadelphia, Pennsylvania. Follow Nina on Instagram.

 

 

 

 

 

 

 

 

 

 

 

 

Emily White

Emily White is a sculptor, painter, and muralist from the Boston area. She received her BFA from Massachusetts College of Art and Design in Boston in 2011 with a focus in sculpture. White has received awards including the Wind Challenge (Fleisher Art Memorial), the Helen Blair Crosbie Sculpture Award (Massachusetts College of Art and Design), she was nominated for an Outstanding Student Achievement in Contemporary Sculpture Award (International Sculpture Center) for two consecutive years, and she is a Visual Arts Fellowship Finalist (Center for Emerging Visual Artists). Her artwork has been exhibited in public spaces such as the Philadelphia Zoo, the Entrance Garden of the Philadelphia Flower Show and in the Philadelphia International Airport. Emily has had solo exhibitions at Hotbed (Philadelphia, PA), View Art Center (Old Forge, NY) and Penn State Altoona (Altoona, PA). Her 2D and 3D work has been in group exhibitions in the US and abroad including shows at Harvard's Peabody Essex Museum (Salem, MA), The Philadelphia Art Alliance, Fleisher Art Memorial, James Oliver Gallery, and The Royal Castle (Warsaw, Poland). Emily lives in Philadelphia and is a muralist and sign painter. Follow Emily on Instagram.