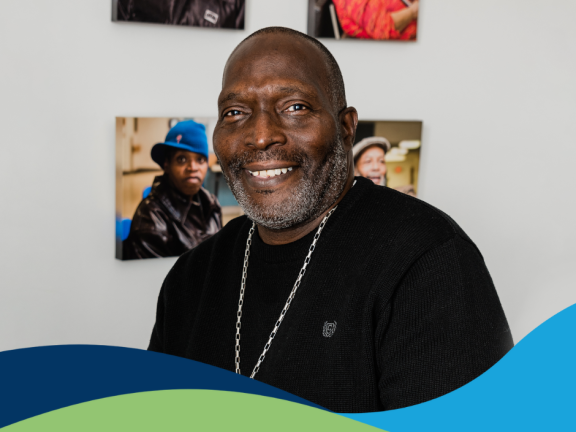 As 2022 comes to a close, we are reflecting on what, for many, has been an incredibly difficult two years. Stress and fatigue have become every day fixtures for the majority of our community. Despite the challenges we have all faced, our participants have kept us positive throughout this year. They're still achieving their goals with smiles on their faces despite the curveballs they've faced. Dwayne is one such participant.

Dwayne is just one of those guys. You can feel his energy when he walks into a room; he's someone you want to spend time with. He likes to write and recite poetry, he played sports all of his life; and he's a family man who loves his children and is very social. He describes himself as a "59-year-old divorced father" who "worked practically all my life had some issues regarding substance abuse in the past. I was able to gather 17 years of sobriety before I succumbed to that disease." Dwayne became homeless "after losing a house, cars, my family, you know, disconnected from society. It's kind of hard. And why I ended up becoming really depressed." The rest of this story will be told in Dwayne's own words.

I dedicated my career to working with homeless for maybe 22 years before I fell. You're talking to a guy who, created some opportunity for a lot of people, left a lot of crumbs in this town. When this movement of clean and sober came about, it was love and respect. And it was basically about peers helping peers. And I was fortunate to be the catalyst to that movement in the city of Philadelphia. And I can see that that model still works today. For me to fall, be exposed, once again, to that disease, to be on the other side of the table. Asking for help was huge. It was hard for me. But when Pathways offered an opportunity for me to regain life back, I jumped on an opportunity, of course.

It was just the fact that once I was done with treatment I didn't have to go and return to the streets of Philadelphia. I remember when the day came, and they said, Dwayne, you've been approved for housing through Pathways. It was so sudden, from the day I started my journey, it was all upward. It was about a level of humility. It was about setting my pride aside and exposing the fact that you cannot beat addiction, nor can you beat mental illness without help. You're listening to a guy who thought his life was over. I didn't have a second chance, I didn't have a third chance. You're talking about a guy who's possibly looking at his fourth or fifth chance in life.

Someone took an opportunity with me and said, looking at his
history, and looking at who he has become today, we're gonna give him an opportunity. And we'll see if it pays off. I can tell you that it has paid off, not only just being a member of society in a huge way, but a pillar of my city. I'm no longer a menace. I help folks now. I help old people across the street, help people with the groceries. I'm courteous, kind to folks, because I remember the day that I lost everything. It took me maybe 22 years to build a life and only five years to tear it up.

It's not all sad. I recently became a grandfather for the first time. I have a 31-year-old daughter who's my pride and joy. Who I can rest my hat on, that I can say I raised her from five years of age and she recently [had a son], which is my grandson. And he's four months old. And I have the opportunity to babysit now, on my days off, so he's my life you know, he's what I can get up for in the mornings.

I'm shy a few credits of getting my own degree, and that's still on the back burner. I have three other siblings. I'm a twin. We socialize a lot. We go to ball games, we still do family functions. I recently lost my father over a month ago, and It's been very, very hard. He was somewhat the pillar, to our family. He lived a good life; he was 95 years of age. And being a part of this particular program afforded me some opportunity to be around at this time not running around any active addiction. So that was definitely a plus to be sober during this process.

I'm example of 'the program works if you work it.' They said, Dwayne, all you had to do was tell us you was having a problem. And once I did that, my problem stopped. So yes, five years later, you're looking at a guy who's getting sober again, and has no inklings of ever going back to that life, especially with the life that I built better than the one I thought I had before with all those things. I can tell donors, don't give up. Because there's another Dwayne right around the corner, waiting to get in.

And I can say today that I am grateful. I'm thankful [for receiving help] when I thought there was no help out there for me. I'm thankful. Very thankful that you were the agency that picked me up.

We strive to help our participants live in their community and to be valued just like everyone else. Our staff walk alongside participants, wherever they are on their path of life, and support them in the places where they want support. Ultimately, we want to empower participants to make their own decisions. Pathways is proud of the work being done by Dwayne and we look to him as an inspiration, as we do with our other 550 program participants.

Though Dwayne has found stability in his new home, there are still more than nearly 1,000 people living unsheltered on the streets of Philadelphia with nowhere to turn. Your donation enables us to offer resources to those in our community who need it most.

Please consider making a gift today
Thank you for joining us in providing homes, restoring health, and reclaiming lives. Whatever you celebrate this season, we wish you joy!