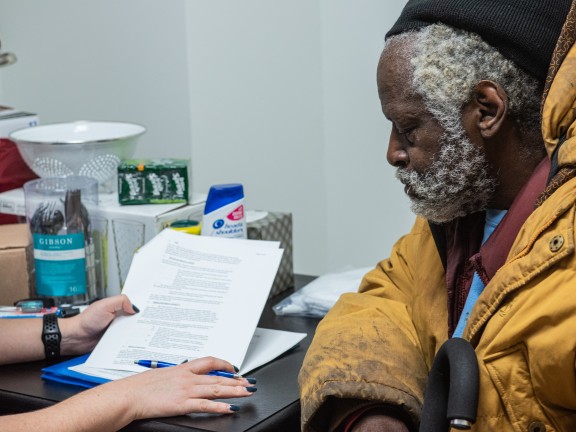 The phrase "lived experience" gets a lot of use in non-profit and advocacy circles. People who have experience with a certain issue are the ones with the most at stake, and they are often the ones best informed to make suggestions for solutions. Someone who has been homeless for a month knows more about homelessness than any housing policy wonk. It just makes sense that the decision-makers should have some first-hand knowledge about that which they are making decisions. But we also know that this is all too often not that case. This is why it is so exciting and noteworthy that Congresswoman Cori Bush (MO-01), who is open about her own experience with homelessness, introduced The Unhoused Bill of Rights at the end of last month.

The Unhoused Bill of Rights identifies homelessness as a public-health emergency and offers 30 suggestions for ending the unhoused crisis by 2025. This resolution would protect people who are experiencing homelessness from violations of their fundamental rights: the right to housing, healthcare, livable wages, education, access to public facilities, and protection from harassment by police, private business or property owners, and housed residents. The Bill calls for massive Federal investment in 24-hour support services and developing health-based (non-punitive) solutions to the crisis of homelessness. One of the solutions Congresswoman Bush includes in this resolution is universal housing vouchers. Making section 8 housing choice vouchers universally available to every household that qualifies would mean people wouldn't have to spend years on a waitlist just to get a chance at one of the limited vouchers currently available.

On a recent Zoom call with PA Senator Bob Casey and housing advocates from across Philadelphia, I supported one of our Pathways participants in asking the Senator to support universal vouchers. He was able to speak directly to the Senator and advocate for a cause he believed in-- to universalize the housing voucher he was currently utilizing. Drawing from his lived experience, he was able to offer a solution that actually helped in his life, would hopefully help others, and could eventually end homelessness. When people with lived experience are leading in conversations about solutions, there is a level of credibility to their perspective that is unusual in Washington. Our advocacy department at Pathways to Housing PA seeks to empower participants in harnessing the expertise from their life experiences to seek change in their community. Congresswoman Cori Bush is an inspiring champion for housing justice who demonstrates that the people who have been there, the people who most acutely feel the impact of systemic oppression and compounding crises, should be the ones we listen to when it is time to fix things.