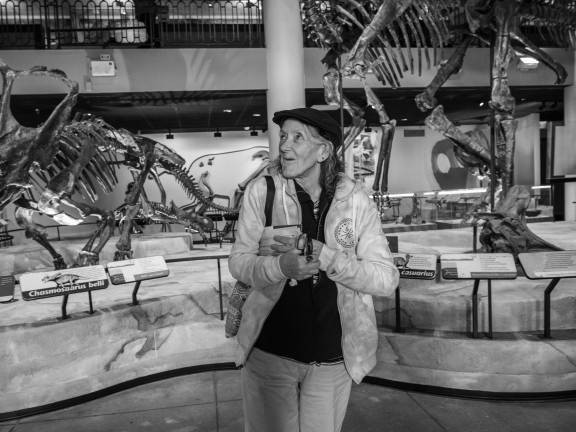 I spoke to Susan on a Friday afternoon. She was dressed in spring colors, pastel pinks and blues, with her hair pulled back beneath a cap. She was going on a group outing that afternoon and I could tell she was looking forward to it. She introduced herself with a bright smile that reached all the way up to warm eyes, crinkled at the corners. Nervous, she began her story haltingly.
When she was younger, Susan dreamed of being a nurse. As a child she was often the caretaker for her family – she and her four siblings raised by a single mother who struggled with mental illness. Susan remembers watching her mother being carried away from their home in a straightjacket, and the shock treatments that left her confused and distant, often unable to care for her children.
Susan did well in school, and by 18 had gotten a good job. A government job, with benefits and a pension plan. She thought she'd be able to make a career for herself, to take care of herself and her family. When she met her husband and married a few years later, the job became an issue between them. He didn't approve, so she left work to stay at home with their young children. She thought they would be together forever. One night, ten years later, he came home and told her he wanted a divorce. The mortgage hadn't been paid in months, and they were being evicted. He was going to be moving in with his parents, but she would need to find her own way.
She had no support system outside of her husband and being out of the workforce for so long meant she wasn't able to find a decent job. For the next few years she did whatever she could to keep a roof over her children's heads. She shared custody, but she knew that if she lost her housing she would lose them, too. Some of the jobs she took were desperate. Some were illegal. The apartments she could afford to rent were often infested, or without reliable electricity and plumbing, or rented unofficially – the basement of the friend of a friend. One such landlord's girlfriend started collecting her rent checks but not handing them over as rent. By the time Susan found out, it was too late, and she was forced to leave. Her husband took the children, and that was the last she saw of them for years.
Often, as a mother, children are the thin line that keeps you tethered to this world. The word, "motherhood" encases the part of you that fights to survive. For Susan, they were what kept her waking up every morning. Losing them meant losing her way.
Susan had been drinking since the divorce to put a wall between herself and the harsh realities of everyday life. But now it escalated. There was nothing left to fight for. She attempted suicide, but didn't succeed.
She found friends on the streets, where it was often safer than the shelters. On the streets, you watch out for each other. You try to keep each other safe. That's not always the case in the shelters, and, even after all these years, Susan still sleeps with her pocketbook.
There are a lot of scams targeting you when you are homeless. There are offers to trade your access card for a bed or daily meals. Promises that, more often than not, are never fulfilled. Susan tried to find other ways out but all of the programs required that she be sober first and stay in a temporary shelter for a year. By this time, Susan knew she had cirrhosis of the liver. She knew she needed to stop drinking. But she felt like what was killing her was also keeping her alive. Drinking was the barrier she used to cope with the horrors of her everyday survival. It is what kept her from giving up.
One day, standing under a tarp in the pouring rain, a white van pulled up next to her. It was Philadelphia's Homeless Outreach team. They took her to Saint Francis Inn for the night and gave her the number to a free clinic that could begin addressing her deteriorating health. From the clinic she connected to Pathways, where she was already approved for housing. Three days later, she moved into her own apartment.
Pathways helped her move in, with furniture provided by the Philadelphia Furniture Bank. We helped her apply for Social Security Benefits and food stamps and buy groceries. We visit her at home to make sure she is doing okay, coordinate doctor's visits, and help her manage her health. Rob Wetherington, the Manager of Community Inclusion at Pathways, likes to say, "We are great at doctors and housing, and that's important. But there's a lot more to life than doctors and housing."
Susan continues her winding path to recovery, and every single day brings her closer to her goal. If substance use was her way to separate herself from the pain of life, reconnecting with the joy of life is the way back. Susan's made friends at Pathways. She goes on the community trips to the zoo, and museums, baseball games and the beach – she jumps at everything that is offered. She's seen her children again, and in the mornings she wakes up in her own bed, full of hope.