Restoring Health, One Participant at a Time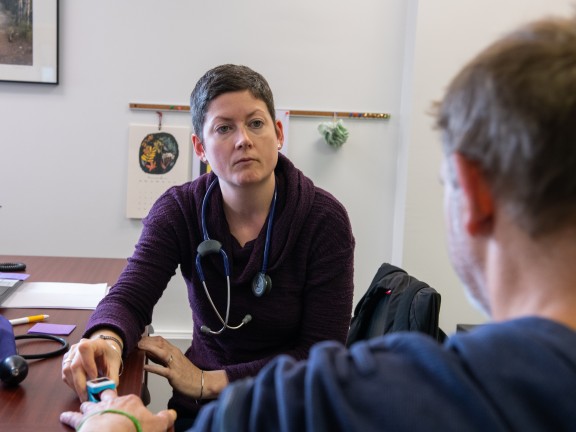 I've worked for nearly 20 years in public health in various capacities and organizations. For 13 of those years I have worked as a nurse, mostly with people experiencing homelessness. Through two decades of experience, Pathways to Housing PA is the organization that operates most closely to its mission day in and day out. To be able to work with our mission in mind is a rarity, and a gift to both participants and staff.
Our mission is to empower people with disabilities to improve their housing stability, achieve better health, and reclaim their lives. While living this mission daily might seem restrictive, it actually allows staff to operate with flexibility based on the needs of the person in front of them and in service to the mission at the same time.
Within our mission, nurses have an integral role in addressing and coordinating the health needs of participants at Pathways. Our nurses are called on daily to exhibit leadership and organization skills, strong and independent clinical decision making, and effectively collaborate with a wide variety of individuals and agencies, from Pathways staff, to participants, to other health care providers and hospital systems.
All of our participants have significant and complex health care needs; their clinical needs directly reflect their experiences with chronic homelessness, including discrimination and poor access to care. Nurses provide: annual assessments, support with preventive care needs, support with chronic disease management (HIV, hypertension, hepatitis C, diabetes, and liver disease, to name a few), provide medication management, support behavioral health needs, including opioid use disorder, support with acute and emergent needs (including wounds, cardiac events, diabetic emergencies, GI bleeds, and falls, among others), support and advocate for participants at primary care and specialty appointments, and advocate for participants who are hospitalized, including planning for safe discharge.
Each of our nurses manages the medical care for the 75-80 participants on their Housing First team. We use a shared case management model, but the nurse is the only clinical care provider on each team. Team members share responsibility for the participants on their team and each team member works with all participants. This is in contrast to splitting participants up into smaller individual caseloads. Each nurse works with their team to answer medical questions, educate team staff on medical concerns, coordinate medical care and provider visits, and provide triage as needed.
Nurses spend a lot of time meeting our participants in the community: doing home visits, accompanying them to medical appointments, and providing on the spot care. Each day one nurse is the designated Office Nurse, providing support to the onsite Integrated Care Clinic and to participants who come in daily for medication administration and other needs. The office nurse also supports teams with medical or medication issues, and provides triage and wound care in the office - for all six Housing First teams.
The day-to-day work can vary greatly depending on what's going on that particular day. On one day in December, in a two-hour period at the office, myself and my fellow nurses:

Worked with a participant who had been discharged after a brain bleed and needed follow up care.
Took a call from a participant who reported being in the ICU and not receiving withdrawal management; the nurse made an immediate plan to visit the participant to advocate on their behalf in the ICU.
Provided complex wound care for a wheelchair bound participant with significant vascular wounds.
Administered medications to multiple participants in the office.
Provided teaching to a diabetic participant.

Handling such a wide variety of tasks, both onsite and in the community can be challenging. It's difficult to triage multiple acute needs at once, and focus on nursing-specific tasks in a setting of high general needs. But, knowing that participants are feeling empowered to restore their health and seeing their successes is an amazing feeling.
When someone is housed after experiencing chronic homelessness, they need a high level of support. In my role I walk next to them as they re-enter medical care, literally stepping through care alongside them. In the beginning, I can spend nearly every day with someone to help break down their complex medical needs into manageable, small goals. I find that eventually, as people begin to have more positive experiences with health care and start to meet their goals, participants take ownership of their medical needs and start to drive the process themselves.
We have many stories of all our participants have achieved, and their successes make a big impact on staff as well. One participant, who had used heroin since age 11 and spent two decades without a home, worked diligently to achieve his medical goals. One day, when riding the subway together to a medical appointment, he turned to me and said "this is the best my life has ever been."
Another participant, who was fiercely independent and didn't like people to enter her home, ended up falling more than once. She broke her hip and arm, had large vascular ulcers on her legs, and was very depressed. Through our work together, her wounds are nearly healed and additional long-term medical needs are being addressed. She's agreed to a home care nurse visiting her and takes pride in what she's accomplished in restoring her health.
The work of nursing at Pathways is both challenging and rewarding and we are proud to do all that we do for our participants.