Recognizing Social Work Month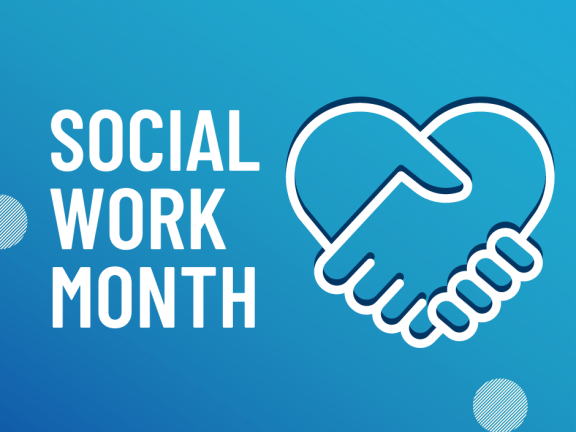 Social work is a practice-based profession that promotes social change, development, cohesion and the empowerment of people and communities. Social work practice involves the understanding of human development, behavior and the social, economic and cultural institutions and interactions.
Social workers are the professionals who aim to enhance overall well-being and help meet the basic and complex needs of communities and people. Social workers support many different communities, particularly focusing on those who are systemically under-resourced.
Social workers typically work in nonprofit, human services, and healthcare organizations, and for those who are not working in the field it can be difficult to understand exactly what their role is.
To celebrate Social Work Month, we want to de-mystify the profession - specifically, what our social workers do at Pathways to Housing PA to support our participants.
A typical day for a Case Manager at Pathways begins with a team meeting. Each morning, our Housing First staff teams meet for an hour to talk through the 75-80 participants they work with: who has upcoming appointments, who is due for a home visit, who has an acute need to be addressed, and any other details that have emerged since the previous day.
Following the meeting, the team splits up. The team leader will remain in the office most days, though they head into the field for several hours each week to meet with participants. The assistant team leader splits their time between the field and the office, and the program assistant remains in the office full-time to handle administrative tasks. One Case Manager will remain in the office each day, and that responsibility rotates through the team. The remaining members of the team head into the field.
The Case Manager who remains in the office will work with any participants who arrive that day. That could involve supporting them in visiting our onsite clinic or an appointment with our psychiatrist or therapist. Sometimes a participant is in need of food, hygiene items, or other emergency supplies, and the Case Manager will take them to visit our emergency pantry. For participants who visit the office for other reasons - receiving support with an activity, picking up a check, completing paperwork, or using the common spaces - the office person for the day will handle all of their needs.
Case Managers who go out into the field are doing a variety of things. They will conduct home visits, which means visiting a participant in their apartment. During those visits, we assess the home for safety and other concerns, while also visiting with the participant to determine any needs or upcoming items we'll need to support them with - including apartment maintenance concerns that need to be reported to our Housing department. Case Managers also take participants out into the community to go food or clothing shopping, to pick up prescriptions, or to attend community events. That may mean meeting them at a predetermined location, or picking the participant up at home and providing transportation.
Case Managers may also conduct outreach during the day, which means connecting with participants who are not ready to be housed and still living unsheltered. When doing outreach, Case Managers are providing food, water, and other essentials, transporting participants to appointments, or providing other necessities. Finally, Case Managers conduct showings for participants who are about to be housed by taking them to available units for tours and helping them to determine which apartment they'd like to call home.
In short, a Case Manager's day can vary wildly depending on what a participant needs in the moment. And that's the core of what social work looks like for many who are in the field: meeting needs in the moment. It can look, and feel, thankless.
However, the needs that are met by our Case Managers are transformative to our participants. They're the heart of our work and enable us to achieve our mission of providing homes, restoring health, and reclaiming lives. We celebrate them through the entire year, and recognize them this month in honor of Social Work Month.