Meet Our Artists Part Two 2022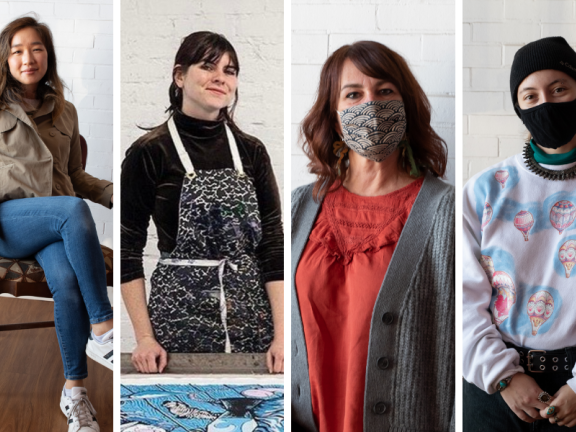 As we approach Furnished for Good, we will be featuring our artists who have created pieces for the upcoming event and auction. This year we are working with 20 local artists selected by our Guest Curators, Damon Reaves and Lawren Alice. All of our artists work with different mediums, have diverse styles, and bring new perspectives through their artwork. This week we are featuring ​Carol Hannon, Veronica Hanssens, Lisa Kelley, and Davey Levson.
 

 

 

 

 

 

 

 

 

 

 

 

 

 

 

 

Carol Hannon

Carol Lee Hannon's work and style is in constant motion, a trait she credits to her background working in the fast-paced world of fashion and textile design. In Carol's ideology, an artist's work should be emblematic of the present, something that is in constant motion. To limit an artist to a specific style is to limit the intrinsic nature of creativity a.k.a. the freedom of expression.

Carol was born in Philadelphia to immigrant parents and artists in 1983. She studied at Barnard College in New York where she earned her BA in Art History and Visual Arts. As a student, she received one of the top prizes at the National Arts Club student show (2005) and was accepted into the Mellon Mays Fellowship Program for her research in Surrealist art. She also interned at the Bard Gallery of Decorative Arts, Celine, Donna Karan, Martha Stewart Living, and MTV Networks. 

After spending the early years of her career working in fashion editorial and visual merchandising, Carol joined her parent's textile studio, Rosekei & Company, Inc., in Manhattan's garment district. For the next 8 years, Carol created hundreds of hand-painted prints on silk for top fashion houses. Her work has been featured on runway collections by Michael Kors, Calvin Klein, Ralph Lauren, Vera Wang, alice+olivia, and more.

Since starting a family in 2016, Carol has replanted her roots in Media with her husband, their two young daughters, and her father, where she continues to explore the ever-changing process of self-expression through art. Follow Carol on Instagram.

 

 

Veronica Hanssens

Veronica Hanssens is an artist from Northeast Philadelphia, now settled across town in West Philadelphia. She works in a range of mediums, primarily printmaking, sculpture, and animation. Follow Veronica on Instagram. 

 

 

 

 

 

 

 

 

 

 

 

 

 

 

 

 

 

Lisa Kelley

Lisa Kelley is a trauma-informed artist who is interested in the connection between art and social change. She was born and raised in Kensington (a neighborhood in Philadelphia) and has worked there for the past four years, practicing art as harm reduction and facilitating art workshops with people experiencing homelessness and people in active addiction. Her personal art-making is often impacted by her interactions and relationships with the community she works with. Lisa's background in graphic design has influenced her work through explorations of color, pattern, and repetition. Collage, paint, fibers, textiles, metal, found objects and hand-carved stamps make up some of her recent work.

Lisa is the founder of Epidemic, a series of weavings thematically connected by the struggles, the despair, and the stories of hope surrounding addiction. Each weaving is created with strips of fabric on which people affected by addiction write a wish, a prayer, a dream, a memory. The messages of love and loss are knotted and woven together, then threaded onto and suspended from sticks found in parks in Kensington. The project is a story about bearing witness, of gaining empathy and compassion, exploring the stigma and shame of addiction and of taking action and reaching beyond the personal to affect change in the community. Follow Lisa on Instagram.

 

 

 

Davey Levson

Davey Levson is a queer, non binary artist. They graduated from the University of the Arts with a degree in Illustration in 2019. Since then, they've been working on portrait commissions, murals, and animations. Their work focuses on themes of nature, mental health, and social justice. Their work is colorful, psychedelic, and surreal. They're inspired by magic mushrooms, nature documentaries, hikes in nature, dreams, literature, song lyrics, and the challenge of applying ethical and political theory into daily life. Follow Davey on Instagram.