Introducing our Fiscal Year 2018 Annual Report & Financials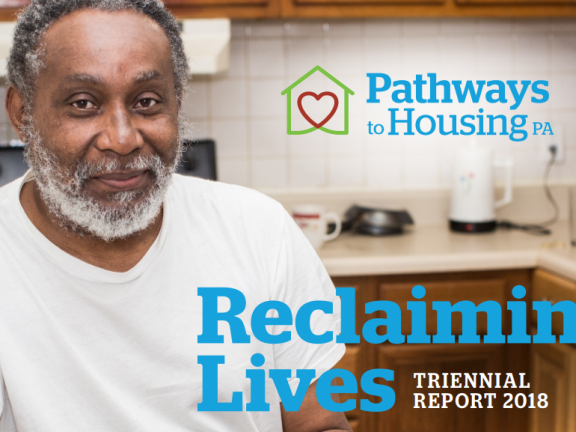 Dear friends,
The past two years have been busy and challenging for Pathways to Housing PA. Pathways' reputation is one of creatively, efficiently, and effectively meeting the needs of Philadelphia's most difficult to serve citizens. Needs change, and so we adapt and expand our services to meet those changes. We are grateful to our funders who trust us to expand our services in creative, out-of-the-box ways at Pathways to Housing PA.
Sadly, we will now be moving forward without the guidance of Bob Hunn who has served on the Board of Directors since early 2013 and has been Chair for most of that time. Bob passed away suddenly in September leaving us with an overwhelming feeling of loss. Bob believed that you must remove the stress of homelessness from people's lives in order for them to make better choices and move forward in life. We spoke often of opportunity, leveling the playing field, and personal choice. Personally, I will miss his guidance, empathy, and his smile. Our board will miss his vision, leadership, and the sense of purpose and order he brought to our meetings. Our community has lost a foundational partner and a good friend and we will always remember him fondly.
In terms of recent accomplishments… At the request of the City, Pathways created a Team in 2016 that focuses on chronically homeless individuals with opioid use disorders. Using Pathways' Housing First model in combination with treatment services that wrap around the person in a community setting, we are taking people with opioid use disorders from street to homes. We have also developed primary care services onsite to meet the medical needs of our community. The Philadelphia Furniture Bank opened in December 2014 and is an invaluable, unduplicated service in Philadelphia that has furnished over 2,000 homes for individuals and families moving out of homelessness in our city. Pathways is a thought leader in the Housing First Model nationally, with communities and agencies turning to us for leadership and training; our formal Training Institute launched in September 2017. The organization has successfully weathered some changes in funding sources and emerged, ahead of schedule, back to sound financial ground.
We have matured into an organization building programs and solutions around our core competencies to provide a lasting impact on the issue of homelessness. On the following pages, you'll learn a little more about our programming and you'll get to meet some of our wonderful community members.
As always, we are so very grateful for all of you – our friends, funders, donors, and supporters. Without you, none of this incredible, life-changing work is possible!
Christine Simiriglia, MS
President & CEO