Exploring the Intersection of Veterans and Homelessness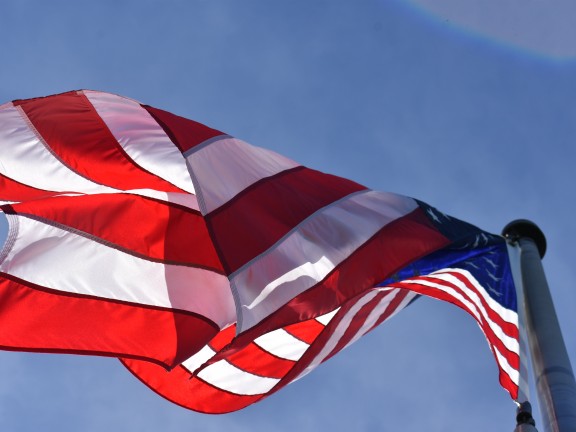 Today is Veterans Day, and it also marks the first day of 2023's Hunger & Homelessness Awareness Week, a yearly initiative that unites people nationwide to raise awareness about the issues of hunger and homelessness. Every year, Pathways creates a series of blog articles throughout the week highlighting important topics. Our first post will explore the intersection of homelessness and those who served our country. Over the past decade, the United States has witnessed a significant decline in homeless veterans, attributed to several focused initiatives. However, while celebrating this progress, it's crucial to acknowledge persistent disparities, particularly along racial lines.
Historically, veterans are more likely to experience homelessness. However, over the last decade or so, the number of homeless veterans in America has been roughly cut in half. In 2019, 21 out of every 10,000 veterans were homeless, which was only slightly higher than the overall homeless rate of 17 out of every 10,000 Americans.  
The dramatic reduction in veteran homelessness has been largely attributed to the HUD-VASH program adopting Housing First strategies in 2012. As you may know, Housing First is an internationally recognized best practice, and serves as the core of our programming.  
When the US Department of Housing and Urban Development began to shift towards Housing First models, it vastly increased the number of organizations providing Housing First services across the country and narrowed the discrepancy between veterans and the general population experiencing homelessness. However, there are still disparities – especially when it comes to race. The National Alliance to End Homelessness shared the graphic below, showing that Native Hawaiian and Pacific Islanders have a rate of 105.8 veterans out of 10,000 experiencing homelessness; five times more than the average for all veterans.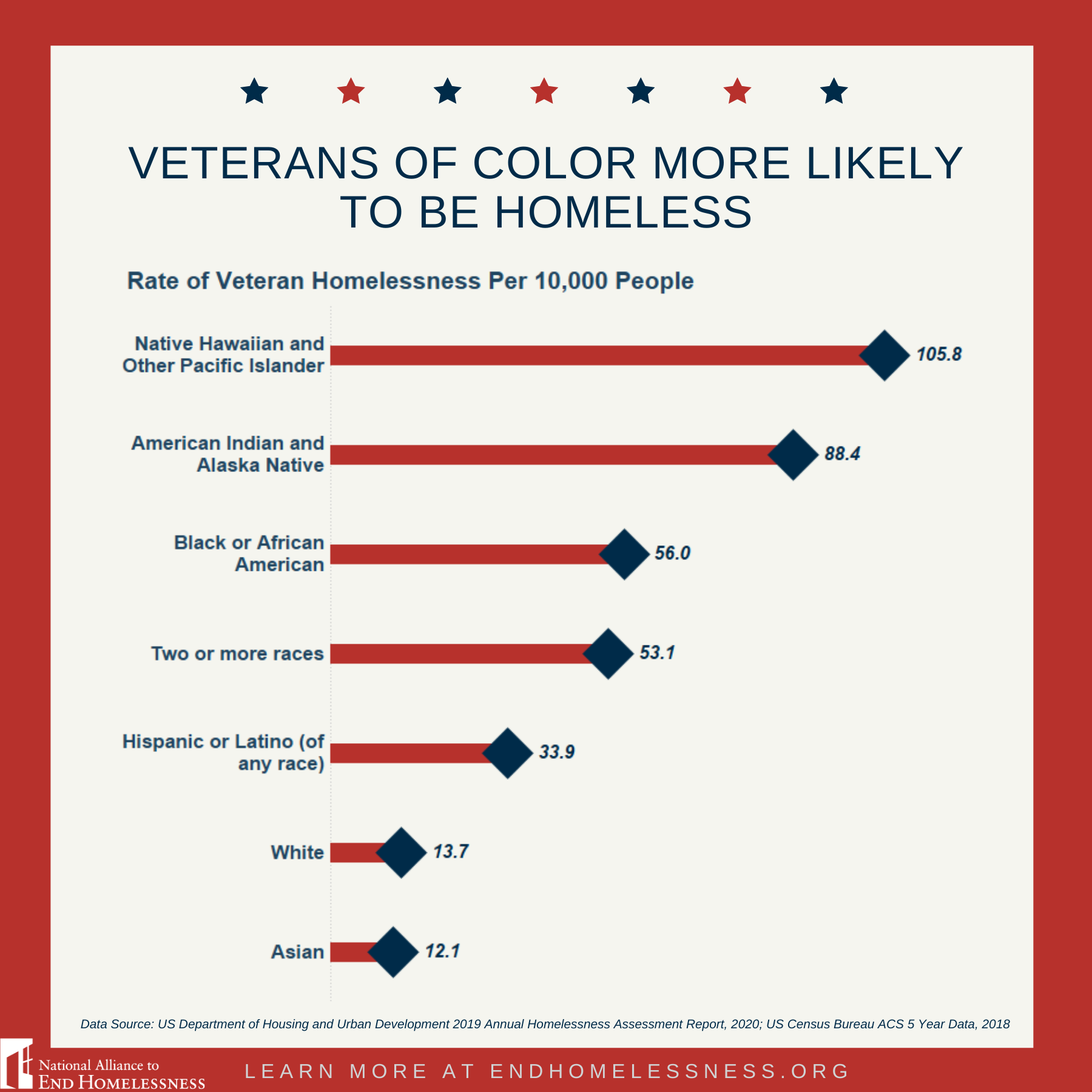 Additionally, the National Alliance to End Homelessness also reported that homelessness has declined for most veteran subpopulations, which increasing for non-veterans. Of course, this data is from 2019; the homeless population has seen significant shifts across the board in the wake of the pandemic.  
You may remember that Philadelphia declared that they'd "effectively ended" veteran homelessness in the city. Hitting functional zero means that anyone who wanted housing and agreed to services was housed; there were a handful of individuals who refused services at the time. Maintaining functional zero is a difficult task though, the latest Point in Time Count data shows that only 4.2% of adults experiencing homelessness in Philadelphia are veterans.  
Our friends at the Veterans Multi-Service Center (VMC) do a lot of work to support veterans experiencing homelessness, as does the local Office of Veterans Affairs. We support VMC's clients at the Philadelphia Furniture Bank, helping ensure that each veteran moving into a new home has a household's worth of furniture. We're grateful to see that the numbers of veterans experiencing homelessness in Philadelphia remain low.  
In honor of Hunger & Homelessness Awareness Week, we hope your takeaway is this: veteran homelessness remains low in our community, however, there's a significant racial disparity amongst veterans experiencing homelessness. Black, Indigenous, Native, and Hispanic veterans are experiencing homelessness at a significantly higher rate than white and Asian veterans. You can help our friends at VMC support their clients by purchasing one or more items from their Amazon Wishlist here.