Congratulations to the Alumni Class of 2021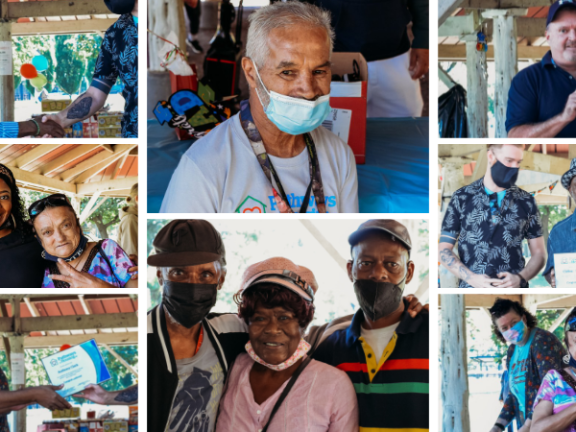 Every summer since we were founded 13 years ago, we host an annual picnic for our participants and staff. It's an opportunity to come together, eat good food, dance, play games, and generally enjoy each other's company - just like a family reunion. Last year threw a monkey wrench in our usual plan, but this year we were prepared to find a way to host our annual cookout in a way that kept everyone safe and healthy.
Boxed lunches replaced fresh hot dogs and burgers, chairs were set a little father apart than usual, and masks covered up our smiles. But we were able to gather together once again last week to gather at Hunting Park as one Pathways community. It's been a long 18 months, and everyone enjoyed the opportunity to see people, in person, that we hadn't seen in weeks or months due to the pandemic. We raffled off prizes of household goods and enjoyed the picture perfect weather.
Despite the challenges we've all faced in the last year, we had much to celebrate. In 2021, we launched our Alumni Association and at the picnic last week we included a ceremony recognizing our first graduating class. Zack Hill, our Coordinator for Alumni and Advocacy Services, acted as master of ceremonies and President & CEO Christine Simiriglia shared how the vision of Pathways has grown over the years and how proud we are of folks stepping into a new phase. Team Leader Wakida Williams recognized the impact graduating will have on participants and staff, graduate Cliff Williams spoke of his time with Pathways, and all eight graduates were recognized for their accomplishment.

Graduating to the Alumni Association means that a participant no longer requires the level of care provided by our clinical teams. They are still connected to our Integrated Care Clinic, our Community Inclusion team, and a monthly Alumni Event, and of course we are available if they should need us. As graduates, they are moving on to a new phase of independence, which then creates space for others to enter our Housing First programs that are currently experiencing homelessness.
This was a step that did not come easy – in fact, it may be the hardest thing many of the graduates have ever done. Leaving the safety and comfort of their clinical team and stepping out to a minimal level of support is, quite literally, unheard of. The system is not built for people to move on; instead, the expectation is that a Housing First program is forever. However, we recognize that Housing First is not housing forever, and our clinical teams encourage participants to think beyond our services and build their own goals. Graduation is not the end goal for everyone, and that's okay. We have about 20 people currently engaging in the process as we prepare for another graduating class in 2022.
For now, we're still beaming with pride over the first eight graduates and Alumni Association members. Congratulations to Charles, Anthony, Frances, Theodore, Irwin, William, Mark, and Clifford!

Special thanks to our partners who attended the picnic, and the Board and Emerging Leaders who contributed to special gifts for each graduate. See more photos from the day here.