Celebrating Three Years of Permanent Housing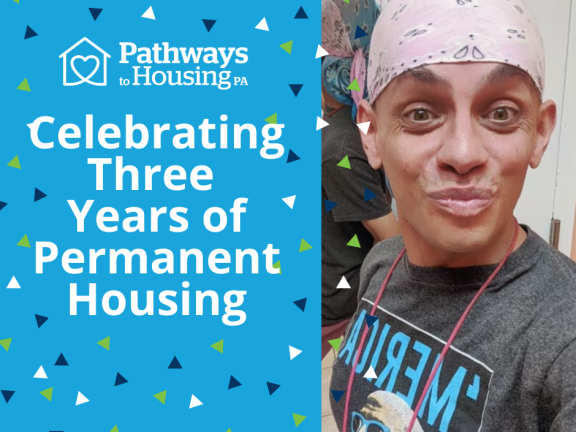 In August, 2018. I was housed in a City Safe Haven, Project HOME's Woman of Change. I've been before, several times. I met the criteria. In order to get into a City Safe Haven, you've got to be literally street homeless and you have to engage with the City's Homeless Management System. It's a bunch of folks that wear orange shirts and they'll often ask for your name and date of birth. In the summer months, water is offered and in the winter months, a blanket is offered. Some days were better than others for me. Being Transgender and accessing services has been a barrier for me. Most service providers couldn't get my pronouns correct that I told them were correct so I'd just isolate and shut down. I always found myself doing best with Project HOME's Outreach teams as well as SELF, INC, and Hall Mercer Outreach Teams and I stuck with those and looked for them when I wanted to give my information.
I felt different this time about my stay at Project HOME's Woman of Change, I felt like the stakes were against me. I was already connected with another program, but at that point, they were not going to rehouse me. I often wondered then what was the point of staying in the program if they were not going to rehouse me?

While residing in Project HOME's Woman of Change I enrolled in Trauma Informed Care. I was assigned a Trans identified clinician. One of the best things that probably happened to me in some time. I developed a Wellness Plan. I attended 55 minutes of psychotherapy each week for mental health as I have a co-occurring disorder along with major depression.

It was a clinical recommendation that I be accepted into the Pathways to Housing Program since the other program would not rehouse me again and at that point, I no longer wished to receive services from them. The Department of Behavioral Health and Intellectual Services placed an application for me to move over to Pathways to Housing PA. In order to be accepted into the Pathways to Housing PA Program, you have to have a two year or more chronic homelessness history, a mental health diagnosis, and/or a history of substance abuse. I met the criteria!

I continued on my days going to psychotherapy and living at Project HOME's Woman of Change. At the end of August 2018, I received news that I was accepted into the Pathways to Housing PA Program. I was ecstatic! I do remember when Pathways to Housing PA came to Philadelphia and I heard about them. I know participants in their program, beautiful participants and I've even been in some of their apartments.

It's intake day for me with Pathways to Housing PA. Sarah, the service coordinator, and Renee are at Project HOME's Woman of Change ready to engage with me. I am not there. I receive a phone call from my counselor at Project HOME's Woman of Change telling me that Pathways to Housing PA is there to engage with me. I said I would be there in five minutes and I was there in three minutes. We begin the intake and there are several components to it so Sarah and I finish the intake several days later at a Dunkin Donuts in the community.

October 16th I was taken by a service coordinator, Elana to view a unit. I'd not been in my own home in forever so I was kinda nervous and excited at the same time. We stopped at Dunkin first of course and then headed to the unit I'd be shown. I was told it was in West Philadelphia and just 5 blocks from Clark Park, which in itself was exciting.
We get to the unit and I arrive at a duplex. It was a three bedroom house made into two apartments. I am taken up steps to the second floor, one bedroom apartment. I said, "Elana, this is mine!" At that moment I felt like my life was actually being reclaimed. Part of Pathways to Housing's Mission is Providing Homes, Restoring Health, and Reclaiming Lives. And indeed just by seeing a one bedroom apartment, in that moment I felt my life was being reclaimed.

October 16th, 2018, I signed my lease for my one bedroom duplex apartment. It was a big deal and a big day. I've signed leases before so I knew absolutely what I was doing. And in signing the lease, I looked at Pathways staff and said, "we're not going to have to do this again unless this needs to be updated. I wish to be here, for life!"

I was featured in Pathways to Housing PA Annual Fiscal Year Reporting. Then it was two years of permanent housing for me. In that report, it is noted and highlighted that I am one of 550 formerly homeless people with disabilities living independently in Philadelphia.

In 2020 (and still currently are in), we went into a global pandemic. One of the things I thought about at the beginning of the pandemic was how grateful I was to be in permanent housing, housing at this point is healthcare. When I first arrived at Pathways to Housing PA, I felt broken and just exhausted by strength. I have home visits twice a month from Pathways to Housing and I often visit their offices. I feel as though it's important I show my face there every now and again. I do check in with the Psychiatrist there and am on medications to stabilize my mood and help me sleep. I do feel supported, but most importantly, I feel loved. Pathways to Housing has supported me legally in the midst of a global pandemic in order to legally become Katrina Michelle DeLancey.

I wish for three years of permanent housing with Pathways to Housing PA because the goal is once in the apartment, to stay and that's what I so desire.