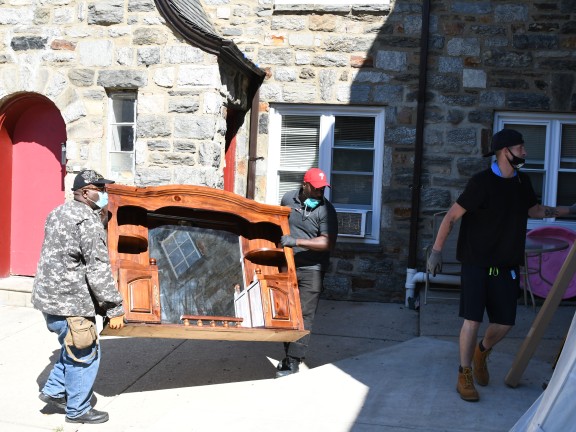 Why Good Haul?
We know that you have many choices for junk hauling services. You should choose Good Haul because we are Philadelphia's only nonprofit junk hauler; when you choose Good Haul, you support your community. There are several ways that Good Haul gives back, including a focus on sustainability, providing customers with tax incentives and lower prices, donating all useable items to our nonprofit partners, and financially supporting the Philadelphia Furniture Bank.
Philadelphia Furniture Bank
All revenue generated by Good Haul supports furnishing more than 1,200 homes annually through the Philadelphia Furniture Bank (PFB). In addition, all furniture from our customers is donated to support PFB.
Pathways to Housing PA opened the PFB in 2014 as a centralized resource for furniture for human service organizations from across Philadelphia. Member agencies schedule appointments for their clients who then visit our showroom floor to choose their furniture to start fresh as they move out of homelessness. Each individual or family receives a full home's worth of furniture, including brand new bedding. Since our founding, we've furnished more than 5,500 homes; the number of homes furnished grows each year. Your Good Haul projects will ensure we can keep up with the demand form our community of individuals and families exiting homelessness.
Sustainability
100% of useable or recyclable items are diverted from landfills and distributed to our nonprofit partners. Furniture, of course, goes to the Philadelphia Furniture Bank. We work with several partners for non-furniture household items, bedding, linens, and housewares like the Habitat for Humanity ReStore and The Salvation Army Thrift Store. Clothing is delivered to Circle Thrift, and technology is sent to PAR-Recycle Works to be recycled or reused. We are continually building our list of nonprofit partners to ensure that all useable items are going to those in need.
Recyclable items are delivered to recycling centers, and metal is scrapped for revenue to support our operations. Good Haul strives to ensure that we are minimizing to the best of our ability the items from our projects that end up in landfills.
Tax Incentives
Because we are a nonprofit, social enterprise business, all donated items are tax deductible for our customers. Upon completion of your project, we will provide you with a receipt for tax purposes. You simply need to record the item(s) and the estimated value of those items, and hang onto the receipt until you file your taxes.
Lower Prices
Our pricing is $1.80 per cubic square foot; less than our for-profit competitors. Accessibility is important to us as a nonprofit, and we strive to keep our services affordable to all who need them. Low prices ensure that we are able to reach a wider range of individuals and businesses in our community.
Ready to take action?
Contact us to talk about your Good Haul project today!