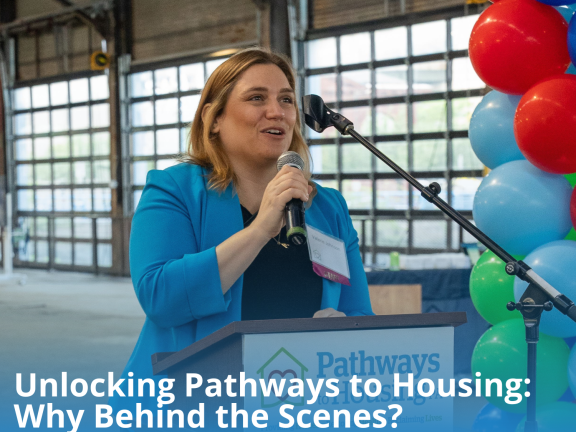 I'm Val, the Vice President of Advancement and Special Projects at Pathways. I am so excited that we were able to bring you this behind the scenes series all month long. I'm in a unique position here at Pathways, as most fundraisers are: I get to see the behind the scenes action, and then figure out how to bring it alive for you.
Traditionally, nonprofit stories tend to follow a simple formula: person has a problem, problem is fixed by nonprofit, person is now thriving. It's meant to evoke emotion for you, as the reader. It's mean to inspire you to act. What emotion is the most motivating, you ask? Guilt.
That's why you see so many sob stories. The starving children in Africa, the puppies shaking in the rain with their sad, sad eyes, they all have the same goal: make you feel bad that you have something that they do not. That guilt drives you to act.
I don't subscribe to that old school way of telling nonprofit stories. For one, they're infantilizing and patronizing towards the people that the nonprofit is supposedly trying to help. I'm not likely to believe that you have your program participant's best interests at heart if you're out here parading their worst moments for the world to see. For another, I don't think it's necessary. Many emotions can inspire someone to support you, and it doesn't have to always be guilt.
At Pathways, we lean hard in the opposite direction. We studied ethical storytelling principles and are developing a community-centric marketing process that will allow our program participants to direct our story telling strategies. We want to highlight our participants for who they are and give them agency in how they are portrayed, rather than mold them into a stereotype. Hopefully you've noticed that throughout the past few years.
But we also want to achieve two other important goals. First, we want to give our participants a break. They're not here to help us promote our work, they're here to achieve their own goals. It's an incredible privilege to be able to tell their stories, but we also need to be mindful that sometimes, they just don't want to share.
Second, our participants aren't the only people who make our work happen. We have over 100 staff who are out in the community every day helping our participants achieve their goals, and it can sometimes be invisible work. They deserve to have the spotlight so that you, our supporters, can see just what goes into helping our participants succeed.
I really hope that you enjoyed spending time with our staff this month and that we've been able to help deepen your understanding of what we do here at Pathways. I've been dreaming of opening this door so that you can see what I see every day: the passion, the dedication, and the drive to ensure our participants have every opportunity for success.
Of course, the whole point of this series was also to inspire you. Not to guilt trip you, but to give you hope. We have an amazing team here that is doing really difficult work every day. You can ensure that we continue to do this work by making a donation to support our general operations. Really, what that means is you're directly supporting Sidney, Randy, Sonny, John, Reina, and our entire staff - even me! A donation in any amount directly impacts the work that we do.
We'd also love to hear from you. Did you like this behind the scenes series? Do you want more? Do you prefer participant stories? Let us know! Shoot me an email with your thoughts.