What are customers saying about Good Haul?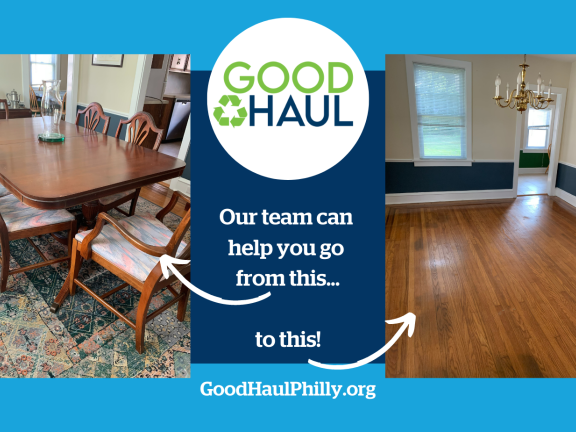 Joanne was one of our very first Good Haul customers, and she sat down with us to talk about her experience.
How did you find Good Haul?
We had to sell my father's house, he actually went into assisted living about a year and a half ago. He didn't want to sell the house. Now, like after a year and a half, we decided to sell it. So it was completely furnished. I wanted to go to someone who needed furniture, because most of it was in good shape. He had beautiful dining room set. So I started looking for furniture banks. I found the Philadelphia Furniture Bank. I put in an order for them to pick up what they would pick up, knowing that I was then going to have to hire someone else to take everything else. When I submitted the letter that came up mentioned Good Haul. And so I was like oh my gosh, this is perfect. Because they'll get the furniture to where it needs to go. And then we could get rid of the washer, the dryer, which I didn't even realize you guys are even making good use of that, which thrilled me because I just assumed most of it was just gonna go get trashed.
What were you most concerned about?
I was really concerned because my sister, who moved I guess about two years ago, hired a company who claimed they were going to find good homes. She had a beautiful piece of pottery barn furniture that they threw in the truck and smashed to smithereens. She was devastated. I was devastated when she told me I'm like, so I'd wanted to avoid that.
What surprised you about Good Haul?
Some of the stuff I thought that would be thrown away, didn't even get thrown away. So this was a perfect, perfect win-win. Everyone's thrilled.
Did you feel the pricing was fair?
We were gonna have to pay anyway. I would gladly pay, knowing that it's going to go to a good home, because I just thought of waste just drives me crazy. It's just one of those things. I can't stand waste. I just can't stand throwing things in the trash. Our society just throws away so much stuff. It's just ridiculous.
Would you use Good Haul again?
We had porch furniture that my brother planned to take, and chairs that my sister was going to take to the Poconos. Both plans fell through, so I called Good Haul this morning and asked, can you come back? My sister moved into a new construction home. And they have the chandeliers that they put up. And she took those down, brand new, and put in new ones. So I'm gonna give you those too.
What was the Good Haul team like?
The workers were so skilled at what they do, because of course, I was like, oh, you're never gonna get that washer and dryer up without taking the doors off. I remember when we brought him in, we had it and he says, 'You got to trust me.' Sure enough, he lifted that thing up and took it right out. And I was like, I stand corrected.
Any final things to share about your experience?
It took such a weight off my shoulders. Because, you know, we had this house furniture. And what do you do with it? They were really skilled at what they did. And they made it look so easy.