Request for Proposals: Strategic Plan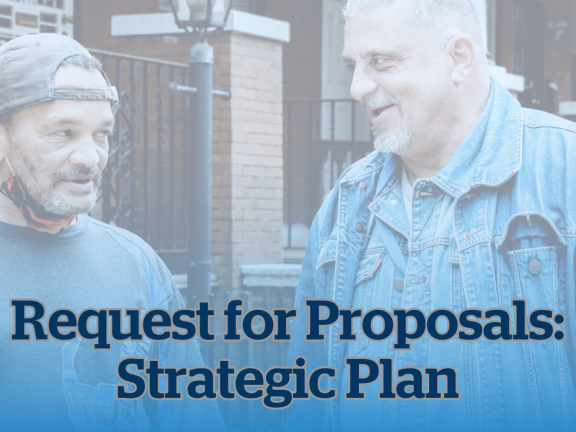 Summary
Pathways to Housing PA, a Philadelphia-based nonprofit human services organization celebrating its 15th anniversary in 2023, is seeking a consultant to support our next strategic planning process. Our current strategic plan covers FY2019-2024, and as we approach the end of that five-year period, we have found that we've achieved the majority of our goals and are in need of a refresh.
We are open to a three- or five-year plan, given the shifting nonprofit environment post-pandemic. As a $20 million organization that has undergone significant growth in the last five years, we want to pay particular attention to capacity building and stability as we explore our next steps.
Priority will be given to consultants who have experience working to incorporate the various community partners, staff, and participants of our organization, as well as those who work regularly with housing and human services organizations. We hope to finalize the plan within one year.
Organization Background
In 2008, the City of Philadelphia engaged Pathways to bring its evidence-based Housing First model to Philadelphia to help end chronic homelessness. We currently house more than 550 people in regular apartments across the community, with an unprecedented 85% housing retention rate for participants. These same participants would be considered not housing ready in other programs.
As an alternative to emergency shelter and transitional housing, Pathways' Housing First model is simple: provide housing without preconditions, and then address underlying issues around mental health, substance use, medical care, and education to welcome people back into the community. In our 15 years of operation, we've expanded our offerings to include an onsite Integrated Care Clinic and Community Inclusion Program, Housing First University, the Philadelphia Furniture Bank, Good Haul, and Work First, a supportive employment program.
Project Scope
Pathways to Housing PA has several values that we expect our strategic planning partner to hold as well:
Housing is a basic human right.
Everyone deserves a place to call home – it's that simple.
Every person should be treated with dignity and respect, regardless of their current situation.
Everyone should have choices in life, and we empower people to make informed choices that reduce harm to themselves and others.
Creating a culture where it is easy to practice kindness, and everyone is welcomed with grace and hospitality, is essential.
Complex issues like homelessness require creativity, innovation, and constant evolution to meet the needs of those affected.
It's also important to us that the organization we partner with holds diversity, equity, and inclusion at the core of their work with us as we chart a path forward. We support a vibrant, diverse population of individuals and we'd like to ensure that their voices are included in our process, alongside community partners, staff, and board members.
The ideal proposal will support our efforts to organize and facilitate strategic planning surveys and interviews with various partners, as well as guide the development of strategic goals and related objectives, strategic initiatives, and measures of success. The chosen partner will design and deliver a written strategic plan for approval by our Board of Directors. We would prefer to work with a partner that will engage in several avenues for feedback in order to build an inclusive, creative, data-driven process of discovering the organization's strengths, challenges, and opportunities. We'd also like the proposal to include an external research scan of policy, practice, and funding trends and promising practices in the sector. Additionally, we would be open to the creation of an implementation or operational plan that could be tracked throughout the strategic plan process to ensure that we are on track to accomplish our goals.
Timeline
The timeline for this project is as follows:
July 5, 2023: RFP is announced
August 4, 2023: all proposals are due to Pathways to Housing PA
September 13, 2023: all applicants are informed of their status
October 2, 2023: project begins
June 30, 2024: project is completed
Application and Selection Process
Submissions are due by August 4, 2023, and should be submitted to development@pthpa.org. Questions may also be submitted to development@pthpa.org, and we will answer them as quickly as we are able prior to the submission deadline.
We do not require a specific format or template, but we do ask that all proposals include:
Your background and expertise
Team members and bios
Your approach to strategic planning
List of deliverables
Project timeline
Comprehensive budget, not to exceed $20,000