Pathways to Housing PA launches Good Haul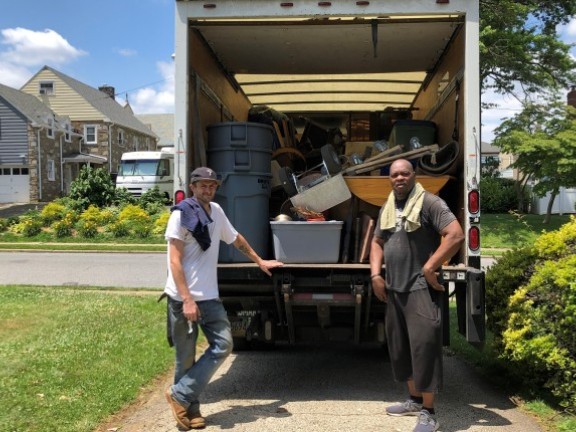 Philadelphia, PA – Pathways to Housing PA announces the launch of Good Haul, a social enterprise junk hauling business that generates revenue to support the Philadelphia Furniture Bank (PFB).
Customers can hire Good Haul for jobs as large as a commercial clean out or as small as a pick-up of furniture and other items. Good Haul staff provide reliable, timely services and ensure that the majority of the items collected are repurposed. Home goods, clothing, linens, and other useable goods are donated to several nonprofit partners across the Philadelphia community. Metal, technology, and other recyclables are recycled, and furniture is donated to PFB. Only unsalvageable items end up in the dump or a landfill.
Revenue from Good Haul is reinvested in the Philadelphia Furniture Bank, which will support PFB's ability to furnish homes for more than 1,300 families in our community each year. Pathways to Housing PA has operated the Philadelphia Furniture Bank since 2014, and in that time, we have furnished more than 6,000 homes. Despite being a valuable, unduplicated resource to our community, PFB has grown so significantly since launching that we are proactively seeking more stable funding for operations through the launch of Good Haul.
Pathways currently operates Work First, a transitional employment program, at PFB and employs 8-10 individuals at any given time. Work First staff receive one-on-one career coaching, in addition to wage-paid, part-time work supporting PFB's operations. With the addition of Good Haul, Work First will expand to hire 8-10 additional staff.
Good Haul currently employs two former Work First staff in full-time positions, which is an excellent example of the success of the program in opening the door to full-time positions, both internal and external.
Since our soft launch in July 2022, Good Haul has completed more than 50 projects and generated $65,000 in revenue. More than 600 items have been donated to PFB valued at $44,743 since our launch. Partnerships have been developed with area businesses such as Urban Outfitters, who schedule regular pick-ups to donate excess or test product to Good Haul's nonprofit partners. Such partnerships are an important piece of Good Haul's business, and we look forward to developing new partnerships in the new year.
About Pathways to Housing PA
In 2008, the City of Philadelphia engaged Pathways to bring its evidence-based Housing First model to Philadelphia to help end chronic homelessness. We currently house 550 people in regular apartments across the community, with an unprecedented 85% housing retention rate for participants. These same participants would be considered not housing ready in other programs.
As an alternative to emergency shelter and transitional housing, Pathways' Housing First model is simple: provide housing without preconditions, and then address underlying issues around mental health, substance use, medical care, and education to welcome people back into the community.
About the Philadelphia Furniture Bank
In late 2014, Pathways to Housing PA opened the Philadelphia Furniture Bank (PFB) as a centralized resource for furniture for human service organizations from across Philadelphia. Member agencies schedule appointments for their clients who then visit our showroom floor to choose their furniture to start fresh as they move out of homelessness. Each individual or family receives a full home's worth of furniture, including brand new bedding.
PFB relies on furniture donations from individuals and businesses in order to operate, from single items of furniture all the way through to large hotel or dormitory cleanouts. This donated furniture would otherwise end up in landfills, and instead helps individuals and families transition from temporary to permanent housing. PFB is an unduplicated resource in Philadelphia for social service agencies and our shared mission of ending homelessness.
Media Contact
Valerie Johnson, VP of Advancement and Special Projects
267-252-8136