Pathways' Alumni Association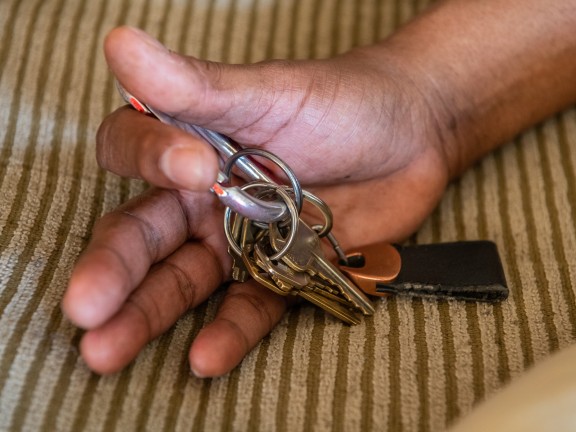 Housing First does not necessarily mean Housing Forever. Our model means we do not have requirements, such as sobriety, income, or treatment, that need to be met to qualify for housing. We believe housing is a basic human right, and everyone deserves a safe place to call home. Furthermore, losing income, not taking meds, or being active in substance use are not factors that would cause one of our participants to lose their housing. People who require our services can generally stay in their apartments as long as they need us. In some ways, our approach is still a radical idea. Many other agencies do not give as much or as freely, and the second or third chances we give people are unheard of in other systems.

However, we also believe in our participants' capabilities and autonomy. Our services aim to be participant-driven, and we seek to work alongside them in their personal goals. It helps to foster self-sufficiency and confidence to work on things together rather than doing things for someone. This means there may come a time when certain individuals will outgrow Pathways, and we will encourage their independence and self-determination. Our mission to provide homes and restore health contributes to the ultimate goal of reclaiming lives.

To that end, Pathways is thrilled to welcome our first graduates into our Alumni Association. Alumni will be participants who have thrived so much in our program that they no longer rely on us for their housing or other supports. Most of our teams provide Intensive Case Management support, which is a higher level of care to more effectively help people with greater needs. Over time, and in certain cases, some individuals require less intense support. Candidates for the Alumni program, for instance, have largely come to manage their own income, appointments, housing, and physical and mental healthcare.

As the Alumni Coordinator, I will be planning with these individuals and their clinical team members for their graduation out of Pathways' services. Together we will ensure they are in a position of stability relative to their benefits and housing, and can remain afloat after discharge. They will still retain access to our Integrated Care Clinic, as well as special events and exclusive Alumni outings (post- pandemic), as lifelong members of our Pathways community. More importantly, they will be an inspiration and a shining example of self-advocacy and determination. Housing First works, and the Pathways to Housing Alumni will be the experts in that journey: the true graduates of Housing First University.

One such upcoming Alumni member, Mark, has been with Pathways since 2011. He says that he was homeless for six years before coming to Pathways, staying mostly in shelters or outside. According to him, "a lot of people promise things" to people who are homeless, so he was grateful that Pathways actually delivered. Having an apartment allowed him to "enjoy being home" for the first time in several years, and he was able to focus on "getting back to work." He notes for instance that he spent some time working in our Work First program at the Philadelphia Furniture Bank. He was also able to connect with a psychiatrist and a counselor after being housed. These days, Mark tells me he is focusing mostly on answering calls from potential employers and "getting back in shape" at his local gym. For other Pathways participants, his advice is to "move forward and don't be worried because Pathways is there for you."

By providing low-barrier housing and services for our participants, we can empower them to reclaim their lives on their own terms. Alumni members demonstrate the efficacy of prioritizing self-determination for participants. We should believe, and in fact expect, that these individuals can achieve more if adequately provided for. Just because someone may need a helping hand out of a difficult situation does not mean that they will need to rely on intensive case management forever. Given the support and resources that they deserve, without demanding they meet readiness criteria or denying that they can live independent lives, people can really thrive instead of merely surviving. Everyone deserves a chance at living the life they want to live.