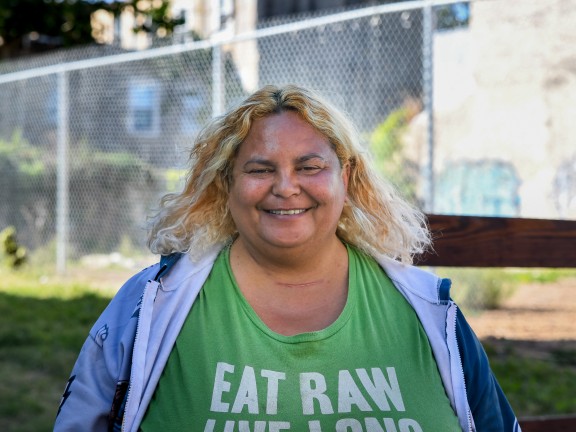 Addressing the health needs of our participants can be a challenge. In most cases, they are more susceptible to chronic health conditions as a result of years spent living unsheltered without access to regular healthcare. Our onsite Integrated Care Clinic was established to integrate physical, mental, and behavioral healthcare and to break down barriers to care for our participants. We continue to steadily increase the resources and services offered to ensure that we're meeting the changing needs of our participants and providing the best possible level of care.
We've found that medical professionals can easily become overwhelmed by the number of unaddressed needs for our participants at a first visit, which can be discouraging to a participant who is already uncomfortable in a medical setting. Building a strong relationship between our healthcare staff and our participants, and housing our Integrated Care Clinic onsite at our offices, can take the fear and uncertainty out of medical care and help our participants feel safe.

Sandra is one such participant. Sandra describes herself as a tough one: she didn't want to leave the street and it took many tries for our team to gain her trust and convince her to finally move into her own home. Prior to working with Pathways, Sandra experienced abuse and violence from recurrent home invaders, which ultimately led to her becoming evicted and deciding that she felt safer living unsheltered.

Once Sandra decided to accept our offer of housing and support services, her new team took her to view a few available apartments so she could decide what was the best fit for her. She chose an apartment located near the hospital, which made Sandra feel safe and comfortable. When she arrived to her new home the first day she told us she was happy and relieved to see that all of her things had already been brought to the home for her.

It took a little while to transition into living in her new home, but after working with her team she felt settled and began visiting the Integrated Care Clinic regularly to catch up on her medical needs. While working with our staff she discovered some health issues that were causing her to feel exhausted - now that she has more information she knows the best way to take care of herself. After one regular checkup, Sandra was diagnosed with cancer.

She told us that the Integrated Care Clinic and her team were so supportive through her journey towards recovery and she is now in remission. The Clinic also helped her to get hearing aids, and her dog is currently in training to become a service animal that can read and understand sign language.
"I'm a different person now that I've gone through the Pathways to Housing PA Integrated Care Clinic."
Before experiencing homelessness, Sandra was in school to become a social worker and loved to run. Now, she enjoys reading books and found a new passion in cooking and taking care of her health through food. She enjoys cooking lasagna for her neighbors and making juices every morning for herself. Her current favorite is kale, apple, and orange carrot. She believes that when people support Pathways, they're investing in individuals and their health and happiness.

Without the strong support of her team at Pathways, Sandra may never have had the opportunity to complete the procedures that have led to a marked increase in self-esteem and self-confidence. Breaking down barriers to treatment to ensure that all of our participants have access to healthcare is an important piece of our Integrated Care Clinic, and we will continue to work collaboratively to ensure participants like Sandra have their healthcare needs met