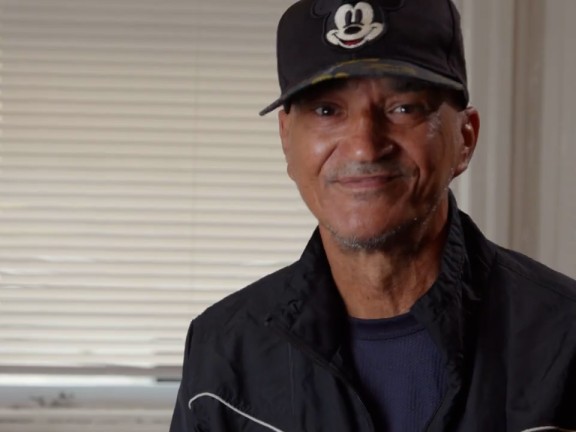 Roberto is one of 75 participants that was introduced to our program at the onset of the pandemic. He believes the home and help from Pathways has given him the foundation to start saving money. He most looks forward to finding a job, and hopes to be able to take trainings to become a peer specialist one day. Roberto calls Pathways' caseworkers his angels, and is grateful to be safe and secure in his new home.
Our Housing First Heroes help us plan for the future and ensure that funds are available year-round for people like Roberto by committing to a recurring monthly gift. With every dollar you give, you are giving the most vulnerable in our community the opportunity to set their own goals and realize their full human potential.
James is a Housing First Hero and believes it's important to give to organizations like Pathways who are frontline workers. Our Housing First model resonates with James because it provides supportive treatment services in the areas of mental and physical health and substance use. James says "Don't look at it like you're giving away money; you're investing in somebody else getting better and reclaiming their lives." See below what your monthly gift over a year can achieve.
 
We hope you will consider joining Housing First Heroes. 
  $10 a month can provide a cell phone and pre-paid minutes for a participant to have access to telehealth and other supports.
  $25 a month can ensure that someone exiting homelessness is able to sleep in a brand new bed in their home. 
  $50 a month ensures that our staff is equipped with the necessary resources to continue supporting our participants in every area of their lives.


  $100 a month provides an entire year of groceries to a food-insecure participant.
 
Will you join us?
Sign me up!