Meet Our Artists Part Four 2022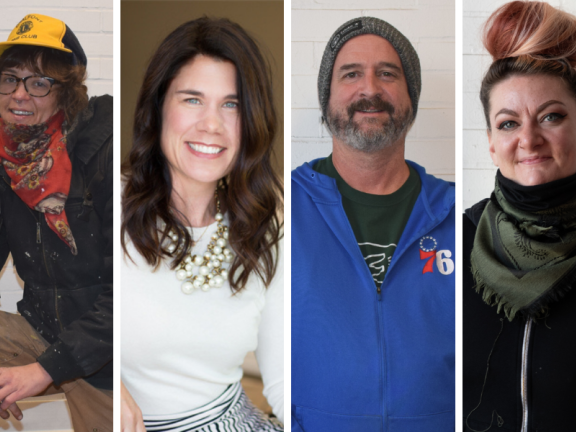 As we approach Furnished for Good, we will be featuring our artists who have created pieces for the upcoming event and auction. This year we are working with 20 local artists selected by our Guest Curators, Damon Reaves and Lawren Alice. All of our artists work with different mediums, have diverse styles, and bring new perspectives through their artwork. This week we are featuring Katelyn Stoler, Glenna Stone, Bill Strobel, and Hannah Taylor.
 

 

 

 

 

 

Katelyn Stoler

"Kenzo" Kate is an artist, writer, and cultural worker who loves all things Philadelphia and spends most of her free time working with women in recovery from addiction. She enjoys reading, writing, and cartooning, and sharing these talents and hobbies with family & like-minded friends. She is passionate about literacy, and sees reading, writing, and creating art as crucial to self-expression, healing from trauma, and enhancing overall self-worth. 

 

She is currently working on creating a bookstore and community space in the Kensington neighborhood of Philadelphia. The project aims to help residents and inhabitants to find their individual voices through reading, writing and art, to listen to and learn from one another, and to empower each other and the community as a whole-- to cultivate a higher quality of life. Follow Kate on Instagram.

 

 

Glenna Stone

Inspired by her mother, an artist and teacher, Glenna Stone developed her sense of color and composition at a young age. She has always had a passion for combining color, materials and textures in an artful manner. Along with the GSID team, Glenna prides herself on being an original thinker, a good listener with impeccable attention to detail, and someone who sees each project phase through to completion. Their work as an interior designer is exceptionally rewarding because it allows them to enhance the quality of others' lives through design. Follow Glenna on Instagram.

 

 

 

Bill Strobel

Bill Strobel is a professional Philadelphia artist. Bill's clients include: MTV, Nasdaq, Philadelphia Eagles, Flyers, Sixers, Phillies, Union, Urban Outfitters, TAMEARTZ. Follow Bill on Instagram.

 

 

 

 

 

 

 

 

 

 

Hannah Taylor

Hannah Taylor is a cultural satirist, capital-O opinions. Hannah likes to play around with pop culture imagery and colors. Unconscionably snarky, sometimes. Follow Hannah on Instagram.