Meet Our Artists 2023 Part 1
As we approach Furnished for Good, we will be featuring our artists who have created pieces for the upcoming event and auction. This year we are working with 24 local artists selected by our Guest Curators, Damon Reaves and Lawren Alice. All of our artists work with different mediums, have diverse styles, and bring new perspectives through their artwork. This week we are featuring ​Stephanie Boateng, Timothy Bubel, Theo Ciccarelli Cornetta, Kyle Confehr, Raichl Davenport, and Gina Giles.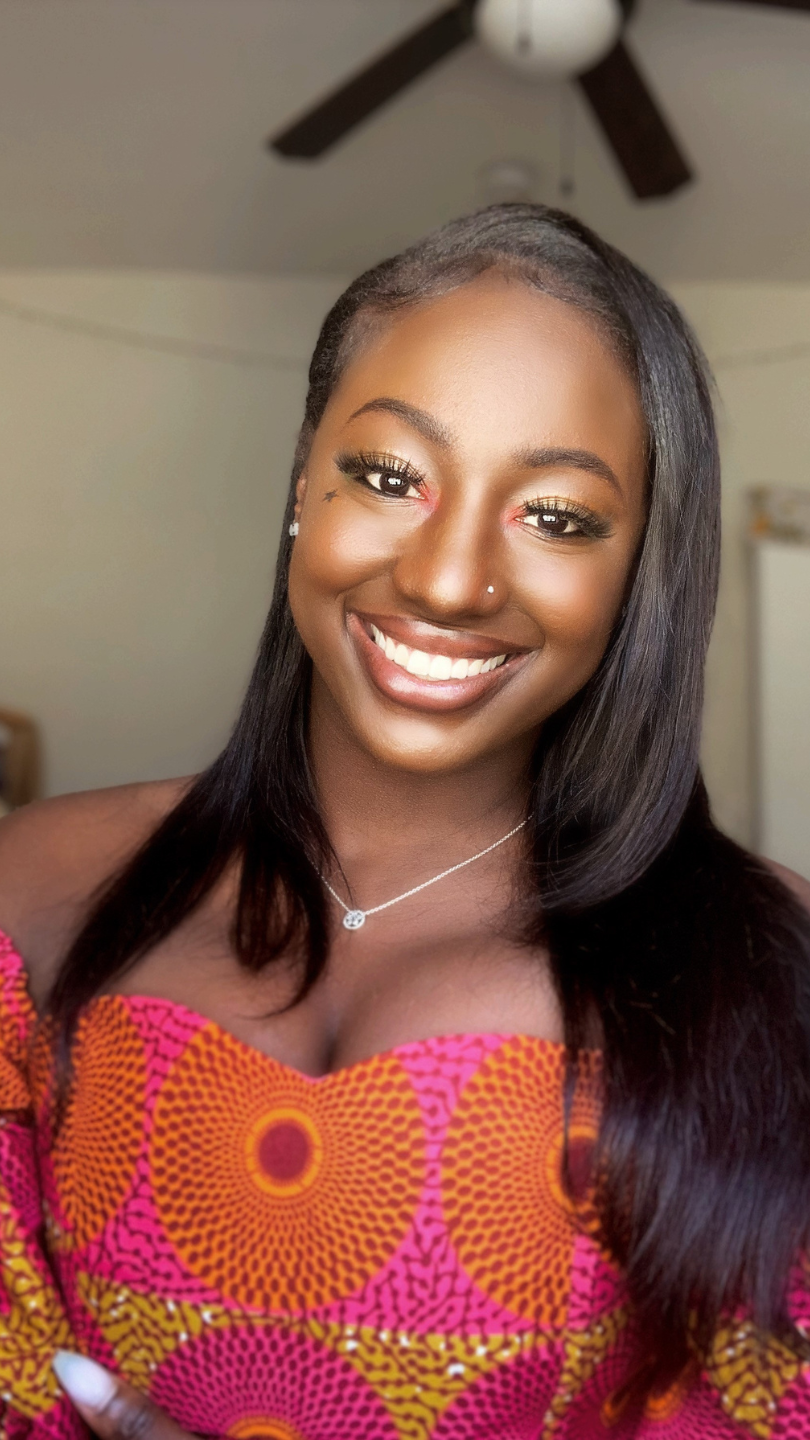 Stephanie Boateng
Stephanie Boateng is a 3D portrait painter based in Newark, Delaware. Her artistic style is bold and colorful with the goal – to make the audience smile. As a child, she has always loved to smile and share that joy with others. As Stephanie discovered her artistic style, it was a no brainer she would create art that captured the audience's eyes and hearts.  Her work showcases women across the spectrum whether their deemed socially attractive by the mainstream or not. Stephanie's wants everyone to see that everyone is beautiful and deserves to be happy, no matter their flaws or perceived imperfections. This ideal was born out of her personal war for self-love that art helped her battle.

Stephanie's process involves using a collage of facial features from multiple references to create her subject. Her paintings usually have a singular theme born from something that brings her joy like cake, bubbles, flowers, etc. That's where the subjects' personalities are born from. Her paintings are also named to reflect their individual theme/personality that I've created. Stephanie's paintings are created to be an experience of happiness, love, and beauty, with 3D elements allowing viewers interact with it in a very personal way.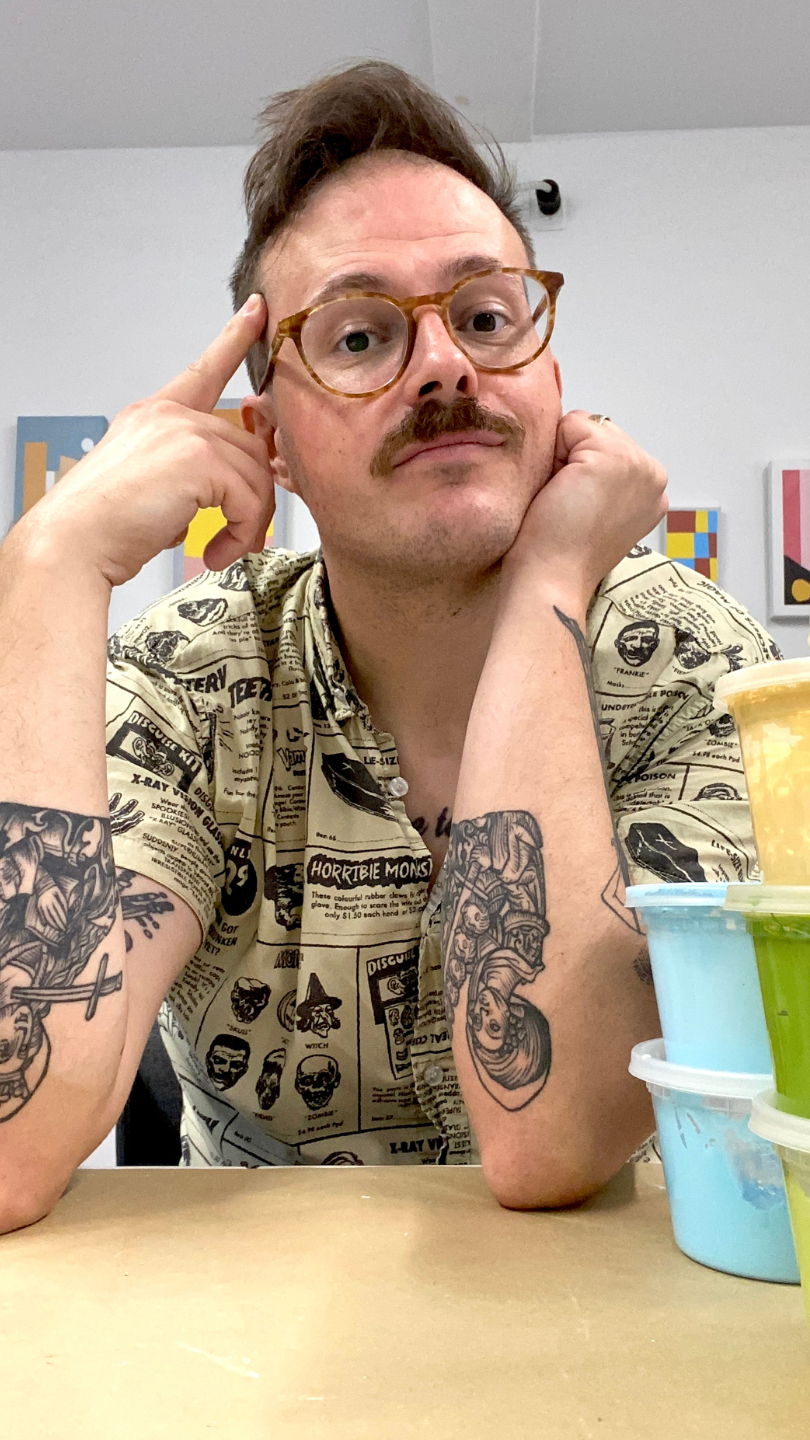 Timothy Bubel
Chicago born painter, Timothy Prettyman, has been creating artwork ever since he was old enough to hold a pencil. He creates bright and vibrant works that focus on color, shape, and composition rather than subject matter. When he isn't painting (which is rare), he is probably reading another Philip K. Dick novel or looking up random history facts. He resides in Philadelphia with his wife and their zoo (two cats and one dog).




Theo Ciccarelli Cornetta
Theo Ciccarelli Cornetta is a fiber artist working in woven structures and critical theory.

Grounded in gender, race, and disability frameworks, their work connects with the historical depreciation of fiber and craft in the capital "A" art world; and as a queer maker with a disability, Theo connects with the lineage of women, people of color and other marginalized groups making outside of the majority.

Their current work takes a sentimental look at concepts of time and family. It explores the ways in which both are impacted by queerness, disability, grief, trauma, and madness.

Originally from the Midwest with strong ties to New York City, Theo now lives in Philly. They received their M.F.A. from Temple University in 2020. Outside of my art practice, they are deeply engaged in community support as a lawyer practicing child welfare law.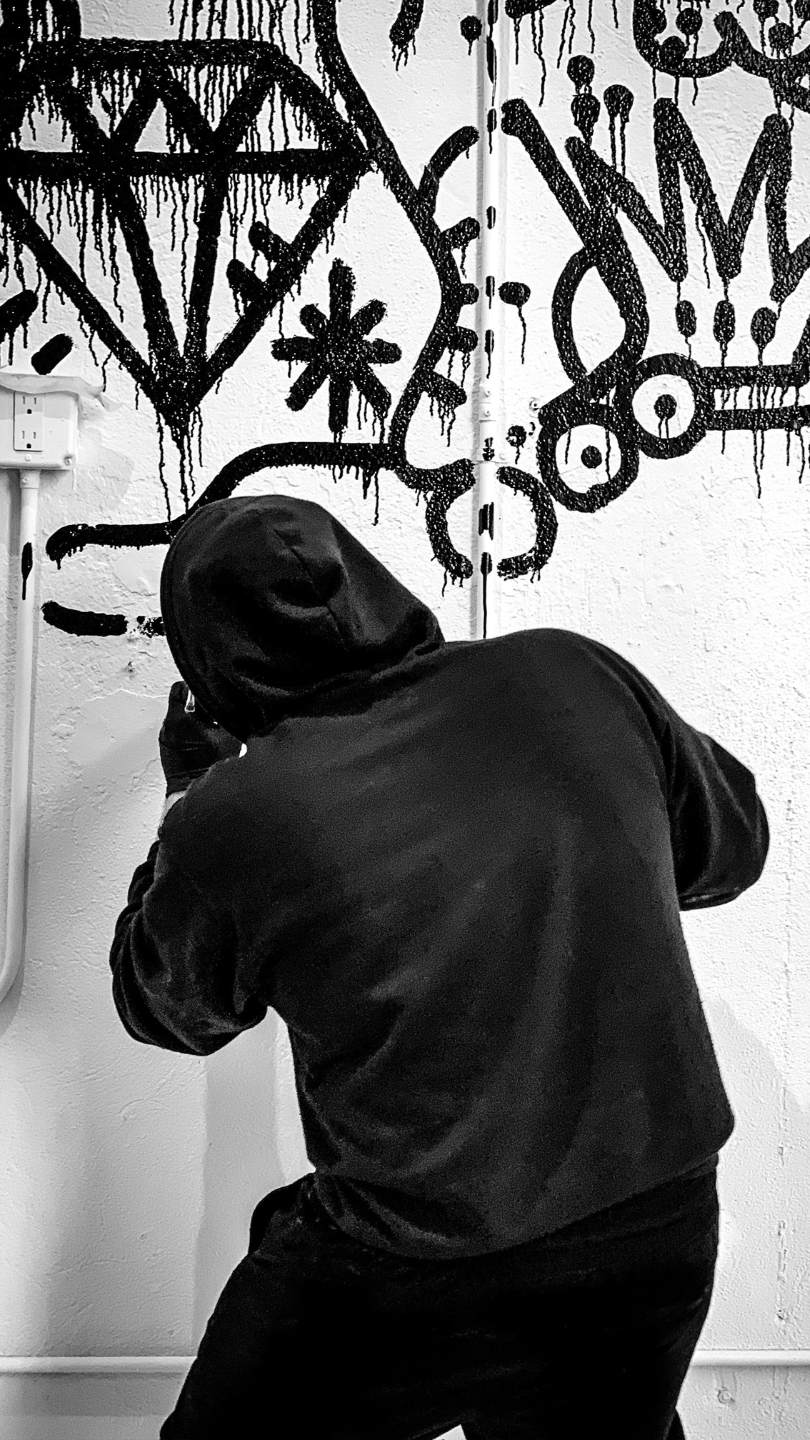 Kyle Confehr
Kyle Confehr is an ambidextrous artist, designer and friend based out of Philadelphia, PA. Growing up in Northeast Philadelphia, Kyle spent most of his days on a skateboard, in art classes or playing video games.
His work blurs the lines between art and graffiti by weaving nostalgia, humor, and personal experience into densely ornate pieces. Kyle's work can be seen around Philadelphia at the Philadelphia International Airport, Neighborhood Ramen, The Fillmore and HoneyGrow to name a few.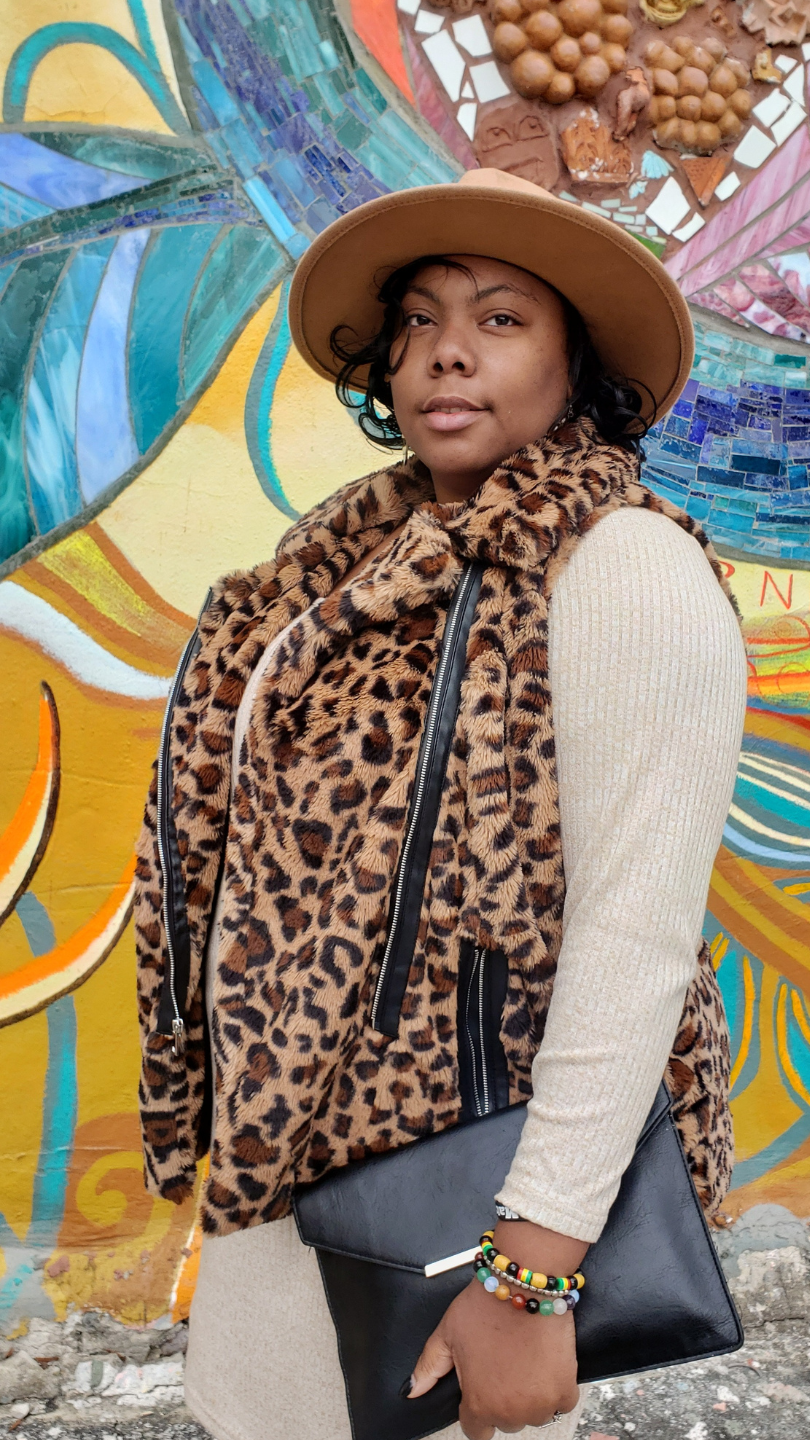 Raichl Davenport
Raichl Davenport is a fabric artist from the City of Brotherly Love, Philadelphia PA. Using printed fabrics, with a special focus on African inspired patterns, Davenport creates images that tell stories centering Black people, Black experiences, and the continued fight for justice & equality. The self-taught artist started her art journey in 2018, making fabric creations just for family and friends.

In 2020, as the world changed, so did the nature of her business. She started working under her brand, named AfroLove, and taking her art to new places. In the year 2021, AfroLove participated in 6 art shows, partnered with 4 local art collectives, and sold 35 unique pieces of artwork. In 2022, her AfroLove brand appeared at art exhibitions around the city, such as the Manayunk Arts Festival, Last Fridays @Avenues Café and alongside Art Star Philly, just to name a few. Follow Davenport's journey on the web at www.AFROLOVEPHILLY.com or on Instagram @AfroLove_Philly.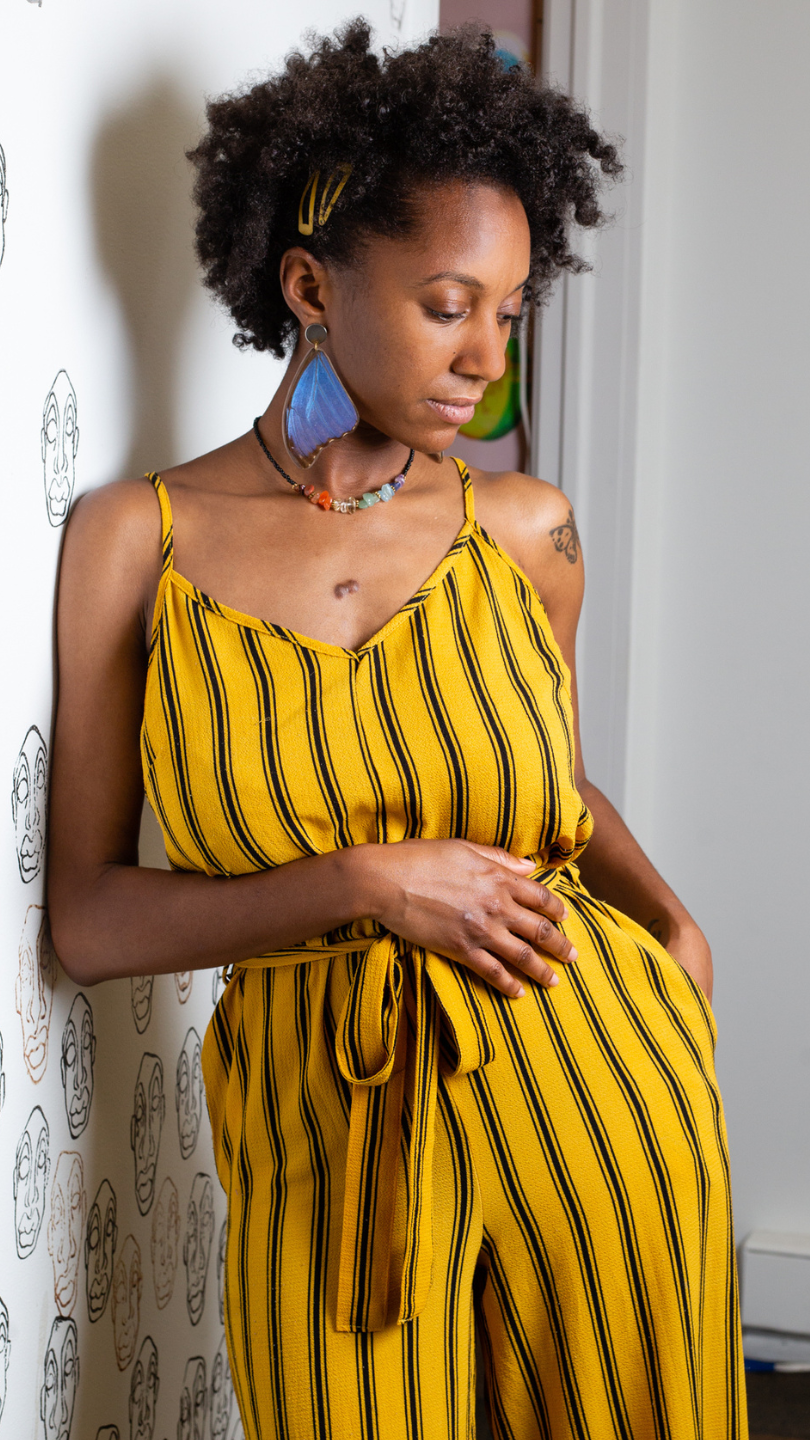 Gina Giles
Gina Giles is a painter and fiber artist with a background in photography and digital art. Since her graduation from Moore College of Art & Design where she studied Photography and Digital Arts, Gina has honed into a very personal approach to art making that blurs the lines between her more straightforward two-dimensional pictorial style and her trail-blazing interpretation of fiber art.

Drawing inspiration from her wide-ranging inner states and her peaceful communion with nature, Gina manifests a vibrant representation of her reality as an African American woman, feeling her way through adulthood and the nuances involved in one's personal take on femininity, empowerment, independence and vulnerability.