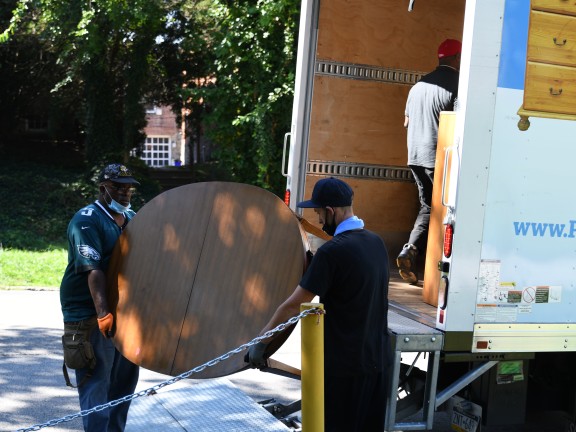 Pathways to Housing PA has operated the Philadelphia Furniture Bank since 2014, and in that time, we have furnished more than 5,500 homes. Despite being a valuable, unduplicated resource to our community, PFB has grown so significantly since launching that we have continued to struggle to fully fund its operations.
In that time, we have also noticed a few things:
We are keeping more than $600,000 worth of furniture out of the dump each year.
We have to turn down more than 2,000 donation pick-up requests each year because we do not have the capacity or resources to accommodate so many free pick-ups.
We have built such strong relationships with our organizational donors that they have asked us, repeatedly, to take more than just furniture when we do commercial clean-outs. Again, we just do not have the capacity to do that.
Our Work First program is doing transformative work, but we are limited by the fact that the positions at PFB require a lot of physical labor that not all applicants are able to handle.
In late 2019, we began to develop a new venture that would address all of the above: a social enterprise junk hauling business. The pandemic put a pause on those plans in early 2020, but by end of 2021 we were able to refresh our plans and secure start-up funding for the new venture.
In summer 2022, we are officially launching Good Haul, a social enterprise junk hauling business. For a flat fee of $1.80 per cubic foot, our customers can hire Good Haul for jobs as large as a commercial clean out or as small as a pick-up of furniture and other items, which Good Haul will donate back to the community. Our Good Haul staff will provide reliable, timely services that will ensure that the majority of the items we collect will be repurposed.
Good Haul will work closely with the Philadelphia Furniture Bank, building a client base from existing PFB supporters and ensuring that useable furniture from clean outs and pick-ups are donated to PFB. Home goods, clothing, linens, and other useable goods will be donated to several nonprofit partners cross our community. Metal, technology, and other recyclables will be recycled, so that only unsalvageable items end up in the dump.
In addition, our Work First transitional employment program will expand to hire 12 additional staff to support Good Haul in addition to those already working at PFB. We're thrilled to be able to offer Work First positions that aren't as labor intensive as those at PFB; we'll have a handful of office positions for staff to support scheduling, sorting items, and arranging donation logistics.
Revenue from Good Haul will be reinvested in the Philadelphia Furniture Bank, which will support sustainability of operations so that we can continue to furnish homes for more than 1,200 families in our community each year. If you're interested in learning more about how you can become one of Good Haul's first customers, please visit our website for more details.