Hunger and Homelessness Awareness Week 2023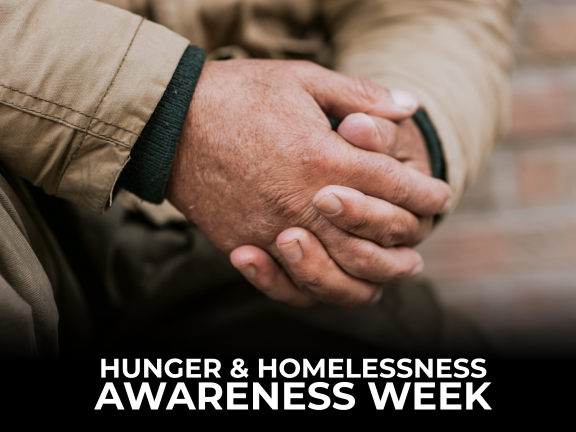 We believe that housing is a basic human right. Everyone deserves a place to call home – it's that simple.
Each night, over 4,725 individuals grapple with homelessness in Philadelphia, with more than 950 forced to sleep without shelter. A rising number over last year's point-in-time numbers. Hunger and Homelessness Awareness Week commences on Saturday, November 11th, aiming to spotlight poverty—an initiative launched by Villanova University in 1975. Since then, each year, the National Coalition for the Homeless and the National Student Campaign Against Hunger and Homelessness sponsor Hunger and Homelessness Awareness Week during the week prior to Thanksgiving.
Hunger and Homelessness Awareness Week is designed to educate the public, draw attention to the problem of poverty, and build up the base of volunteers and supporters for local anti-poverty agencies. Groups spend this week generating publicity about hunger and homelessness and holding a series of events to engage their communities. This year, more than 700 colleges, high schools, and community groups across the country will come together during this week to raise awareness. We are proud to unite with fellow social service organizations this week to advocate for community backing and funds to combat these pressing challenges.
Pathways to Housing PA was established to positively transform the lives of individuals facing mental health challenges and chronic homelessness by supporting self-directed recovery and community inclusion. Our approach prioritizes providing housing first, followed by comprehensive supportive treatment services spanning mental and physical health, substance use, education, and employment. Unlike traditional emergency shelter and transitional housing systems, our model embraces simplicity and effectiveness.
Our focus is on supporting those with behavioral health disabilities who have experienced chronic homelessness, offering permanent housing, medical care, behavioral health care, and fostering active participation in community life. Addressing the complexities of homelessness demands constant creativity, innovation, and evolution to meet the diverse needs of those affected.
Housing is distributed across various Philadelphia apartments, employing a scattered site model that cultivates a sense of home and self-determination, expediting our clients' reintegration into their communities. Our aim is not just for participants to live in the community but to become integral members. Notably, Pathways to Housing PA maintains an impressive 85% housing retention rate, even for individuals deemed not housing-ready by other programs.
Throughout this week so far, we have shared blogs covering various aspects of hunger and homelessness, including veterans' homelessness and the power of kindness. We are also excited to share the following upcoming blogs: common myths around homelessness, the current state of food insecurity in Philadelphia, and ways you can contribute to supporting those experiencing homelessness and hunger. Stay tuned for more!