How Housing First Changed My Life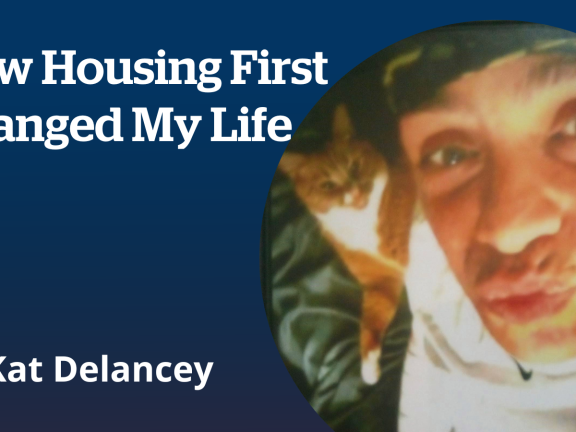 Housing First is a policy that offers unconditional, permanent housing as quickly as possible to people experiencing homelessness, and other supportive services afterward.
It's been quite a year for me. I'm quickly approaching four years of permanent housing, in the same apartment, come October 16th. It's time for me to reflect on not only this year, but also my mental health stability over these last four years.
I think my first year and a half being housed I slept in my living space, not my bedroom. It had been three years since my last apartment. Before coming to Pathways to Housing PA and my first year in housing, I was enrolled in trauma informed care, attending 55 minutes of psychotherapy. I had developed a Wellness Plan.
My first month being housed I met a cat who I named Honey. Honey used to follow me daily to and from my home when I was coming and going. I soon brought her in and later found out Honey was pregnant with two babies. Honey gave birth in my home one morning at 4am. Due to situations with my land lord, I wasn't able to keep Honey's babies, and wasn't sure if I'd even still be able to keep Honey due to the landlord's policy. I had reached out to my trauma clinician about getting a document for Honey that it was important that she'd be the only cat residing with me. Honey soon became legalized as my emotional support animal and with the help of Pathways to Housing PA, my landlord agreed to this.
Honey has drastically changed my life for the better. I've had three other street cats seek shelter with me since having Honey, and Honey has made it clear that she wishes to be the only cat because she chose me first! Honey depends on me and I look forward to taking care of her and spending time with her on the daily. I live with depression and Honey is something I look forward to every single day.
These days besides taking care of Honey, maintaining my home, and cooking, I'm seeing a behavior specialist to help me hold myself accountable. It helps change my way of thinking and how I respond to daily life and traumatic events. I continue to work with my team at Pathways to Housing PA to maintain permanent housing and working towards the goal of moving forward past Housing First programs.