Featured Work First Employee: Brian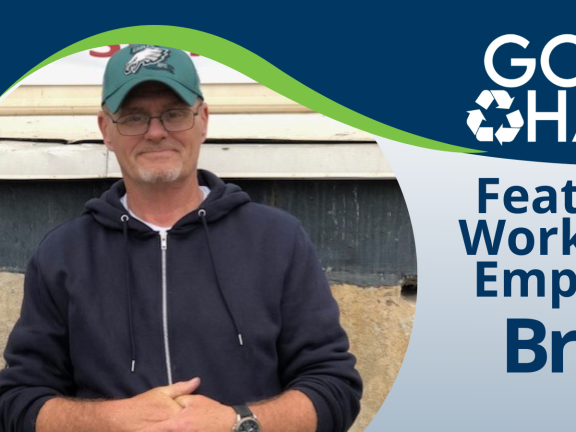 If you've made a donation to the Philadelphia Furniture Bank or scheduled a pickup with Good Haul, you may have met some of our Work First employees. Pathways to Housing PA operates our Work First Program at our Philadelphia Furniture Bank. The program increases low barrier job placement, both short and long term, while helping participants develop skills and increasing income. We believe that complex issues like homelessness require creativity, innovation, and constant evolution to meet the needs of those affected, and the Work First program was developed specifically to support those exiting homelessness who have struggled to find employment.
The program is open to people who have experienced homelessness and are currently in rapid, transitional, or permanent supportive housing in our system and provides wage-paid work, job skills training, and other employment services in a supportive environment with three tiers: job readiness training, transitional employment, and assistance with employment.

Meet Brian, one of our Work First employees who recently graduated from the program and has just started a full time position!

Question: What's your name, and how long have you been in the Work First program?
Brian: Brian, and I've been in the program for 6 months.
Question: What types of things have you learned as part of your job at PFB/GH that will help you in the future?
Brian: Respect, honesty, integrity, compassion for others. I would like to think, importantly, a sense of work ethic.
Question: Do you prefer working on the truck or working in the warehouse, and why?
Brian: On the truck, because I get to meet people and socialize with people from work. I get to talk to Blaine(our Good Haul Driver).
Question: What kind of job do you want to do once you leave the Work First program?
Brian: I do landscaping – I plant trees, mulch, do patios, do decks. (Brian left Work First to start a new full-time job in May 2023)
Question: Can you share with us your favorite part of your job?
Brian: Being around people I can trust. George (Furniture Bank procurement specialist) is outgoing and direct – he doesn't pull any punches; he tells you straight up. I like that directness.