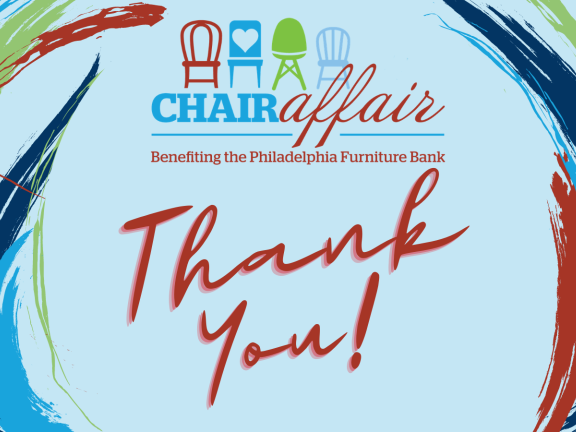 Every year, the prevailing feeling following the Chair Affair is gratitude. It's a team effort, and we have collectively raised more than $200,000 since the Chair Affair first launched in 2017, so there's a lot to be grateful for.

However, 2021 hits a little differently. It's our second virtual event, more than a year after a global pandemic set in, and we know that the Zoom fatigue is very real. Yet we still felt such an outpouring of love and support this year. Our amazing sponsors, many of whom have been with us since the beginning, once again supported the event not only by providing sponsorship but by attending and bidding on items. Our supporters were with us every step of the way, from bidding virtually to visiting our amazing auction items in person at the Cherry Street Pier and making donations in lieu of purchasing tickets. Despite being one of the hardest hit professions over the last year, our artists put together some truly incredible pieces for the auction. We say it frequently, but that's because it's true: we could not do what we do without your support. And the $45,000+ raised this year will help us to furnish nearly 1,000 homes through the Philadelphia Furniture Bank this year.

When we return in 2022, you'll find us under a new name: Furnished for Good. Our event has evolved from a small gathering with a few artists to a large auction and exhibit with more than 20 pieces and 18 participating artists who help create not just chairs, but all sorts of furniture and decorative items that help turn a house into a home. By supporting us, you're not only furnishing your own home for a good cause, you're helping to furnish the homes of those who have experienced homelessness. I hope to see you all again in 2022 at the inaugural Furnished for Good, and thank you again for all that you do to support Pathways.