Landlord Engagement Strategies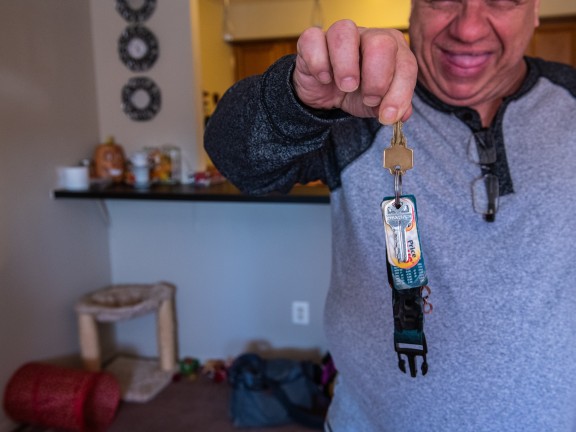 Since 2008, Pathways to Housing PA has grown from a team of 70 participants, to housing over 550 individuals with complex needs. As such, finding housing and maintaining mutually-beneficial relationships with landlords has been one of our top priorities. In this session, presenters will share insight into building our housing department from the ground up and developing it into the robust program it is today. Attendees will gain knowledge of proven leasing practices and unit retention, as well as strategies for building and cultivating productive, sustainable landlord relationships. Presenters will provide an overview of the Housing First approach to leasing and discuss the vital skill of responding to the needs of our landlords, while also maintaining supportive clinical relationships with our participants.
Schedule
1:45-2:00 PM | Virtual training room opens
2:00-2:10 PM | Welcome, introductions
2:10-2:25 PM | History of the Pathways to Housing PA housing department
2:25-2:45 PM | Master-leasing, scattered site, & communication
2:45-3:15 PM | Recruit, Support, Maintain, & Build
3:15-3:30 PM | Q&A

Learning objectives
By the end of the session, attendees will be able to:
Learn the intention of supporting continued tenancy in relation to high fidelity Housing First practice
Explore strategies that will assist providers in recruiting landlords, as well as leasing and retaining units for participants receiving housing
Gain skills to support landlords in maintaining long-term, collaborative relationships
Target Audience: Social service providers and helping professionals working in homeless services, policy-makers, government workers, agency administrators, CoC leads, property management workers and landlords interested in the Housing First model, or anyone invested in ending homelessness in their community.
Fees: $20 general registration

Registration includes access to the live event and recording, PDF of slides, and relevant training tip sheets/resources.
Session Facilitators:
John Lambert, MA, is an avid advocate for the Housing First model, and has served as the Director of Housing for Pathways since 2008. John received his B.A. in Sociology from Ramapo State College; and his M.A. degree from Rutgers University. He came to Pathways to Housing PA with a diverse employment background which includes working as a teacher and a certified Substance Abuse Counselor. In 2000, John moved to the South Jersey/Delaware Valley area and joined the staff of the Mental Health Association of Southeastern PA (MHASP). He received training and certification as a Targeted Case Manager, and later became the Program Manager for a low income housing project for people with mental health issues. After spending several years learning the "ins and outs" of housing alternatives for people dealing with behavioral health/substance abuse issues, he brought his wealth of knowledge to Pathways to Housing PA, where he faithfully serves the chronically homeless population in Philadelphia.
Andrew Spiers, LSW is the Director of Training and Technical Assistance for Pathways to Housing PA's Housing First University. Andrew joined Pathways in early 2018 and served as an Assistant Team Leader and Team Leader before launching Housing First University in October 2019. Andrew holds a Master of Social Service from Bryn Mawr College's Graduate School of Social Work and Social Research, where he concentrated in Community Practice, Policy, & Advocacy. He has taught Human Services and Sociology courses as an adjunct professor at Harcum College and conducted trainings and workshops all over the country on Housing First, harm reduction, and affirming care for LGBTQ+ communities.