Eviction Prevention Strategies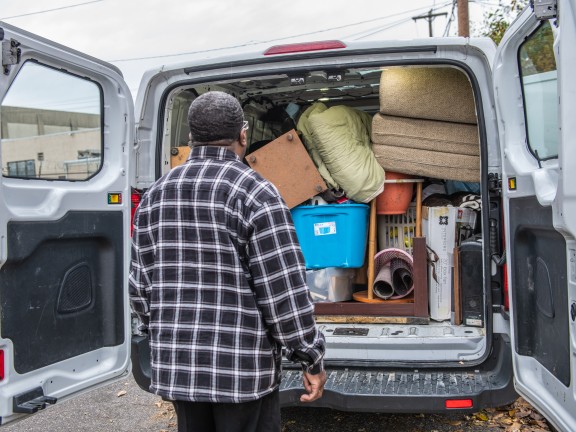 Congratulations, you got your client housed! Now, how do you keep them there? The Housing First model was initially developed to serve the individuals in our communities with some of the greatest barriers to success—chronic homelessness, serious and persistent mental illness, substance use disorders, and other disabilities. We know that programs maintaining a high fidelity Housing First practice typically report a housing retention rate of between 85-90%, but this work is not without its challenges. Unwanted guests, noise disturbances, damages, clutter, and unsanitary conditions are just some of the issues property managers, clinicians, and other support professionals contend with in supporting their clients to maintain successful tenancy. In this session, we'll discuss setting expectations, communication, harm reduction in supportive housing, and strategies for addressing common tenancy challenges. Landlords, program participants, and support staff all share a common goal—keeping people housed! Join us to learn how to preserve your landlord relationships while supporting participant needs and preventing eviction.
Schedule
1:45-2:00 PM | Virtual training room opens
2:00-2:10 PM | Welcome & introductions
2:10-2:40 PM | Common challenges in supportive housing
2:40-3:00 PM | The role of harm reduction
3:00-3:10 PM | Break
3:10-3:25 PM | Roles, responsibilities, & communication
3:25-4:00 PM | Developing mutual agreements to maintain housing
4:00-4:15 PM | Final thoughts, Q&A


Learning objectives
When attendees return to the workplace, they will be able to:
Describe the role of harm reduction in supportive housing work
Identify common tenancy challenges and practical strategies for mitigation
Practice developing mutual agreements to maintain housing
Target Audience: Social service providers and helping professionals working in supportive housing, agency administrators, CoC leads, property management workers, and/or landlords interested in low barrier housing models.
Social Work Practice Level: This course is appropriate for beginner, intermediate, or advanced BSW/ MSW learners
Course Delivery Format: Live webinar
Interactivity: This course will offer 15 minutes of Q&A time, as well as real-time polling, and group discussion prompts.
Social Work Continuing Education Credit: 2 CE Credits*
Fees: $20 general registration; additional $5 for registration with LSW/LCSW CE credit

Registration includes access to the live event and recording, PDF of slides, and relevant training tip sheets/resources.
Session Facilitators:
Andrew Spiers, LSW
Director of Training and Technical Assistance
Housing First University, a program of Pathways to Housing PA
Andrew Spiers, MSS, LSW (he/him), is the Director of Training and Technical Assistance for Pathways to Housing PA's Housing First University. Andrew joined Pathways in early 2018 and served as an Assistant Team Leader and Team Leader before launching Housing First University in October 2019. Andrew holds a Master of Social Service from Bryn Mawr College's Graduate School of Social Work and Social Research, where he concentrated in Community Practice, Policy, & Advocacy. He has taught Human Services and Sociology courses as an adjunct professor at Harcum College and conducted trainings and workshops all over the country on Housing First, harm reduction, and affirming care for LGBTQ+ communities.
Wakida Williams, MS
Assistant Clinical Director
Pathways to Housing PA
Wakida Williams, MS (she/her), is the Assistant Clinical Director at Pathways to Housing PA. She has over 10 years of experience leading Assertive Community Treatment (ACT) teams and holds a Master of Science in Administration of Human Services, as well as a Bachelor of Criminal Justice. Wakida first joined Pathways in 2013 and held the role of Assistant Team Leader before helping to launch a newly developed clinical team within the agency in 2015. As the Team Leader of Team 6, she spearheaded the creation of services tailored to the unique needs of participants ready to transition to a lower level of care. Team 6 focuses on helping participants to reach their highest level of potential by supporting advanced goals such as maintaining complete financial self-management, obtaining competitive employment, independently managing their behavioral health needs, navigating resource coordination, and transitioning to independent living. Six years later, Team 6 continues to thrive, leading to the development of our Alumni Association (AA), which Wakida oversees. In June 2021, Wakida and Pathways celebrated their first ever graduating class of ten participants and welcomed them into the Alumni Association.