Partnering for Meaningful Change with Park Center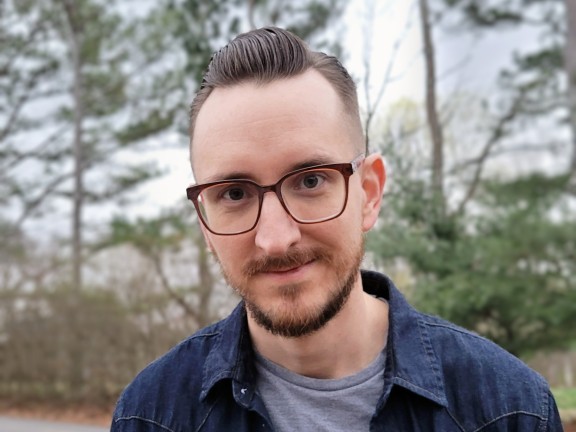 A chance meeting at a professional conference sometimes has the potential to alter the course of many lives. When the Housing First University team attends conferences on housing, mental health, & substance use services, we're always hoping to make new connections and hear about great work happening across the country. We're also hoping to spread the word about Housing First. Most people are familiar with the words, but fewer truly grasp the nuance and depth of the work.

It was clear when we met David Langgle-Martin back in April 2022 at the Housing First Partners conference in Seattle, he had a passion for providing services to end homelessness and a desire to continue moving his organization toward best practices. David serves as the Director of Permanent Supportive Housing at Park Center Nashville, a far cry from Philadelphia, but our shared vision around Housing First led to an immediate connection. David followed up with us at the end of April, seeking training for his growing team on high-fidelity Housing First, an exploration of policies & procedures, job descriptions, and even a follow-up review of their implementation progress. That's when we knew David was serious about Housing First.

For Housing First University (HFU), each training opportunity is a small chance to help turn the rudder of this immense homelessness services system in the United States in the direction of housing as a basic human right. But this opportunity with Park Center Nashville was shaping up to be a full-scale Housing First implementation. We would have the opportunity to contribute our expertise through a range of interventions, including training & technical assistance in various forms over many months. These sorts of implementation packages are always very exciting, offering us the chance to witness and be a part of concrete organizational changes. However, a truly successful implementation requires major buy-in from the contracting agency. As the training portion of the implementation process with Park Center Nashville came to a close this Spring, we offer the following themes to demonstrate the amazing work they are doing every day, the ingredients for change that allow the work to reach its potential, and the range of interventions HFU makes use of to support organizations in aligning with Housing First.
1. A clear, S.M.A.R.T. goal
It's easy to engage us to provide training, and we're happy to make custom training packages to meet very specific organizational needs. Indeed, training for the sake of training is a box we help organizations check nearly every week. But what Park Center Nashville did, is come to us with a very specific and relevant goal: to align with high-fidelity Housing First; in this case, they wanted training with a clear end-point! A frequent refrain in our training offerings is that in a world where funders increasingly require demonstration of a housing first approach to services, it's common to see organizations pick and choose the easier parts of the model to implement. This makes some sense in the context of resource scarcity (funding, staff time, etc.). However, in order to achieve the outcomes that have been achieved with Housing First over the last 30 years, we have to do the hard parts too. Park Center Nashville was willing to go all-in on this goal, while also critically examining how to make the model work in their specific context.
2. Flexibility and collaboration
From the outset of this relationship, it was clear that Park Center Nashville was not just looking for a standard package of training offerings as found on our training menu. They were looking to tap into our expertise in a collaborative process that would yield the best results. So, while we sent an initial "everything but the kitchen sink" proposal at the end of April (5 days after David's initial outreach), we worked together over the course of two months to whittle down and customize a package that included a very full suite of training offerings, as well as targeted technical assistance. While we typically offer a training series followed by technical assistance hours, Park Center Nashville chose to engage in technical assistance with our Director of Housing and our Chief Operating Officer in August, immediately after agreeing to the finalized proposal. Ultimately, we settled on 25 trainings and up to 150 hours of technical assistance. Over the course of the training series, there were other opportunities to have more targeted conversations about program structure and service delivery, including how to structure the Intensive Case Management (ICM) team and possibilities for billing structures. Nothing was off the table for discussion in order to align the program with Housing First, and this degree of flexibility meant that we never held back in offering up what we understand to be best practice for high-fidelity Housing First. Having the technical assistance hours as a large bank of time that could be deployed as needed was crucial in focusing our collective effort and allowing the pace of the process to align with the real-world needs of the organization and team.
3. Open sharing
When it comes to shifting service delivery to align with Housing First, a significant support HFU offers is time with our amazing staff and leadership. This includes actual materials! A key meeting early on with Park Center Nashville was with our Chief Operating Officer, Bill Maroon, a person with over 28 years of experience in homelessness and Housing First services in Philadelphia. We spent time analyzing all the meetings Pathways to Housing PA uses to coordinate care across and within departments to meet the fidelity standards of the model, including a review of our organizational chart. We also shared a draft budget for an upcoming addition of a new clinical team to allow a comparison point for Park Center's shifts. Information sharing is critical to the learning process and we attempt to give helpful tip sheets along with each of our trainings, but are thrilled to be able to share additional information as the need arises. Other staff trainers in this series also included Team Leaders, the Director of Community Inclusion & Advocacy, Assistant Clinical Director, Outreach Manager, Certified Peer Specialist, and Behavioral Health Specialist.
4. Active engagement from the team
In a pandemic-affected world, a large portion of HFU's work happens in virtual spaces. This has opened so many doors to so many communities interested in collaborating toward better care in homelessness services; and by now, our virtual training facilitation is honed to a fine point. However, it's not uncommon to speak with audiences full of people without their cameras on and little engagement. Multi-tasking is the norm in virtual training. This can be discouraging, not knowing whether what we are sharing is being received or making any difference in the world. This was not the case with Park Center Nashville, and it was clear that they held themselves accountable for being present and fully engaged in the process. Led by the example of Zach Sanders, the Manager for Permanent Supportive Housing, cameras were on, microphones were ready, and the chat was popping! This level of engagement permitted the development of actual relationships over time. Spending several hours each week with the same people tends to do that naturally, and it was wonderful to get to know some of the amazing people putting in work in Tennessee. In the post-session course evaluations, we frequently received critical feedback on presentations. We learned to make more space for discussion and in-the-moment processing which can be more valuable than a simple content dump (there's so much to share!). The Park Center Nashville team also critically engaged with the content through their own weekly team meeting on the morning following a training session. This led to some shifts in focus or additional technical assistance to address specific ideas in more depth. Here are some additional comments made throughout the training series:
"Appreciated the perspective of presenters and their lived/work experience. It was nice having the SAMHSA and other guidelines outlined on slides but presenters focused more on real work application."
"Thanks for taking the time to clarify my questions and provide useful feedback. Great training this week."
"Really appreciated this week's topic. Not a new one to me but I heard new things and you talked about some things in different ways which always help cement them in my mind."
"You three have been incredible trainers and leaders, and I appreciate all the energy and emotional labor you each contributed to this process of learning and unlearning for our team."
Our work with Park Center Nashville is not done yet. From the initial discussion in April 2022 to wrapping up the training series in April 2023, we've completed over 50 hours of training to date. Still, we have many more hours of technical assistance available to continue the work of refining their practice of high-fidelity Housing First. Yet we wanted to take the opportunity to thank their team for the dedication to the hard and sometimes thankless effort of working to end homelessness. For us, this collaboration has already been monumentally successful, for the many reasons listed above, and for the important relationships developed along the way. We're looking forward to a future without homelessness and are grateful to have Park Center Nashville as partners in that goal.