Crisis Intervention & De-escalation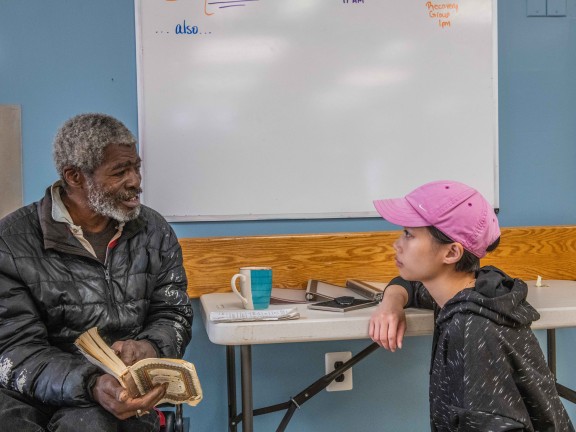 In this session, presenters will provide an introduction to crisis management and strategies for effective de-escalation of clients experiencing acute mental health distress. Content will address common physical, psychological, and environmental factors precipitating the onset of crisis and provide intervention strategies for low and medium stress cycles to prevent further escalation. Attendees will be invited to reflect on difficult experiences in the workplace and understand the importance of self-awareness and self-reflection when facing clients in crisis. Facilitators will also provide resources for dealing with crisis scenarios beyond the scope of the agency's abilities.
Schedule
1:15-1:30 PM | Virtual training room opens
1:30-1:40 PM | Welcome, introductions, check-in activity
1:40-2:10 PM | The what & why of crisis
2:10-2:30 PM | Preparing ourselves to manage crises
2:30-2:35 PM | Break
2:35-3:00 PM | Tension cycles & de-escalation
3:00-3:25 PM | Endings & follow-up
3:25-3:45 PM | Closing remarks, Q&A


Learning objectives
When attendees return to the workplace, they will be able to:
Describe the Thoughts-Feelings-Actions cycle
Identify precipitating factors to the onset of crises
Differentiate de-escalation/intervention strategies for low, medium, and high tension scenarios
Target Audience: Social service providers and helping professionals with direct client contact.
Social Work Practice Level: This course is appropriate for beginner and intermediate BSW/ MSW learners.
Course Delivery Format: Live webinar
Interactivity: This course will offer real-time polling, group discussion prompts, and 15 minutes of Q&A time.
Social Work Continuing Education Credit: 2
Fees: $20 general registration; additional $5 for registration with social work CE credit.

Registration includes access to the live event and recording, PDF of slides, and relevant training tip sheets/resources.
Session Facilitators:

Ryan Villagran, LSW
Training Specialist
Housing First University
Ryan Villagran, MSW, LSW (they/them), joined Housing First University in June 2021 as a Training Specialist. Ryan holds a Master of Social Work from Temple University with a concentration in Communities & Policy. His clinical background includes delivering psychiatric rehabilitation services in the mental health recovery model at a Community Integrated Recovery Center. Ryan also developed and coordinated a training program in a university setting for social workers serving transitional-aged youth and later taught a Human Behavior in the Social Environment course for graduate social work students. Ryan is involved in organizing efforts around ending mass incarceration and believes in the power of our collective imagination to dream of a better future centered around the most vulnerable members of our community.

Khalil Martin, LSW
Training Specialist
Housing First University
Khalil Martin, MSW, LSW (he/him), joined Pathways to Housing PA in 2021 and currently works as a Training Specialist. Before this, Khalil worked as a Behavioral Health Therapist at runaway & homeless youth shelters throughout the tri-state area. Khalil also worked for Project HOME and assisted in the creation of the Gloria Casarez Residence, which is the first permanent supportive housing for LGBTQ+ young adults in Pennsylvania. Drawing from principles of feminist theory, Khalil uses a strength-based and person-centered approach to assist individuals in understanding and navigating various forms of oppression and how these systems impact one's personal and interpersonal experiences. Khalil received his Master's degree in clinical social work from The University of Pennsylvania.