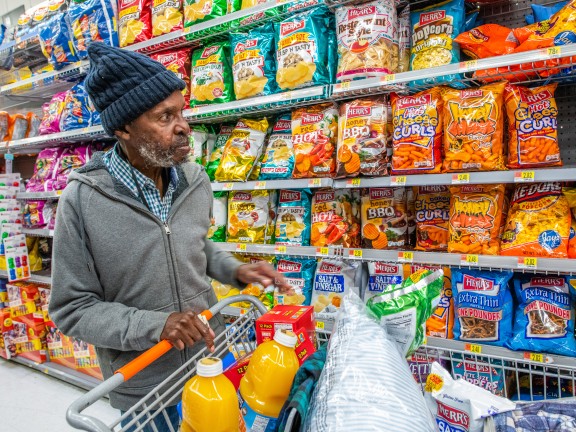 It may be Hunger and Homelessness Awareness Week, but hunger and homelessness are issues that require support year round.
There are many ways to make a direct impact on your community and help people who are experiencing homelessness and food insecurity:
Acknowledge Them
If you see someone who is experiencing homelessness, talk to them. They're people who should be treated with the same respect and dignity we give to others we interact with. Asking for help is hard, and doing it people ignore you and make you feel less than is even harder. A simple nod, smile, or word of encouragement is all it takes to share kindness.
If you'd like to take it a step further, learn about local emergency shelter and resources and ask them if they'd like to be connected to those services. In extreme temperatures, like during a Code Blue, reach out to your local homeless outreach team to let them know the person's location.
Below are a few local PA county homeless outreach phone numbers:
Philadelphia County: 215-232-1984
Delaware County: 267-671-4357
Montgomery County: 610-482-5483
Bucks County: 1-800-810-4434 (Homelink Hotline)
Raise Awareness
Take the time to learn about the structural factors and complex issues that cause people to experience homelessness and create food insecurity. Learn about programs and practices that actually work like harm reduction. Support those practices and policies in medicine, community support services, and government. Go to town halls and become active in your community. Be sure to share with your friends and family what you're learning!
Check Your Language
Think about how you talk about people who are experiencing homelessness: does your language reinforce any harmful myths or stereotypes? Does it stigmatize? Language is continually evolving, and being aware of the importance and impact of language you use can help shift public perception. Using person first language is critical! It recognizes the person as a human first, instead of defining them or labeling them based on their situation.
Purchase an Item from Our Amazon Wish Lists
We have three wish lists: Move-In Household Items, Pantry Items, and Personal Care Items. The Pantry List is used for emergencies when participants don't have the means to purchase food. Our participants have struggled more noticeably because of rising food costs nationwide. The Move-In Household Items List is used to help provide some basic household necessities for our participants when they move into their new home. Items include linens, basic kitchen items, cleaning products, and more. The Personal Care Items list is used in a similar way to assist our participants with obtaining personal hygiene products and basic clothing essentials.
When you purchase something on our Amazon Wish Lists, be sure to add your contact information in the notes section so we can properly acknowledge your gift and provide a tax receipt!
Volunteer at the Philadelphia Furniture Bank
If you have a spare time in your schedule, consider volunteering at the Philadelphia Furniture Bank (PFB). You'll help build or repair furniture, act as a personal shopper for people choosing their furniture, or help with transporting furniture in the warehouse or on/off of our truck. When you volunteer at PFB, you're directly helping your community by getting items ready for their new homes. Volunteering with us is also an excellent team building activity for community groups and staff in-service days! Contact us to get started.
Volunteer at a Local Food Bank
Find out where your local food bank is and learn more about volunteering individually or with a group of friends. If you're in the Philadelphia area, Philabundance, Share Food Program, and MANNA are a few organizations to consider for volunteer opportunities. 
Vote
Make sure you, your family, and your friends are all registered to vote. When elections come around, even local ones, make sure you get out and vote. If you can, bring other voters with you that may not have a ride to and from the polling centers. Let your elected officials know that you want to see an end to homelessness and want to see action being taken in your community. Click here to see if you're registered to vote, and to find more information about voting.
Employment Opportunities:
Support local businesses that offer transitional employment opportunities, like our Work First program. Having an employer who understands where you are and is willing to provide a little additional support when needed is often the key to obtaining and retaining employment for those who have experienced homelessness. If you own a company or can influence the creation of positions in your own organization, work to create these opportunities for your community.
Donate or Hold a Fundraiser: 
The easiest way to help end homelessness is to support organizations that are actively implementing the Housing First model and applying harm reduction practices in their actions. Donate to Pathways to Housing PA today to help us provide homes, restore health, and reclaim lives.
You can also consider holding a fundraiser for Pathways to Housing PA! It can be as simple as a dinner to fundraise money or even a collection drive for new household and food items. For more information, click here. 
Together as a community we can work to end homelessness and hunger in Philadelphia and the greater communities.