Open Call for Artists: Furnished for Good 2024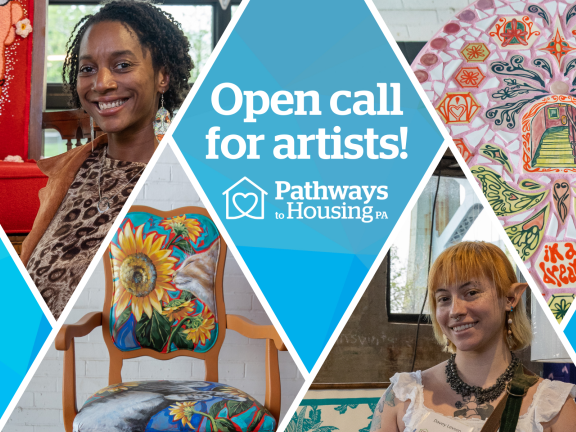 Furnished for Good is Pathways to Housing PA's signature fundraising event. Chosen artists will take inspiration from the Philadelphia Furniture Bank (PFB) and turn it into a work of art, and the pieces will be auctioned at Furnished for Good in May 2024 to help raise funds for operations at PFB.
We are looking for artists who want to choose a piece of furniture to refinish AND artists who want to create an original piece inspired by PFB.
We're putting out this open call to artists who are interested, and our guest curators Damon Reaves and Lawren Alice will choose up to 15 artists to participate that show a diverse range of mediums and styles. Artists of all experience levels are invited to respond! Photos of last year's chairs, and the event itself, can be found here.
Each artist will receive a $200 stipend to cover the cost of supplies, as well complimentary registration for the event and recognition/promotion via social media and local press outlets.
The timeline for the project is as follows:
The call for artists will close on September 30, 2023
Artists will be notified of their status no later than October 16, 2023
Selected artists will need to submit their artist agreements & w9s by November 3, 2023
Artists who are choosing a piece of furniture will visit PFB on November 7 or 8, 2023 to choose their piece
We will host an optional Meet & Greet for artists in early January 2024
Project Proposals/Sketches are due by January 5, 2024
Completed items are due to be delivered to PFB by February 2, 2023
Each work of art will be promoted leading up to Furnished for Good
The works will be exhibited at Cherry Street Pier from April 24 to May 1, 2024
Furnished for Good will take place on May 1, 2024 from 6pm-8:30pm; artists are invited to attend