What Exactly Does HFU Do?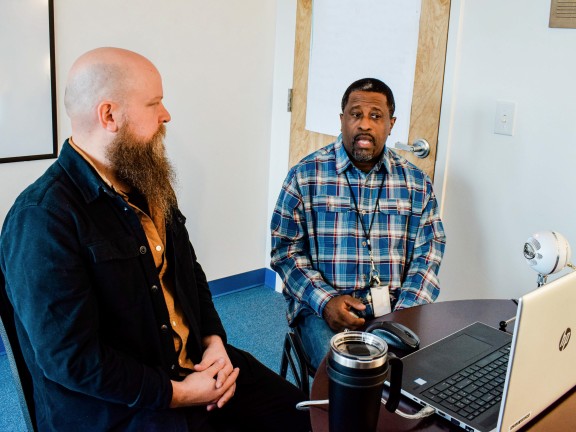 When Housing First University formally launched in January of 2020, we imagined we'd spend our first year traveling throughout the US, attending conferences, tabling, and presenting workshops. Obviously, the Covid-19 pandemic put a damper on that, so we spent the subsequent 12 months developing our curricula, hosting webinars, and trying to spread the word about our services however possible. Now, our calendar is brimming with training, technical assistance, and consulting work—but we still receive many inquiries about what exactly HFU does.
The answer is—whatever is needed.
In 2021, I received an email from Carbon-Monroe-Pike Mental Health and Developmental Services in Northeastern, PA, inquiring about Housing First trainings focusing on the challenges associated with supporting the forensic population—individuals with a psychiatric diagnosis who are actively navigating legal concerns. I recruited our Clinical Operations Manager, Maurice Clark, who has a robust background as a former Forensic Liaison at Pathways, and we scheduled a call. The Forensic Coordinator we spoke with, Sean Connors, explained that his agency was responsible for referring individuals coming out of the forensic system to community housing partners, and they were seeking information on evidence-based interventions addressing challenges around re-entry and reducing recidivism. Specifically, the agency wanted to improve collaboration with their housing providers and to offer educational opportunities so that these organizations would feel more confident in accepting referrals from individuals with forensic ties.
After some brainstorming, we agreed on a four-part training series introducing the Housing First model and harm reduction approach, followed by six hours of technical assistance for each of the organization's community housing partners. Our first training introduced the concept of harm reduction, explored everyday applications of harm reduction practice, and dispelled common myths. The second translated the principles of harm reduction into clinical practice, noted overlap with abstinence-based recovery models, and explored concepts of intersectionality and equity as applied to marginalized groups and justice-involved clients.
Co-facilitated by Senior Team Leader, Jeffrey Jackson, MA, who has extensive experience working with forensic-involved participants, feedback from these sessions included the following comments:
"I think this course presented an excellent opportunity to understand the finer points of Harm Reduction. Points that I have never seen addressed in the press. This gave me a better perspective on how Harm Reduction works and how it could be applied both at my workplace and in everyday life with family and friends dealing with similar issues." – Direct Support Professional

"This first training was great. I can't wait for the other three to take place. There is so much stigma and the more we are informed the more we can assist and help out our society. Are we able to access the recording from the meeting? There was so much good information that I would love to review and take notes." – Direct Support Professional

"Both Andrew and Jeff were very relatable and shared some of their histories, which in this course was a good call. It helped show that the concepts shown are effective and do in fact work." – Assistant Program Director
The contracting agency provided the following comments:
"I thought it was fantastic. You and Jeff play off each other really well and I was honestly surprised how much participation there was. A lot of the time you get that in the beginning and then it fades. But I think because you both keep it lively, have great senses of humor, and are genuinely speaking to the amazing things that can happen when compassion and empathy meets up with best practices it kept everyone engaged throughout the entire presentation. I was really impressed and am very much looking forward to the next trainings. Thank you both!"

"You & Jeff were great! You are so upbeat & I really think that, coupled with your personality, lived experience & passion is what is making this training. I think the material covered so far has really drawn a lot of our providers in… The breakdowns you both have given of harm reduction and how it applies across all categories is going to be the start of something we will continue to work with our providers on. You made some really good points about how this isn't something that happens overnight, even with those that believe in the model. Looking forward to next week!"
The Housing First trainings mimicked this format—the first training offering an overview of the Housing First philosophy, with the subsequent session translating theory into practice. By the end of the series, we had provided over 6 hours of training to 55 unique staff members across seven organizations. But training was only the beginning for these folks.
Technical Assistance is a way to augment staff training by refining and innovating a program's existing services. Learning about evidence-based practices, models, and skills in a one-off training session typically only serves as an introduction to a new topic. No matter how thorough a training may be, attendees are often left with questions about implementation, and how to modify approaches based on their specific setting, client population, licensing regulations, etc. Technical Assistance allows for an individualized and tailored approach to addressing these concerns.
Over the next two to three months, the six hours of technical assistance allotted can be used in whatever way will most benefit the individual programs and their staff. An initial meeting will include introductions, learning more about the programs, populations served, strengths, current challenges, and available resources. HFU faculty will help explore thoughts and reactions to the Housing First and Harm Reduction trainings offered, and identify areas for further discussion/exploration. Activities like Affinity Groups (small group discussions specific to a professional discipline or topic), C-Suite Roundtables (candid conversations between executives), small group training, or materials review (HFU faculty providing feedback on program policies and service descriptions to better align with Housing First and harm reduction principles), are just some of the ways agencies may choose to spend their time with us.
One of the things I love most about my role is the opportunity to walk alongside program staff throughout the change process. Adopting a Housing First and harm reduction approach to service delivery is no easy task, but we're excited to collaboratively problem-solve with our clients to help them reach their goals and achieve success like we've seen in our own program. Pathways to Housing PA currently serves over 550 formerly homeless adults with an 85% housing retention rate after five years. Yours can too.
What are your goals and how can we help?