Featured Trainer: Ryan Villagran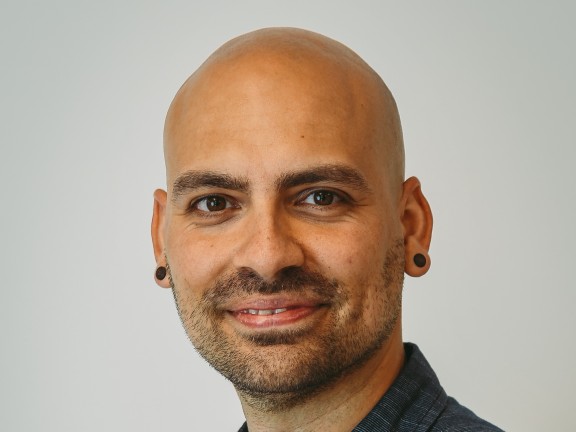 Meet Ryan Villagran, MSW, our Featured Housing First University Trainer. Ryan is our Training Specialist at Housing First University.

Question: What did you do before working at Pathways to Housing PA?
Ryan: As a social worker, the majority of my direct care experience has come in mental health-focused settings, including providing recovery-oriented services in a day program for folks experiencing serious mental illness. I was also fortunate to have spent an internship with Prevention Point Philadelphia, learning about and practicing harm reduction. I was able to use these experiences and networks in my most recent role, in higher education, supporting students in finding clinical internships across the allied health professions.
Q: What are your thoughts about being a trainer? Do you have a favorite trainer moment?
Ryan: Being a trainer is not something I would have envisioned for myself, even one year ago. It can be challenging to bring energy and confidence at all times with a training audience, yet so rewarding when people wrap their minds around new concepts. My favorite training moment so far was being able to finally do a training in person (socially distanced and masked, of course). When I was in the room with service providers and not separated by a zoom screen, the feeling of collaboration focused on providing better services to clients was really special.
Q: Can you tell us a little bit about your role and what you've been working on at HFU?
Ryan: As a Training Specialist, my role involves delivering training on the Housing First model and the many aspects of service delivery that entails. Additionally, I am involved in content development for a range of topics, including cultural humility, suicide prevention and implicit bias. I have also been super excited to focus my technical skills on helping to launch a virtual learning platform that will allow people to engage with Housing First training topics whenever they want!
Q: What made you decide to work at Pathways and what do you love about it?
Ryan: I knew that I wanted to return to the service delivery world from academia, so when I started searching for a new role, I immediately sought a harm reduction oriented organization. There is something really special about the staff who provide harm reduction services. The non-judgmental, do-what-it-takes approach is something that can't be faked. And that's what I love about working here. The people that make up the staff and do the really hard work every day are amazing and it's humbling to work alongside them in support of this mission. For me, Pathways to Housing PA also embodies the parallel process of support for both participants and staff and makes me feel like I really belong.