Zarrow Mental Health Symposium: Exploring Family Constructs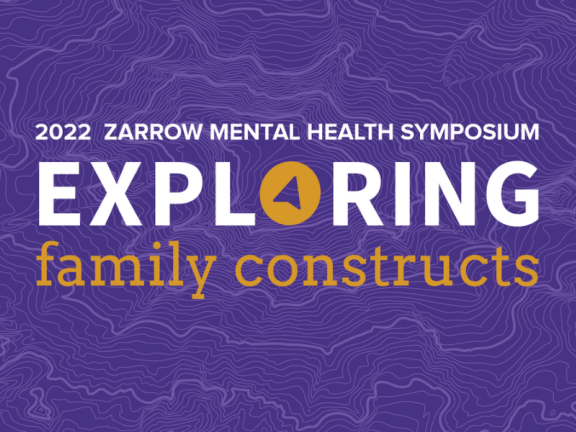 Boundaries that make room for family
This presentation seeks to explore the importance of community inclusion for people receiving mental health and housing services with a specific focus on the domain of family. For many people experiencing serious mental illness, family support is a key safety net in moments of crisis and can be a deciding factor toward fulfilled lives. However, family and intimate relationships are often left out of the conversation as people work with providers. In fact, traditional clinical training and boundaries can tend to block providers from engaging with family as a key domain in people's lives. In this session, we explore family roles that meet participant needs on their way to recovery and community engagement. We explores basic harm reduction principles and find commonalities between helpful family roles and necessary qualities for a clinician using a harm reduction approach in mental health treatment. We end by exploring vignettes that highlight the often messy dynamics that can exist when we attempt to support participants in repairing damaged family relationships.
Learning objectives
Upon completion of this workshop participants will understand the critical role family ties play in community inclusion-focused services for people with mental illness
Upon completion of this workshop, participants will be able to identify harm reduction principles
Upon completion of this workshop participants will understand an approach to working with people with serious mental illness that integrates common familial roles within a harm reduction framework
Upon completion of this workshop, participants will be able to identify common barriers and ethical considerations for reuniting people with serious mental illness with their families
Presenters:
Rob Wetherington, MA joined Pathways to Housing PA in 2012 to develop art programming to foster connections between staff and participants. Having spent more than fifteen years in homeless services both as an employee and volunteer, Rob's emphasis has been to help people reimagine their lives through the arts, peer support, and clinical services. Rob has helped to build the Community Inclusion and Advocacy Department at Pathways, which acts as a conduit to community resources and strives to support participants living in the community like everyone else. Partnering with the clinical teams, the department assesses activities participants want to explore and bridges participants to the community. Rob earned a BFA in Art Education from Old Dominion University and an MA in Urban Studies at Eastern University.
Ryan Villagran, MSW joined Housing First University in June 2021 as a Training Specialist. Ryan holds a Master of Social Work from Temple University with a concentration in Communities & Policy. His clinical background includes delivering psychiatric rehabilitation services in the mental health recovery model at a Community Integrated Recovery Center. Ryan also developed and coordinated a training program in a university setting for social workers serving transitional-aged youth and later taught a Human Behavior in the Social Environment course for graduate social work students. Ryan is involved in organizing efforts around ending mass incarceration and believes in the power of our collective imagination to dream of a better future centered around the most vulnerable members of our community.
Conference registration page: https://zarrowsymposium.org/registration