Motivational Interviewing & the Stages of Change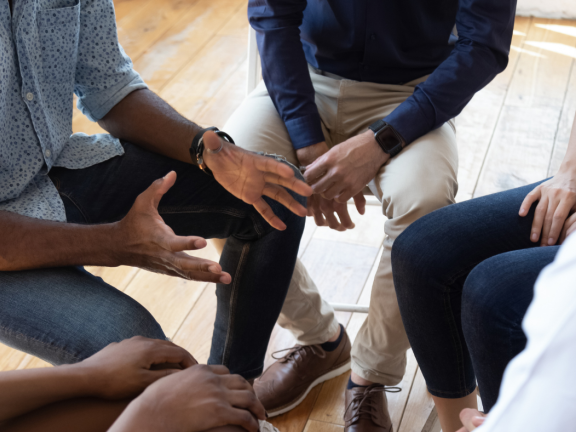 Motivational Interviewing is a person-centered strategy that providers can employ to support clients toward making positive changes in their lives. Through honest conversations that acknowledge how challenging it can be to embark on a journey of recovery, providers can help clients resolve ambivalence, stand up to insecurities, and implement necessary changes in their lives. Attendees will gain insight into the foundations and key principles of motivational interviewing and learn specific strategies to encourage change. This session will invite attendees to reflect on their direct service work and consider use of this effective, evidence-based method with their clients.
Schedule
11:45-12:00 PM | Virtual training room opens
12:00-12:10 PM | Welcome & introductions
12:10-12:25 PM | The secret ingredient of change and beliefs about motivation
12:25-1:00 PM | The spirit of Motivational Interviewing, ambivalence, change talk & sustain talk, and resistance
1:00-1:10 PM | Break
1:10-1:30 PM | The core skills and processes of Motivational Interviewing
1:30-1:50 PM | The Stages of Change
1:50-2:05 PM | Putting skills into practice
2:05-2:15 PM | Final thoughts, Q&A


Learning objectives
When attendees return to the workplace, they will be able to:
Articulate the role of motivational interviewing in participant-centered care
Define sustain talk and change talk as components of ambivalence
Explain the OARS method of motivational interviewing
Target Audience: Social service providers and helping professionals with direct client contact.
Social Work Practice Level: This course is appropriate for beginner and intermediate BSW/MSW learners.
Course Delivery Format: Live webinar
Interactivity: This course will offer real-time polling, group discussion prompts, and 10 minutes of Q&A time.
Social Work Continuing Education Credit: 2 CE Credits*
Fees: $20 general registration; additional $5 for registration with social work CE credit.

Registration includes access to the live event and recording, PDF of slides, and relevant training tip sheets/resources.
Session Facilitators:
Ryan Villagran, LSW
Training Specialist
Housing First University, a program of Pathways to Housing PA

Ryan Villagran, MSW, LSW (he/they), joined Housing First University in June 2021 as a Training Specialist. Ryan holds a Master of Social Work from Temple University with a concentration in Communities & Policy. His clinical background includes delivering psychiatric rehabilitation services in the mental health recovery model at a Community Integrated Recovery Center. Ryan also developed and coordinated a training program in a university setting for social workers serving transitional-aged youth and later taught a Human Behavior in the Social Environment course for graduate social work students. Ryan is involved in organizing efforts around ending mass incarceration and believes in the power of our collective imagination to dream of a better future centered around the most vulnerable members of our community.
Hannah Roop, LCSW
Team Leader, Team 10
Pathways to Housing PA

Hannah Roop, MSW, LSW (she/her), is a licensed social worker who has served as a Service Coordinator and then Assistant Team Leader at Pathways to Housing PA. Hannah is passionate about using person-centered approaches to support participants as they build and maintain a life they find joyful and meaningful. She is known to persevere with difficult or withdrawn clients on her caseload. On the weekend, Hannah enjoys rock climbing and hanging out with her dog.