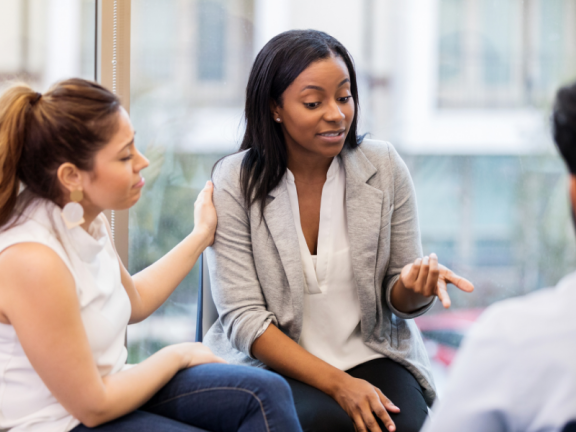 Often the individuals most in need of our services are the very folks most hesitant to work with us. Past disappointments by other providers, as well as mental health symptoms and substance use patterns can create a lengthy and challenging engagement process. This training will present an overview of best practices for engagement and initiation of services for individuals experiencing homelessness. Facilitators will discuss the goals of engagement, tips for building rapport, creative strategies for those facing barriers to care, and relevant evidence-based practice skills. Through review of case studies and real client scenarios, attendees will learn that the most important thing we can do for our participants is continue to show up.

Schedule
1:45 – 2:00 PM | Virtual training room opens
2:00 – 2:15 PM | Welcome, introductions, & check-in activity
2:15 – 3:00 PM | Best practices for engagement & initiating services
3:00 – 3:10 PM | Break
3:10 – 3:25 PM | Intersection with other evidence-based practices
3:25 – 3:50 PM | Case studies
3:50 – 4:00 PM | Review & closing remarks
4:00 – 4:15 PM | Q&A
Learning objectives
When attendees return to the workplace, they will be able to:
Define the purpose and goals of engagement
Articulate the importance of centering client needs
Name three common barriers to care and three creative solutions to overcome those barriers
Target Audience: Social service providers and helping professionals with direct client contact, including case managers, peer specialists, and clinical supervisors.
Social Work Practice Level: This course is appropriate for beginner and intermediate BSW/ MSW learners.
Content Level: This course covers beginning and intermediate level material.
Course Delivery Format: Live webinar
Interactivity: This course will offer real-time polling, group discussion prompts, and 15 minutes of Q&A time.
LSW/LCSW and PCB Continuing Education Credit: 2* clinical continuing education credits.
Fees: $20 general registration; additional $5 for registration with LSW/LCSW CE credit.
Registration includes access to the live event and recording, PDF of slides, and relevant training tip sheets/resources.

Session Facilitators:
Ryan Villagran, MSW LSW (he/him) joined Housing First University in June 2021 as a Training Specialist. Ryan holds a Master of Social Work from Temple University with a concentration in Communities & Policy. His clinical background includes delivering psychiatric rehabilitation services in the mental health recovery model at a Community Integrated Recovery Center. Ryan also developed and coordinated a training program in a university setting for social workers serving transitional-aged youth and later taught a Human Behavior in the Social Environment course for graduate social work students. Ryan is involved in organizing efforts around ending mass incarceration and believes in the power of our collective imagination to dream of a better future centered around the most vulnerable members of our community.

Hannah Roop, MSW/LSW (she/her) Hannah is a licensed social worker who has served as a Service Coordinator and then Assistant Team Leader at Pathways to Housing PA. Hannah is passionate about using person-centered approaches to support participants as they build and maintain a life they find joyful and meaningful. She is known to persevere with difficult or withdrawn clients on her caseload. On the weekend, Hannah enjoys rock climbing and hanging out with her dog.

*CE credit is available to (1) PA Certification Board credentialed professionals, (2) Licensed Social Workers (LSW), and (3) Licensed Clinical Social Workers (LCSW) ONLY. Due to current regulations, CE credits cannot be offered to social workers in the states of New Jersey or New York. All others: please check with your professional licensing board to see if this course qualifies for credit towards your needed continuing education hours.