Pathways to Housing PA Welcomes New Board Members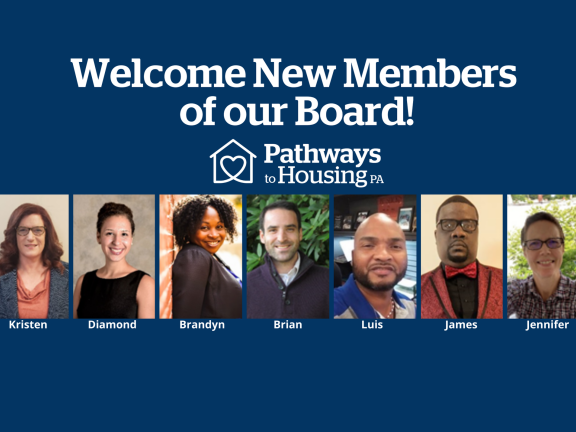 With terms beginning on September 1, we are so pleased to welcome seven new members to our Board of Directors. Our board is key to our ability to provide homes, restore health, and reclaim lives, and we are excited for these new members to join our existing group of supportive and caring board members.
We also want to thank outgoing members Bill Parshall and Doug Bloom for their time, talent, and treasure throughout their years on the board. We wish you all the best in your future endeavors!
Introducing our newest Directors:

Kristen Alwine is the Sr. Director of Financial Operations at MidAtlantic Retina, a leading retina practice in the world. Kristen has spent the last 30 years in healthcare in a financial capacity helping businesses strengthen their net income while keeping a consumer-focused approach. As Chief Financial Officer, she oversaw human resources, IT, and the maintenance department. Along with managing the property management company. Behavior health is a passion of mine and believing everyone needs a chance. We all have a journey, and no person is the same. If you believe in people, they will start to believe in themselves. Changing your belief can change a perspective and change the path you are on. Kristen also has a coaching company Dream, Believe, Success, Inc., to help people see their full potential and breakthrough the boxes they have put themselves in and hold them back. 

Kristen graduated from Drexel University with a Bachelor of Science majoring in Accounting. Currently, she is pursuing her master's in Cyber Accounting at the University of Maryland Global Campus. Kristen and her husband reside in Telford Pa and their one daughter is currently attending West Chester University majoring in Psychology. 

Diamond Bertil is a Senior Manager in PwC's Risk and Regulatory team. With over 10 years of audit and consulting experience and extensive knowledge of compliance, operational, and control frameworks, she helps her clients solve complex issues and drive key priorities within their risk management, internal audit, and corporate governance programs. Her range of clients has included private and public companies across the pharmaceutical, retail and consumer, media, industrial products, and technology industries.

Diamond is passionate about helping others and giving back to her community. She previously served on the board of the National Association of Black Accountants, Inc. - Philadelphia chapter and has been involved with multiple mentoring programs and initiatives to teach financial literacy.

Diamond holds a dual B.S. degree in Accounting and Finance from West Chester University of Pennsylvania and is a Certified Public Accountant (CPA) in Pennsylvania.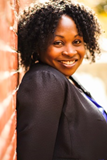 Brandyn Campbell (she/her) is the Founder and President of Brandyn Campbell Communications, a boutique consulting firm that helps organizations articulate and build their commitment to racial justice. She draws on over 15 years of experience providing training and strategy on multiculturalism and cultural competence. Brandyn has successfully worked with clients around the world to provide solutions to infuse diversity, equity, and inclusion throughout their communications and cultures. 




Brian Rodin currently works as a market research lead at Vanguard where he supports brand and product marketing efforts with investor and advisor insights to help lead data-driven decisions. Prior to Vanguard, his experience has been on the full-service market research consulting side – working at Deloitte and a boutique Philadelphia-based firm, The Melior Group. 

Outside of his professional experience, he has served on various boards and committees in a marketing expertise capacity, including a prior Pathways board membership most recently as the Board Secretary. 

Brian also contributes to his community by leading the LGBQIA+ employee resource group at his former employer Deloitte and now at Vanguard which includes the creation of various volunteer initiatives, non-profit partnerships, and employee engagements. 

Brian holds a BA in Psychology and Economics from Syracuse and is pursuing his executive MBA from Drexel University.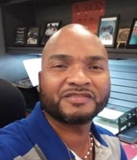 Luis Soto is a Bilingual Forensic Certified Peer Specialist, Certified Recovery Specialist, Recovery Coach, and PPLA Advanced graduate. He is well educated on recovery principles and leadership principles through the Philadelphia Peer Leadership Academy and the Leadership Development Program Tier 1. He is also a person in Long Term Recovery, for over 10 years, 6 months and, + days.  

Luis comes to the Behavioral Health community through Pro-Act where he was the bilingual lead volunteer. Responsibilities included facilitating recovery support groups, peer mentoring, recovery coach, and Chairman/Founder of the Inspiring the Latinos Committee. Luis is also the Co-Founder of the Latinos in Recovery Support Group at Pro-Act.

Luis is a Certified Peer Specialist for the Community Wellness Engagement Unit which is under the City of Philadelphia/DBHIDS. Luis works with a unit that has greater access to services for individuals, families, and the community at large. Luis also is a student, studying to get his degree in Human Services/Behavioral Health next year.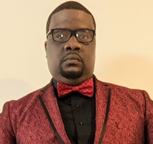 James Whitaker currently serves as the Marine Corps Base Quantico (MCBQ) Safety Division Deputy Director.  He is responsible for planning, developing, and implementing a comprehensive and diverse Safety and Occupational Health program encompassing the MCBQ geographic area of responsibility.  Acts as the assistant principal authority and advisor to the Commander and Chief of Staff, MCBQ pertaining to the development of policy and procedures relating to SOH.

Prior to that, James served 20 years in the United States Navy under the Naval Construction Force as a Navy Seabee.  Aside from serving our country, James has been a pillar in the City of Philadelphia through his recurring donations to Philabundance, Donors Choose, and Pathways to Housing. 

James has a certification in Safety Management from the American Society of Safety Professionals.  Certified Lean Six Sigma Green belt, USMC.  
 
Dr. Jennifer Wood is a Professor in the Department of Criminal Justice at Temple University. Her research examines policing and public health issues, with a focus on alternative frontline responses to mental health crises. Through her work, she has explored the intersections between issues of housing stability, mental illness, and substance use disorders, and the ways in which multiple forms of disadvantage lead to repeat encounters with police. Her work is devoted to better understanding how multiple systems can or could coordinate to be responsive to people's social and medical needs and avoid criminal legal system interventions. Jennifer grew up in northern Ontario, Canada, and completed her education in Ottawa and Toronto.