Introducing our Fiscal Year 2023 Annual Report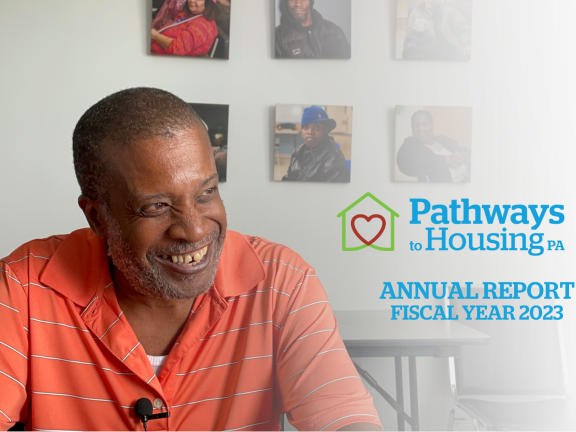 Pathways to Housing PA is 15 years old! It is hard to believe how quickly time has passed. As we approach 2024, we remain committed to our mission of providing homes, restoring health, and reclaiming lives. We are grateful for the opportunity to share our Annual Report with you, once again, to highlight our successes in fiscal year 2023.
Imagineering (from "imagination" and "engineering") is the implementation of creative ideas in practical form. It is thinking about how we can do the work we are doing differently and come up with new ideas. To that end, we have piloted new innovative programming including a shared housing initiative, in-unit technology to support vulnerable tenants, and an incentive to move people with opioid use disorder to a newer treatment option that has shown better outcomes – Sublocade.
Of course, our Housing First services continued to support over 600 participants with serious mental health and substance use disorders. Participants have access to our Integrated Care Clinic, Center of Excellence, Community Inclusion, and Work First programs, as well as our Alumni Association. Our graduates in the Alumni Association remain stably housed and serve as mentors to other participants encouraging them to work toward independence.
The Integrated Care Clinic hosted 3,743 medical and behavioral health visits. The Center of Excellence treatment program saw 201 participants monthly; a 51% increase from last fiscal year. Housing First University has partnered with agencies, universities, and community groups in 35 states and has trained more than 6,450 unique individuals in harm reduction, the Housing First model, and related topics since launching in 2019. And the Philadelphia Furniture Bank furnished 1,426 homes this year.
We are so very grateful for all of the different ways that you have helped to support our work in the past and look forward to what we can accomplish together in the coming year.
You have our deepest gratitude. Thank you.

Christine Simiriglia, President & CEO
Ira Richards, Esq., Board Chair
A full list of donors can be found here.