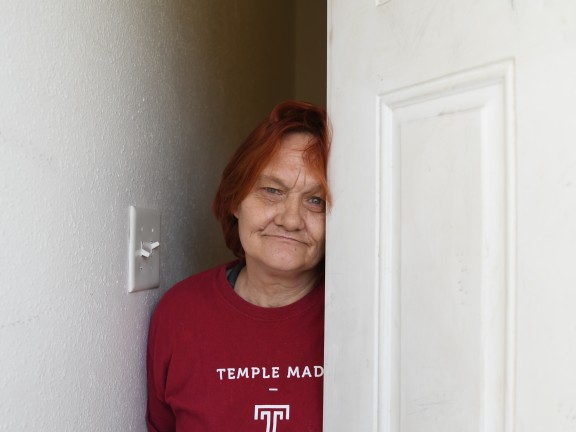 Maryann is one of more than 450 participants in our Housing First program who previously experienced homelessness, and is now stably housed, thanks to the support of generous donors. Here's her story:
After losing touch with her family and wearing out her welcome sleeping on friend's couches, Maryann experienced homelessness for the first time in 2010. She recalls that the worst nights were the ones where she was forced to sleep in the snow or when it poured down rain. The worst days were when she was hungry, but had to wait until the weekend for a meal from the local soup kitchen. She would stand in line, waiting for food that she would then have to ration throughout the week.
Eventually, Maryann was referred to Pathways to Housing PA. Our outreach team found her on the Parkway, where she spent most of her time, to offer her an apartment through our Housing First program. "It was a relief that I wouldn't be homeless," Maryann shared. Pathways supported Maryann as she chose a neighborhood and apartment that suited her and she moved into her very own home. Maryann also receives primary care and behavioral health services at our onsite Integrated Care Clinic, and her team supports Maryann in any way she needs as she settles into her new neighborhood.
Though Maryann has found stability in her new home, there are more than 1,100 people living in situations right now similar to Maryann's: homeless, living on the streets of Philadelphia, with nowhere to turn. Thanks to our supporters, Maryann's story has a happy ending. If you'd like to help others find stability, please consider
making a donation today
!