Stop HUD's Proposed Rollback of the Equal Access Rule to Allow Discrimination Against Transgender People Experiencing Homelessness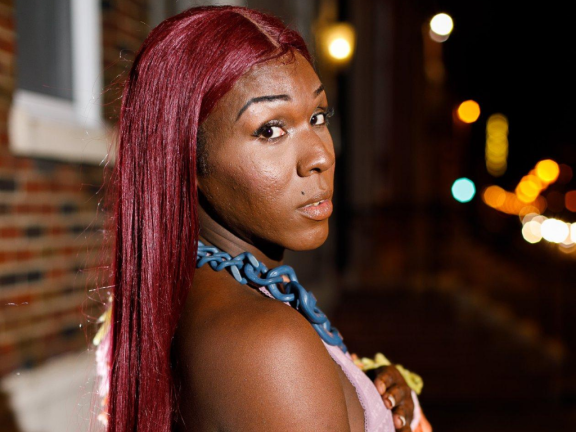 With all that's going on in the world right now, you may or may not have heard about Dominique "Rem'mie" Fells, a Black transgender woman who was murdered in Philadelphia in June. It's the kind of news that only picks up steam in certain circles or on particular platforms. Sadly, it's not news that everyone is concerned about or invested in. For trans folks, their loved ones, and allies, we know that Rem'mie was only one of 26 trans people who have been lost to violence in the U.S. so far this year. We can imagine this number being much higher when considering unreported deaths or the number of individuals misgendered by the media or family. At this rate, 2020 is on track to become the deadliest year on record for transgender people ever recorded— 69% of these deaths have been among trans women of color and 46% affected Black trans women specifically. Knowing this, it is unconscionable that the Department of Housing and Urban Development (HUD) is moving forward with its proposal to deny transgender Americans the right to access shelter by rolling back the Equal Access Rule.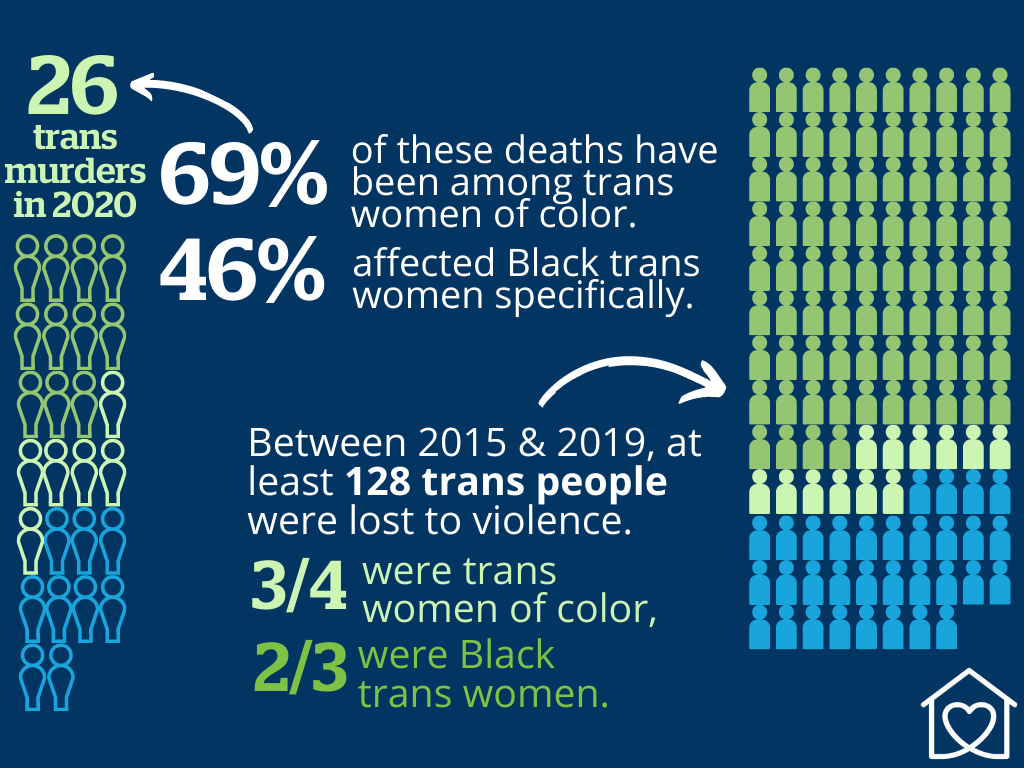 HUD has cited accommodation of shelter providers' religious beliefs as the cause for such change, but the proposal, announced July 1, 2020, would permit unlawful discrimination against transgender people seeking emergency shelter. Social service providers know that those entering shelters do so when they are most in need of help, and repealing these protections would cause irreparable harm at a critical time. The proposed revision of the 2016 Equal Access Rule also states that, "All shelters serving a specific sex must provide people who they do not accommodate with information about other shelters in the area that can meet their needs."
The reality is that shelters are rarely co-ed, and shelters specific to the trans community are virtually non-existent. The assertion that cisgender men would use the current Equal Access Rule to infiltrate women's shelters with the intent to abuse residents or pursue at-risk spouses or partners, is baseless. Furthermore, it is not the fault, nor the responsibility of trans people, to shoulder this imaginary burden. Instead of protecting cisgender women, shelters will be sending trans women to the street. This comes at a time when individuals experiencing homelessness are threatened with contracting COVID-19, while simultaneously, an estimated 44% of Black trans women are living with HIV, putting them at even greater risk.
Rates of homelessness among transgender people have increased by a startling 88% since 2016, with rates of unsheltered homelessness for this same population climbing by 113%, as reported by the National Alliance to End Homelessness in their State of Homelessness: 2020 Edition. Meanwhile, rates of other subpopulations experiencing homelessness increased by only 8-35%. There are consequences associated with these statistics, especially when considered alongside the Minority Stress Model—which asserts that marginalized individuals are predisposed to mental health challenges as a result of social stigma, prejudice, and discrimination.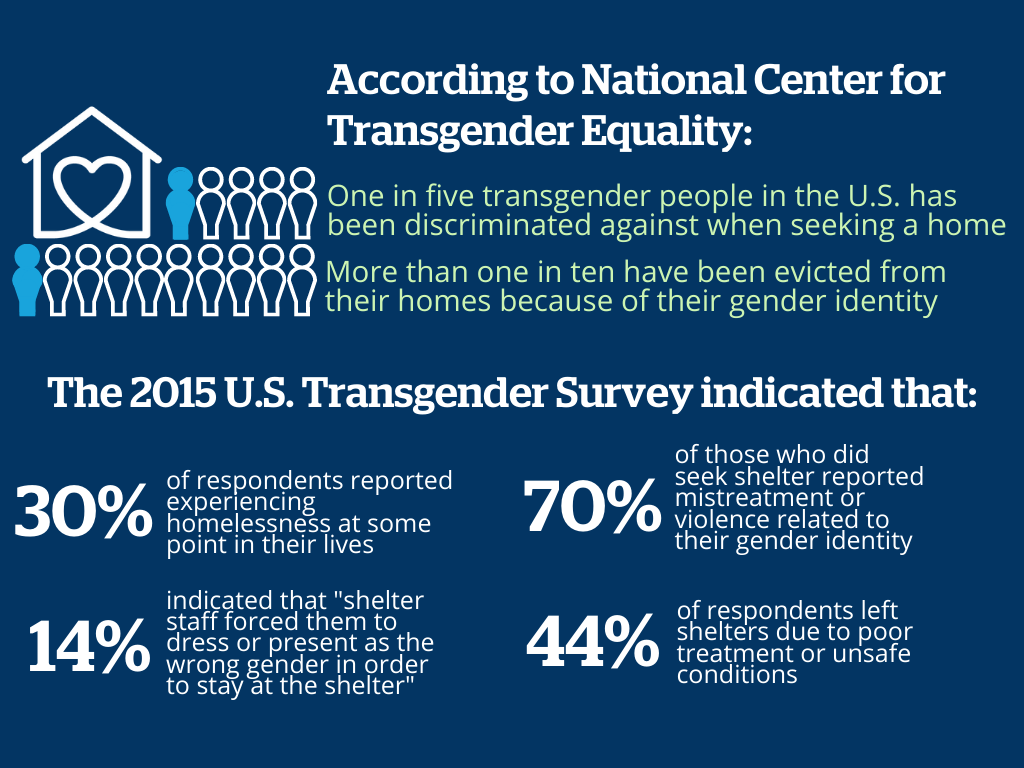 National Center for Transgender Equality & 2015 U.S. Transgender Survey
It is no wonder, then, that trans people face rates of substance use at nearly three-times the national average and 40% have attempted suicide at least once in their lifetime, compared to only 4.6% of the general population. Folks sleeping on the street are at increased risk for violence and police surveillance. Many turn to sex work or drug sales to afford a place to stay. In fact, one in five transgender persons reported working in an underground economy to survive at some point in their lives, with higher rates among trans women of color. It is not surprising then that 47% of Black trans women have also experienced incarceration, as compared to only 2.7% of all adults. For those engaged in income-based sex work, 77% reported experiencing intimate partner violence and 72% reported sexual assault. Additionally, 41% had been physically attacked in the past year (NCTE, 2015). When we step back, we can clearly see how these systems intersect to keep trans people, and especially Black trans women, at the farthest margins of society. In Philadelphia alone, at least 10 trans women of color have been lost to violence since 2002.
2002: Nizah Morris, 47
2010: Stacey Blahnik, 31
2012: Kyra Cordova Kruz, 27
2013: Diamond Williams, 31
2015: London Kiki Chanel, 21
2015: Keisha Jenkins, 22
2016: Maya Young, 25
2018: Shantee Tucker, 30
2019: Michelle "Tamika" Washington, 40
2020: Dominique "Rem'mie" Fells, 27
I get that this is a lot of information. I know there are many who see a long list of statistics and just check out. It's a lot to take in. The truth is, I've been working on this piece for several weeks. It's been hard to write. I've felt overwhelmed by grief and sadness and have had to step away twice. It's not easy to write about trans death as a trans person or as a person who shares community and friendships with the very people this rule will most greatly impact. I think it's important to note that in the two instances in which I've had to take some space from this topic, I've returned only to have to update the statistics mentioned in the introductory paragraph to include more deaths. My original draft, written in mid-June, indicated 15 trans people had been murdered in the U.S. so far this year. In less than two months, we've added ten names to this list. I had to revise a third time to account for the murder of another Black trans woman right before publication. It is critical that we act now. Trans people can't afford to wait any longer.
It is critical that we act now. Trans people can't afford to wait any longer.
At Pathways to Housing PA, we believe that housing is a human right. Since 2008, we have been committed to serving the most vulnerable Philadelphians through use of the Housing First model coupled with a harm reduction approach. And while we are proud to operate in a city that fiercely advocates for the LGBQ and trans communities, we know that the number of transgender people currently connected to housing services is far from representative of actual need.
In 2020, we are still living in a world where Black trans women are not afforded the luxury of safety, even by the systems that are set up to care for our most vulnerable.
In 2020, we are still living in a world where Black trans women are not afforded the luxury of safety, even by the systems that are set up to care for our most vulnerable. In our current reality, transgender and gender non-conforming people are forced to contend with constant threats of homelessness in the midst of an economic crisis, the COVID-19 pandemic, and what the American Medical Association deemed an "epidemic" of anti-trans violence in 2019. It is unknown exactly how many of the trans folks lost to violence so far this year had experienced homelessness. But if rates indicated by the 2015 NCTE survey hold true, at least seven of those lives lost may have been saved by stable housing and access to supportive and affirming services.
Until September 22nd, 2020, the public comment period for the Equal Access Rule is open. During this time, HUD is legally obligated to review and respond to each unique comment submitted to their website. The more comments they receive, the longer it will take for them to implement this harmful and discriminatory rule. It is the responsibility of our homeless service agencies, advocates, and publicly funded shelters to provide care and safety to the most vulnerable members of our society in their time of greatest need. This can only be achieved by acknowledging and fighting back against our government's collusion with white supremacy and cisheteropatriachy, which further endangers the lives of trans people, and most especially Black trans women.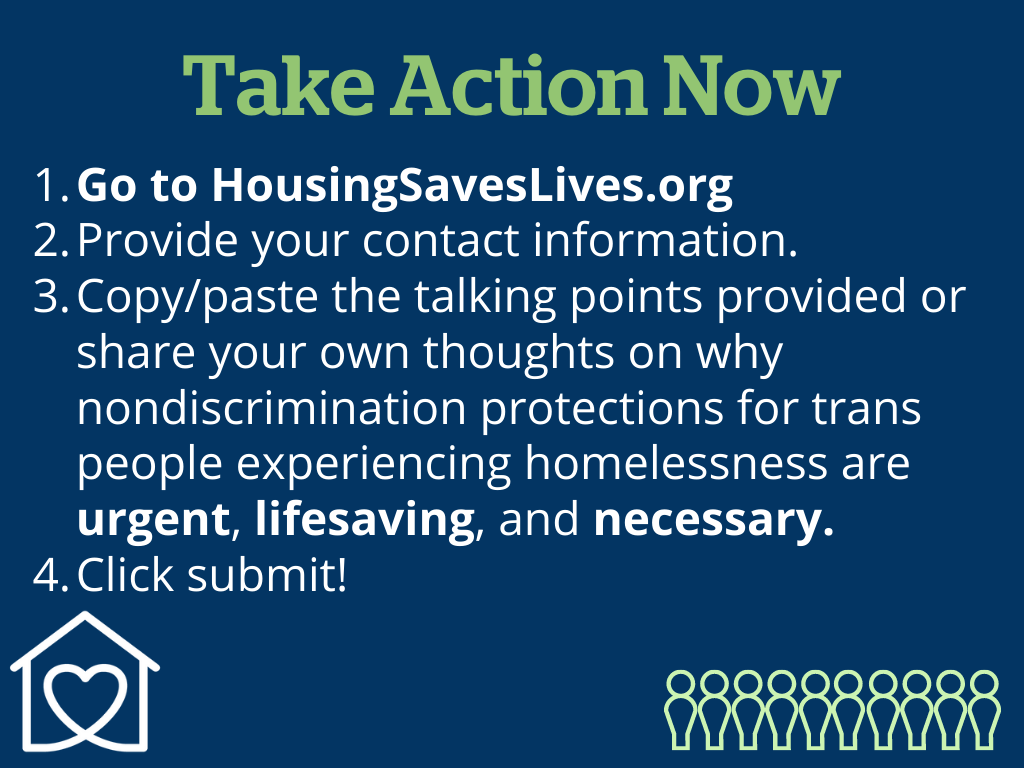 Take action now at HousingSavesLives.org! (Action for this campaign ended on Sept 22nd)