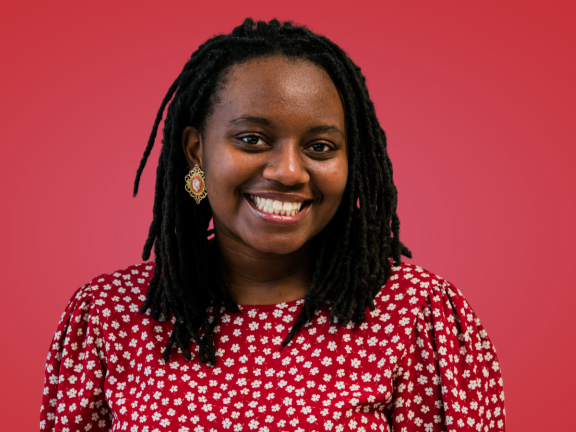 Meet Leilani Pritchett, our Program Assistant and the newest addition to our Housing First University team!

Q: Tell us a little about yourself and your background.
Leilani: I have a Bachelors in Business Administration from Arcadia University. I've held many supportive positions in Accounting, Education, Operations, and Non-profits. I have also held mentorship positions with young adults deemed 'high-risk' and young immigrants in educational settings. As a people-pleaser, what drew me to these roles was the ability to help people every day and see the difference that my impact made in their individual lives and businesses. Outside work, I enjoy attending anime conventions with friends, watching rom-coms on Netflix, screenwriting, poetry, and hanging out with my bluenose pitbull Chico.
Q: What attracted you to working at Pathways to Housing PA?
Leilani: What attracted me to the non-profit industry, in general, is the workplace culture and values which usually exist in small non-profits. I enjoy seeing people working together for the benefit of others without feeling a sense of competition or isolation that I've felt at corporate and for-profit institutions. For me, it's the love and comradery, those family-like connections that exist when people are getting paid to do things that create a positive difference in the lives of others. What drew me to Pathways to Housing PA was how visible and tangible that positive difference was. Before our participants came to Pathways, many had been on the streets for 10+ years without steady access to food, water, shelter, and medical care. After meeting their Pathways' team, they now have an apartment of their own, are receiving treatment, and can even plan for the future for the first time in years. Knowing that community service is the focal point of our business practice and not an initiative that only lasts a few months inspires me and makes me feel like what I do matters.
Q: What do you enjoy most about your role with Housing First University?
Leilani: As a member of Pathways to Housing PA, I enjoy seeing the direct result of our hard work—interacting with participants and seeing them smile and come back every day, and seeing the bonds between the participants and those who work with them. As a member of Housing First University, I enjoy watching trainees' emotional and intellectual transition as they are exposed to new material. It brings me a deep sense of satisfaction. It's the 'aha' moment for those unfamiliar with the material. It's also the moments of honesty and sharing as trainees see how the content applies to their real-life experiences and how our one or two hours together can alter how they look at life, the people they love, and the people they work with. What I also love about working at Housing First University is the connections we can make with other people around the world who are interested in improving the lives of their clients and community members.
Q: What's one interesting thing you've learned about Housing First or harm reduction over the last several months?
Leilani: I didn't know much about Harm Reduction before coming to Pathways. My understanding of what it meant to provide care for those struggling with homelessness or substance use included the provision of free meals, essential items, and emergency shelters that are frequently seen on the news and social media. Through my time at Pathways, I've begun to understand that while these actions are great at alleviating some of the physical symptoms of homelessness, they do not come close to addressing the societal inequities which caused them. Not only did learning about harm reduction teach me how care providers can target the causes of inequity through care, but it changed the way I see people who are stigmatized. People struggling with substance use disorders, severe mental health issues, or homelessness are complex human beings. Some of them have been very wealthy. Some of them were doctors, firefighters, and war heroes. Some of them are mothers, fathers, and lifelong friends. All of them are worthy of dignity, love, and respect.
Q: What do your day-to-day activities look like, and what can folks contact you for assistance with?
Leilani: I assist the Director of Training & Technical Assistance and Training Specialist in keeping Housing First University functioning smoothly. Much of my work involves correspondence with our clients, scheduling training sessions, and tracking outcomes. I also occasionally assist with co-facilitating trainings. Folks can contact me for all kinds of information on Housing First University— from our training offerings and information on upcoming webinars to how the Housing First philosophy guides Pathways to Housing PA's work.