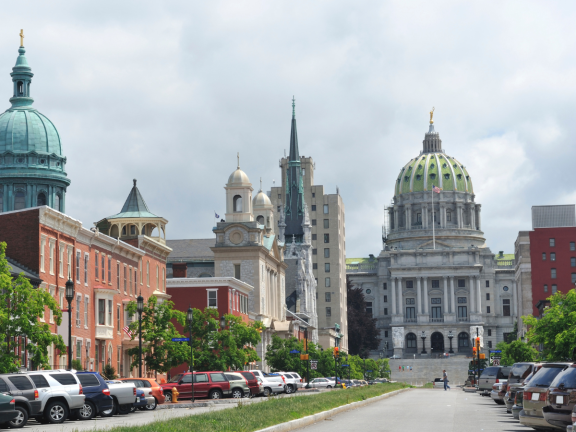 The first Hill Day I ever attended was at the Capitol building in Harrisburg, Pennsylvania. I was studying social work, and our student group joined a larger mental health advocacy initiative to raise awareness for Mental Health Parity in health insurance. It was exhilarating to be among so many likeminded advocates with a shared purpose. We held a raucous rally in the rotunda and sat down with lawmakers and staffers to share our policy goals.

Hill Day can be a time for many people to come together at local and national Capitols to raise their voices in community and advocacy. With an ongoing pandemic, many organizations have begun to find other ways to coalesce and galvanize advocates around a clear policy agenda. On June 8th, 2022, the National Council for Mental Wellbeing held a fully virtual "Hill Day at Home 2022" event to draw attention to their four key legislative issues.

Key information was shared by the Center for Substance Abuse Treatment about the crisis of overdose. Confirming what programs providing direct services have already seen, data showed that fentanyl in drug supplies is driving the increase in overdoses. This trend has been apparent in Philadelphia. Fentanyl was involved in 81% of the 1,214 drug overdose deaths in the most recent data out of Philadelphia's Department of Public Health. Recommended responses include making harm reduction services a federal drug policy priority, ensuring universal access to medications for opioid use disorders by 2025, and allowing easier access to medication-assisted treatment (MAT) through providing 14 and 28-day take-home supplies of Methadone and audio-only initiation of buprenorphine. We've seen firsthand the value of low-barrier medication for opioid use disorder (MOUD) services, such as those offered through Pathway's Opioid Use Disorder Center of Excellence in partnership with Prevention Point Philadelphia and Project HOME's Stephen Klein Wellness Center—services that are available to any Philadelphia resident with an OUD diagnosis.

We also heard from John Palmieri, SAMHSA's Senior Medical Advisor about efforts to roll out the nationwide 988-dialing code to access the National Suicide Prevention Lifeline. The new dialing code will link callers to local crisis response services, and while it went live recently, the main policy ask is to add one-time investments for states to be able to coordinate the needed crisis supports via the 9-8-8 Implementation Act. Further, a need for standards for crisis services and a requirement for insurers to cover crisis services would support this initiative in a meaningful way. SAMHSA expects approximately 7.6 million calls to the lifeline each year. For people experiencing homelessness, suicidal ideation and attempts are much higher as compared with the general population. The likelihood for people who are homeless to die by suicide is also greater, which makes the ease of use of the 988 dialing code an important crisis management tool.

There was a session promoting an expansion of Certified Community Behavioral Health Clinics (CCBHC). These are special types of clinics that provide an expanded range of 24/7 crisis services and increased access to MAT. This is an ongoing demonstration program that started five years ago, currently includes ten states, and is both a clinical model and a funding model. Components of CCBHCs include a standardized definition for the level of care, high quality evidence-based care, quality reporting which measures success by how people are getting healthier, and a prospective payment system that ensures the anticipated cost of care is available to providers when needed. Advocates believe CCBHCs are a long-term solution to stabilizing and sustaining the public behavioral health safety net, and the National Council is focusing on expanding this program model. We see a number of similarities between CCBHCs and the integrated care model we use as part of our Housing First services. As people begin to come inside after experiencing long term homelessness, previously untreated medical concerns may become apparent and are one reason integrated care is integral to our mission to provide homes, restore health, and reclaim lives.

Lastly, a topic that is apparent to many providers is that of the state of the workforce. We heard from two Senate Finance Committee staffers to give an update about the workforce shortage and finding ways to support attracting and retaining workers. As the committee works toward holistic legislation for mental health and substance use services, they recognize that many of the proposals hinge on having a robust workforce. In fact, SAMHSA predicts that approximately 4.4 million more mental health and substance use providers are needed to meet current needs, and this has been made worse by the pandemic. One potential solution that the National Council supports is to expand the Medicare workforce to include mental health counselors and peer support specialists. We highly value peer support specialists as they play key roles on our Assertive Community Treatment teams. We would like to see the labor of folks with lived experience valued in our service system by permitting peer support specialists to bill Medicare just as other mental health service providers.

The agenda items the National Council presented at this year's Hill Day set the stage for a more responsive services system, one that can be better prepared to meet the needs of individuals, including those experiencing long-term homelessness. A more responsive system is also one that addresses the stigma about mental health among racial and ethnic minority populations. Though racial and ethnic minority groups have equal rates of mental health disorders compared with whites, their burden of disability is often much higher, with more persistent rates of depression and a higher likelihood of reporting mental illness. Critical drivers of mental health status are level of poverty and criminal legal involvement, which disproportionately impact Black and Latinx Americans. Black and Latinx Americans living in poverty were twice as likely to report psychological distress as those above the poverty line and were far less likely to receive mental health services.
Understanding the critical overlap of behavioral health needs with the experience of homelessness, consider supporting the legislation identified by the National Council, especially this July during National Minority Mental Health Awareness Month. It's important to remember that as direct service providers, we need to stay informed of the greater landscape informing our work, as we play a vital role in shaping and influencing social and public policy change.