HFU Featured Trainer: Hannah Roop, LCSW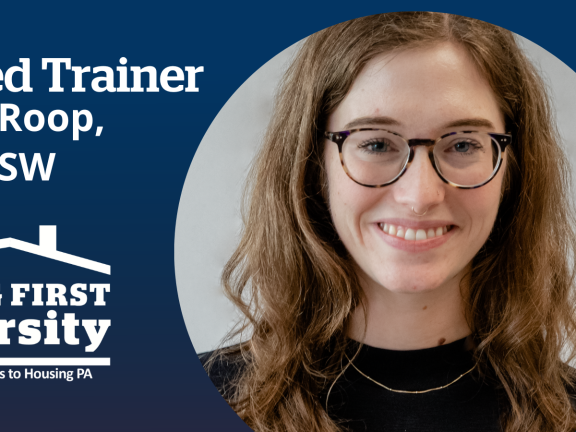 Hannah Roop, MSW, LCSW (she/her), is a licensed clinical social worker who has served as a Service Coordinator and then Assistant Team Leader at Pathways to Housing PA. Hannah is passionate about using person-centered approaches to support participants as they build and maintain a life they find joyful and meaningful. She is known to persevere with difficult or withdrawn clients on her caseload. Hannah has facilitated HFU trainings on topics such as Assertive Engagement, Motivational Interviewing & the Stages of Change, and The Housing First Philosophy. On the weekend, she enjoys rock climbing and hanging out with her dog.
Read on to learn more about Hannah and her work!

Q: Tell us about your educational and professional background, and what draws you to this work.
A: I studied English in undergrad with a minor in Anthropology. After college, I worked as a grant writer at a community health center in Maryland for two years. Through that work, I learned that so many folks who came through the door were dealing with issues that had their root in social problems rather than medical problems. I decided to pursue a Masters in Social Work and attended the University of Chicago.

After graduation, I worked as a case manager at a shelter providing intensive case management. Through that experience, I learned about all the hoops people need to jump through to get housing. I saw how seemingly small things, like requiring a social security card, were the difference between a person moving into their apartment or staying on the street.

I moved to Philadelphia in 2020 and started working at Pathways as a service coordinator on our step-down team for participants who experience a higher level of stability. Their stories made it clear to me that having an apartment was a turning point in their lives. After a few years, I worked as an Assistant Team Leader on a primary mental health diagnosis team, and got to be part of outreach and engagement for the first time.

Now, I am a Team Leader building Pathways' newest clinical team. I also work part time as a mental health counselor at a small practice in Philadelphia. In both of these roles, I am passionate about holding onto hope for every individual as they pursue a flourishing life—however they define it.

Q: What do you enjoy about training? What topics are you most passionate talking about?
A: I can go on and on about Housing First to family members, friends, even strangers. Training gives me an opportunity to channel that in a more socially acceptable way!

I'm a very practical person, so I like to find what works and share it with others. That's why I love talking about motivational interviewing. It provides practical mindset shifts and conversational techniques that change the game when it comes to helping someone achieve their goals. I also like to talk about the small things we do that are so important to relationship and rapport building – small talk, celebrating birthdays, being consistent, being patient.

Q: Can you share about a specific training experience that was particularly challenging or rewarding and what you learned from it?
A: I joined a motivational interviewing training somewhat last minute. Ryan was training with me and encouraged me to jump in with my experiences and insights as I saw fit. I usually like to have a lot of time to prepare and think through exactly what I'm going to say.

During the training, I found it energizing to be in the moment and respond with my experiences of using this technique in my work. And even better, there was a lot of back and forth with the folks in the training. That experience gave me some confidence that I can think on my feet. It also showed me that sharing candidly about my experiences gets people in the conversation during the training.

Q: What is one thing you wish more people understood about Housing First work?
A: People have a perception that what we do is "give people free housing," like Housing First is charity. But what we do is not charity; it's not a handout. An apartment is truly the best way to serve the people we work with. Experiences of homelessness, mental health issues, and substance use have a story of trauma as their backdrop. Having a safe place to live is a necessary condition to heal. Without housing first, people go from crisis to crisis as they wonder where they will sleep at night. With housing first, crises still happen, but at least there is a door to lock behind you whenever you get home. Housing first is not 'charity;' it is essential.