HFU Featured Trainer: Andrew Spiers, LSW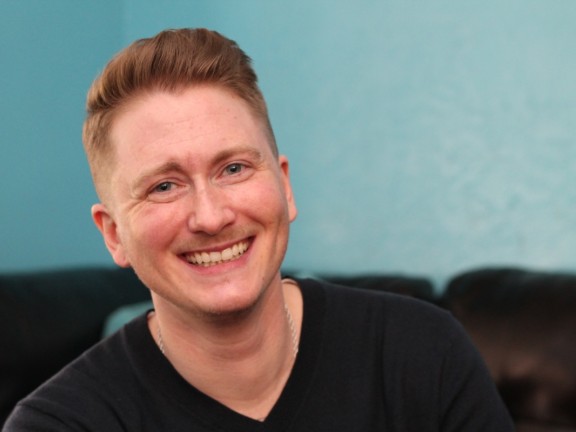 I came to social work in sort of a backwards way, as I think many people do. I studied poetry as an undergraduate at Pratt Institute of the Arts in Brooklyn, New York, and spent the next few years playing music and touring the country with different bands. I was in my late 20's when my mom started encouraging me to find a job that would offer me health insurance and I stumbled upon a position at an adolescent drug & alcohol rehab. I had worked with teenagers before as a guitar instructor and thought I'd give it a shot. That was the job that changed everything for me.
I had a lot of odd jobs over the years to help support myself financially in between tours and I usually got bored with them pretty quickly. When I started working with youth in the rehab in 2008, I quickly realized that no two kids were the same and that everyone came into treatment with a different set of assets and barriers. I think the link between being a writer and a performer and social work is having the desire and ability to connect with people. After about three years as a Behavioral Health Supervisor at that program, I decided to go back to school for my Master's so I could continue on that path.
I studied Community Practice, Policy, and Advocacy at Bryn Mawr College's Graduate School of Social Work and Social Research and had two really great field placements as a student. In my first year, I worked at Prevention Point Philadelphia, helping with the syringe-exchange program, Suboxone clinic, and drop-in center. Later, I worked with returning citizens at the Institute for Community Justice, which is part of Philadelphia FIGHT, an HIV/AIDS service organization. It was through these programs that I learned a lot about drug user health, harm reduction, HIV criminalization, and community-led advocacy.
After graduating, I worked for the Trans-Health Information Project, now called the Trans Equity Project—a peer-led program based in North Philadelphia that helps connect transgender individuals to affirming medical and legal resources, and offers harm reduction focused peer counseling. Then, in 2015, I came on as the Lead Therapist at Resources for Human Development's Morris Home—the only inpatient, residential drug and alcohol treatment program in the world exclusively serving members of the transgender and gender non-conforming community.
It was through this role that I became a trainer out of necessity.
Time and time again, I found that I had nowhere to refer Morris Home members for ancillary services. Philadelphia is a city widely recognized for its support of LGBTQ people. However, our clients were still left without adequate resources, including trans affirming housing programs, shelter, outpatient treatment, and domestic violence support groups, just to name a few. As a result, myself and other colleagues took on the task of training local organizations in trans affirming care ourselves—often in our spare time and without compensation.
Soon thereafter, I began expanding my training reach, bringing the knowledge gleaned from my work at Morris Home to both local and national conferences. At the same time, I was also honing my instructional and facilitation style by teaching Human Services courses such as Fundamentals of Case Management and Crisis Intervention Skills and Strategies as an adjunct professor at Harcum College. In 2018, I came to Pathways to Housing PA with the hope that I could contribute some of my expertise around LGBTQ affirming care to a new organization. Since then, I've incorporated training on the Housing First model, harm reduction, and other service delivery best practices into my training repertoire.
Currently, Pathways houses over 550 single adults in a scattered-site model with an 85% housing retention rate after five years. In the fall of 2019, we launched our formal training and education initiative, Housing First University (HFU), to help other housing providers achieve similar success in their communities. As the Director of Training and Technical Assistance, I provide support to other housing providers, non-profits, community groups, universities, and governmental agencies through intensive training, technical assistance, and consulting engagements. To date, I have presented at 18 conferences and trained individuals from more than 170 different agencies across the country.
When you attend a training or workshop facilitated by someone who has little to no direct service experience, it shows. It's one thing to understand theory and adult learning principles, and another thing to understand how to appropriately apply those theories to diverse practice settings. As the Director of HFU, I'm constantly encouraged by the brilliance and creativity of our clinical staff, and I continue to learn more about effective social service delivery through partnering with them on training, technical assistance, and consulting work.
Although I never intentionally set out on a path to provide training and consulting, it is something I've grown very passionate about. I enjoy collaborating with others to problem solve around practice and implementation challenges using the firsthand knowledge I've accumulated during my 12 years of social service work in a variety of settings. Just as no two individual clients are alike, no two agencies are the same. I find that, with every training or consulting engagement, I learn new things that I can carry forward into my future work.